Maybe it's a testament to how well the Hayes Valley Farm has integrated itself into the day-to-day fabric of San Francisco: Less than three years after its installation on top of an unused section of freeway off-ramp, a fully functional farm tucked into the middle of the bustling urban neighborhood barely causes onlookers to bat an eyelash.
But sadly, the city's first experiment in large-scale urban farming may soon vanish from the 2.2-acre patch of land sandwiched between Laguna and Octavia streets.
The Hayes Valley Farm was always supposed to temporary proposition--a placeholder for a condo development planned for the city-owned property. Now that a developer is scheduled to take that plan before the Planning Commission, the San Francisco Examiner reports that city officials believe the farm will receive an eviction notice by the end of this year.
The knowledge that the farm wasn't going to exist on that particular site forever has allowed its organizers to take steps allowing for an easier exit. For example, instead of tearing out the concrete to make way for the fertile soil need to grow crops, they put in trees to hold the soil in place.
The city plans to have construction firm Build, Inc. create 239 new housing units, half of which would be affordable and the other half priced at the market rate, on the site.
The farm's organizer thinks there may be a way to save his operation, perhaps by splitting it into multiple, smaller locations. "We're looking at elements of the farm, how these elements can find themselves in other neighborhoods," farm co-director Jay Rosenberg explained to the Examiner. "I'd love to see it explode into a fireworks so that little farm projects start popping up all over, as a space to grow food, recycle, create compost, take classes and share tools."
"A lot of our energy is being spent in creating things that can travel off-site," farm co-director Chris Burley told Streetsblog San Francisco. "This is more like a springboard for urban agriculture all over the city."
The farm's genesis came in 2009 when officials from the Office of Economic and Workforce Development approached urban farming advocates with the idea to turn a long-demolished block of the Central Freeway into a fully functioning farm. The city provided a $50,000 grant to get the project off the ground.
Before the farm moved in, its site was an overgrown patch of weeds and concrete used for little more than a makeshift campground for transients. "This was a place for homeless living," neighbor Don Wiepert told the San Francisco Bay Guardian. "It was fenced off, ugly, inaccessible. Now it's wonderful."
Named one of the top ten urban parks in the United States by Sunset Magazine, the Hayes Valley Farm offers everything from composting workshops and nutrition seminars to free weekly yoga classes.
Check out this slideshow of shots depicting life at the farm:
Before You Go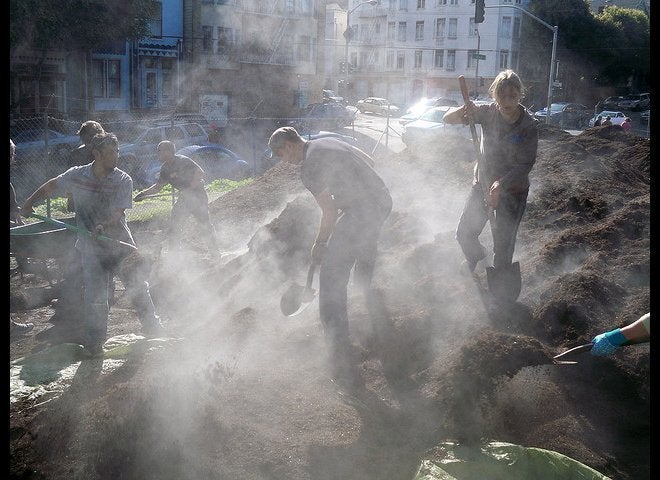 Hayes Valley Farm
Popular in the Community