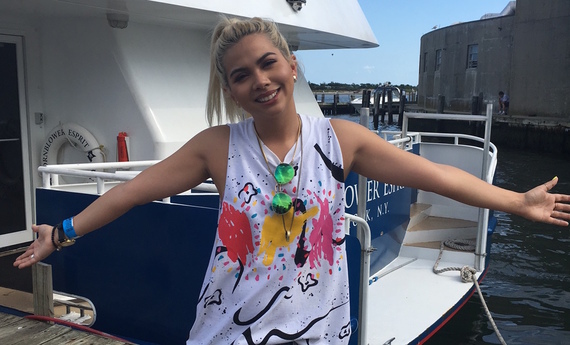 The 25-year-old singer and actress made her festival debut at the Billboard Hot 100 Festival held at the Nikon at Jones Beach Theater in Long Island, NY.
"I'm super excited for today's show because I'm premiering my new EP, Citrine, that comes out in the fall. So everyone out here that are getting all sweaty and gross are going to get to listen to new music," Hayley told Celeb Secrets right before she went onstage.
Hayley's 30 minute set consisted of drumming and lots of color. "I'm really excited because a lot of my new music is freer than my last EP, lyrically," she says.
If you're like us, you may remember Hayley for her acting credits in Wizards of Waverly Place, Lemonade Mouth, The Fosters, and CSI: Cyber. When Kiyoko isn't acting, she's instigating the most wonderful sort of pop disruption via her music, including breakthrough independent single "Girls Like Girls" and her most recent Atlantic Records' single "Gravel to Tempo."
"Gravel to Tempo" was just released earlier this month and the music video has racked up over a million views since its premiere. The self-directed video finds Hayley back in high school, brilliantly dancing on lunchroom tables in an effort to stand up to the popular girls. It's such a fun, badass video that everyone can relate to.
Be on the lookout for Hayley's EP Citrine this fall and read Celeb Secrets' Q&A with her by clicking here.
This article originally appears on Celeb Secrets and can be viewed here. Written by Juliet Schroder. Additional reporting by Kim Suarez.
Calling all HuffPost superfans!
Sign up for membership to become a founding member and help shape HuffPost's next chapter