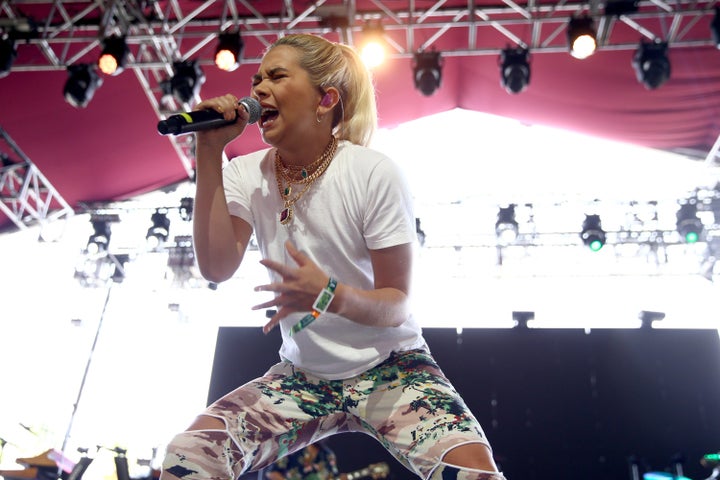 Hot off the release of her debut album, "Expectations" and a headlining U.S. tour, she reflects on her journey toward living authentically in a new Rolling Stone interview. In it, the pop singer-songwriter says she came to identify as gay at age 6 and recalls how her attraction to girls drove her deep into isolation as an adolescent. 
"No one knew what I did on the weekends," Kiyoko says. "Everyone would always think I was with someone else, but I was alone. I was lonely. I was at home watching movies."
She continues, "All the girls would go to the Promenade [an upscale Los Angeles shopping mall] to hang out with cute boys, and it made me feel very alone. It was depressing to watch girls that I liked flirt with guys. So I just stayed home."
Kiyoko says she first told her parents she identified as queer in sixth grade, only to have them dismiss her same-sex attraction as "a phase." In high school she was rebuffed by her best friend, for whom she had developed feelings. 
"This is what's funny about being gay: I look back and I remember her as a girlfriend," she tells Rolling Stone. "We would tell each other we loved each other and hold hands under the table. She would cuddle me and tell me she missed me. When I went to kiss her, she looked at me like I was crazy and broke my heart."
Things began to change when she began living on her own at 20 and garnered a circle of queer-identifying female friends. These days, however, the 27-year-old Kiyoko admits dating can be a struggle. "Normally I will date women who haven't dated women before because I like a challenge," she says. "I need to stop the madness because here I am single."
"I love women," she adds. "They need to love me back."
BEFORE YOU GO