Film buffs who missed the 2011 TCM Classic Film Festival's rare screening and discussion of director Bryan Forbes' (The L-Shaped Room) first film, Whistle Down the Wind (1961) on May 1st, which took place at the Chinese Multiplex on Hollywood Boulevard, will have a chance to see it here in New York City at the BAM Rose Cinemas.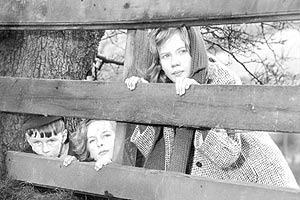 Hayley Mills (Kathy) above with Diane Holgate (Nan) and Alan Barnes (Charles) in a scene from Whistle Down the Wind. Photo provided by BAMcinemaFest 2011.
Adapted from a novel by Mary Hayley Bell and starring the author's daughter, Hayley Mills, the film was mistakenly described as the screen debut of the late British actor Alan Bates (it was actually his second, the first was The Entertainer). It was, however, the first movie for an incredibly charming group of local children from Lancashire, England, where the cult classic was filmed.

The black-and-white film, produced by Richard Attenborough, portrays the innocence of an adolescent girl, Kathy Bostock (Mills), and her younger siblings Nan (Diane Holgate) and Charles (Alan Barnes) living on a farm with their widowed father (Bernard Lee). Possessing vivid imaginations and a lack of admiration for adults, the children constantly foil a farm hand's attempts to set traps for innocent animals.
The three youngsters also save the lives of a litter of kittens tossed in a river by yet another adult they can neither trust nor respect. Kathy -- on her way to an abandoned barn to hide her new pet from her father -- startles a wounded, escaped murderer (Alan Bates) by shouting, "Who is it?" The handsome, bearded man exclaims, "Jesus Christ!" and promptly faints from illness and exhaustion. Resembling the image of Jesus on a prayer card, Kathy and her siblings believe that the fugitive is the resurrected son of God and do everything they can to protect him.
The gritty, yet elegant, film poignantly contrasts the hypocrisy of the often brutal "Christian" adults with the genuine, spiritual devotion of children.
Following the TCM screening of Whistle Down the Wind, Hayley Mills was interviewed by film historian, Cari Beauchamp. "It was wonderful to see it on a big screen. It was a beautifully photographed [by Arthur Ibbetson] movie made with a lot of love from a story written by my mother," the actress said of the 50-year-old film. The novel was more radical and inspired in part by T.S. Eliot's The Waste Land, "It was about these three children, who were rather precocious. They rolled their own cigarettes... it was based on us [her and siblings, Juliet and Jonathan]," which drew a hearty laugh from the audience.
Beauchamp remembered that Bosley Crowther of the New York Times felt the film was "a masterpiece" and called the actress, "a juvenile genius." Playing down her natural, childhood gifts, Mills quickly retorted he should have called her "a juvenile delinquent." During filming in the remote countryside, Mills, then 13, was "the seasoned profession," said Beauchamp, because all the other child actors, "with those gorgeous faces," were non-professionals discovered in Lancashire schools.
From Disney to British New Wave, Acting Was 'Natural'
Hayley Mills' filmography spans diverse styles of filmmaking from Disney classics, like Polyanna and The Parent Trap, to British New Wave features, such as Whistle and The Family Way. She and her sister, Juliet, began acting with their father, John Mills, when they were extremely young, "I think it's natural for kids to act with their imaginary games, imaginary friends...I was lucky I started at a time before I was self-conscious."
She recalled working on Polyanna (1960), the only film that overwhelmed her. It was a big budget, American movie, starring Academy Award winners Jane Wyman and Karl Malden and veteran character actors Agnes Moorehead and Adolphe Menjou. She triumphed in the end, however, with straight talk from her father, and won the last Academy Award ever given for "Outstanding Juvenile Performance" (previous recipients were Judy Garland and Shirley Temple).
Mills Offered Lolita, Parents Offered Renoir
Mills revealed she was the initial choice for the eponymous Lolita (1962). "What a career shift if you'd said yes," Beauchamp remarked. "I wanted to do it. I'd read the book," but "didn't understand the implications of it," she recalled. "My parents were put under quite a bit of pressure to let me do it. They were offered a Renoir." But the role was seen as "quite incompatible" with her Disney image and, still under contract to "Walt," as she called him -- even as a child -- the film was turned down. "From Pollyanna to Lolita, I can't think of a bigger leap," Beauchamp quipped.

Remembering Russell, Kerr & Bates
Mills co-starred with many acting legends. On working with Alan Bates, she said, "Oh, he was lovely... I feel he was the most beautiful Jesus."
"How was it working with Deborah Kerr?" an audience member asked. Mills' mood shifted slightly as she described their relationship, "A great professional, Deborah Kerr, and just easy. I find the bigger the star, the bigger the name, the easier they are to work with. She was lovely and generous and beautiful...I loved her." They teamed up with her father and Dame Edith Evans in The Chalk Garden (1964).
Regarding The Trouble with Angels (1966) about teenage girls in a convent school, directed by Ida Lupino, Mills said, "I admired Rosalind Russell tremendously. I was quite in awe of her. She was a great star, a great beauty, and had a powerful personality."
"Very Mother Superior!" joked Beauchamp.
No DVD, But BAMcinemaFest to Screen One Day Only
Whistle Down the Wind was nominated for four BAFTA Awards, including Best British Actress (Hayley Mills). It's not available on DVD in the U.S., although discs have been released in the UK (2000) and in Spain (2005). It was staged as a musical in 1996 in Washington, DC, and restaged on London's West End in 1998 by Andrew Lloyd Webber.
Unfortunately, TCM, the network, reports it has no plans to air the British cult classic as of this writing, but The Brooklyn Academy of Music will show Whistle Down the Wind as part of its BAMcinemaFest on Sunday, June 26 at 1:00pm in the Rose Cinemas. The film was released by Janus Films, and the 35-mm print is courtesy of Park Circus.
BAMcinématek's annual festival, celebrating its third year, is a collection of recent and rediscovered, independent films from the U.S. and abroad. Twenty-six feature films, including 20 New York premieres and one world premiere, as well as 24 short films, will run through Monday, June 27.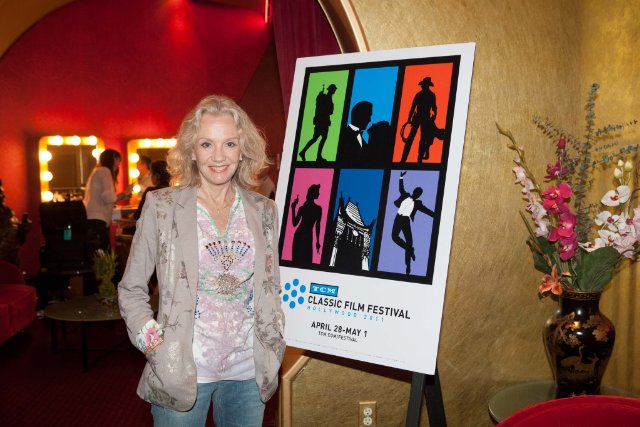 Hayley Mills still youthful, 50 years after the release of Whistle Down the Wind, at the TCM Classic Film Festival in May 2011.Photo: Mathieu Young (C) TURNER CLASSIC MOVIES. A TIME WARNER COMPANY. ALL RIGHTS RESERVED.

Popular in the Community