Hayv Kahraman was in her fourth grade history class in Baghdad when the question was asked: Is Iraq a democracy or a dictatorship? Not knowing what either word meant, she guessed "dictatorship." This proved to be the wrong choice, no matter how right the answer was: the next day she was punished with a ruler in front of the other students.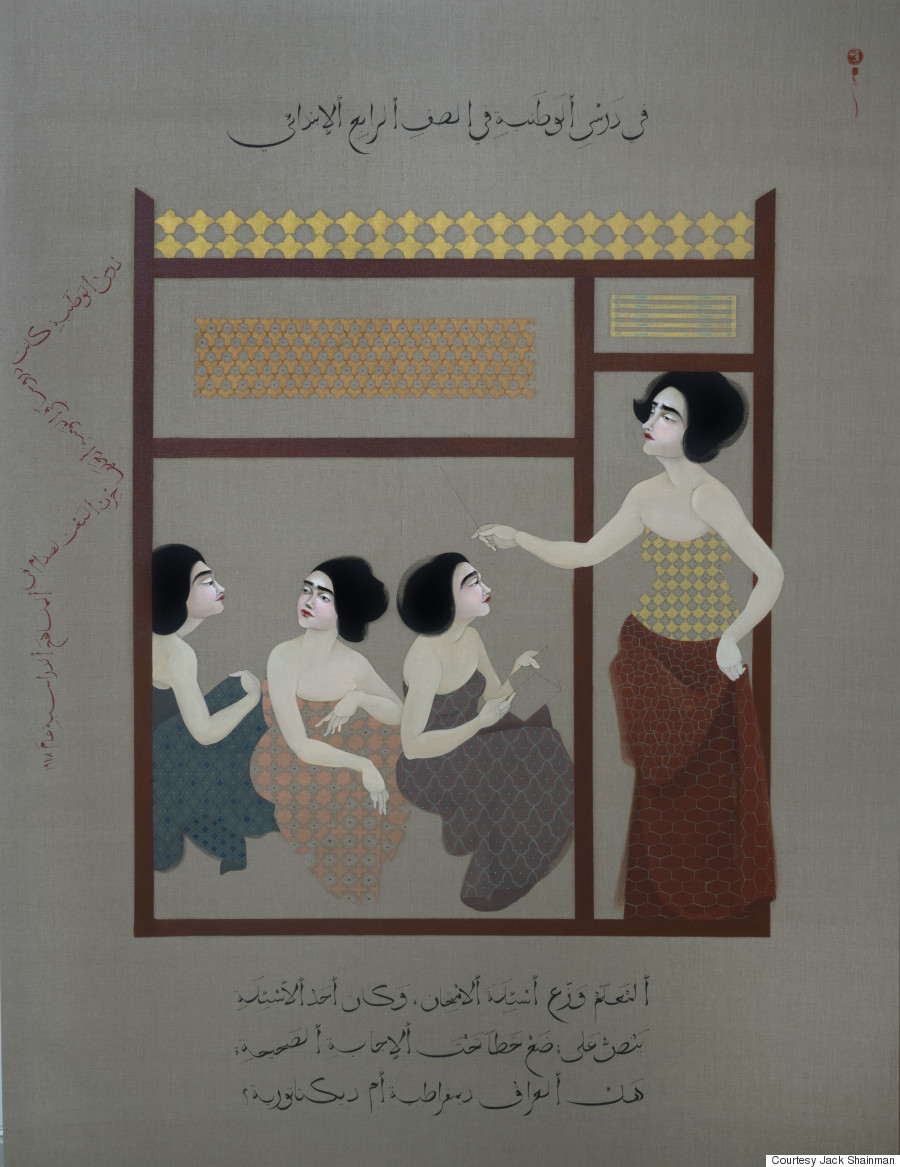 Wattania, by Hayv Kahraman. cCurtesy of the artist and Jack Shainman Gallery, New York.

In her new series, "How Iraqi Are You?," the Iraqi-born painter explores the title question by mining past experiences like the story above. Modeled after Arabic illuminated manuscripts, the series draws specific inspiration from Maqamat al Hariri, a canonical 12th century text describing the everyday life of Iraqis of the time.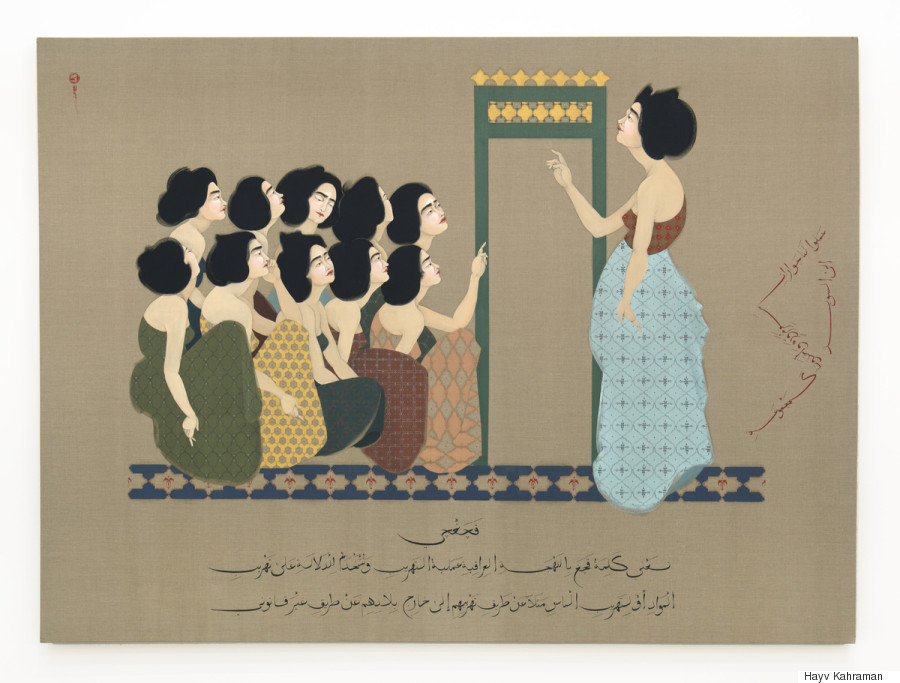 The word 'Kachakchi' in the Iraqi dialect means smuggler and is used in terms of smuggling goods and people, as for example smuggling them illegally outside their country. Caption reads: They made us fake passports and took us in a group to Sweden. Photo and caption courtesy of the artist and Jack Shainman Gallery, New York.
Using photographs of herself as the models for all the subjects depicted, Kahraman illustrates vignettes from her actual life, captioned with explanations. This story includes her time in Sweden, where her family eventually fled after leaving Iraq. Here she was given a personnummer, the Swedish identification number assigned to every citizen. This exchange provides the basis for one of Kahraman's more slapstick images, capitalizing on a bit of accidental wordplay linking the Swedish institution with an Iraqi word for female genitalia.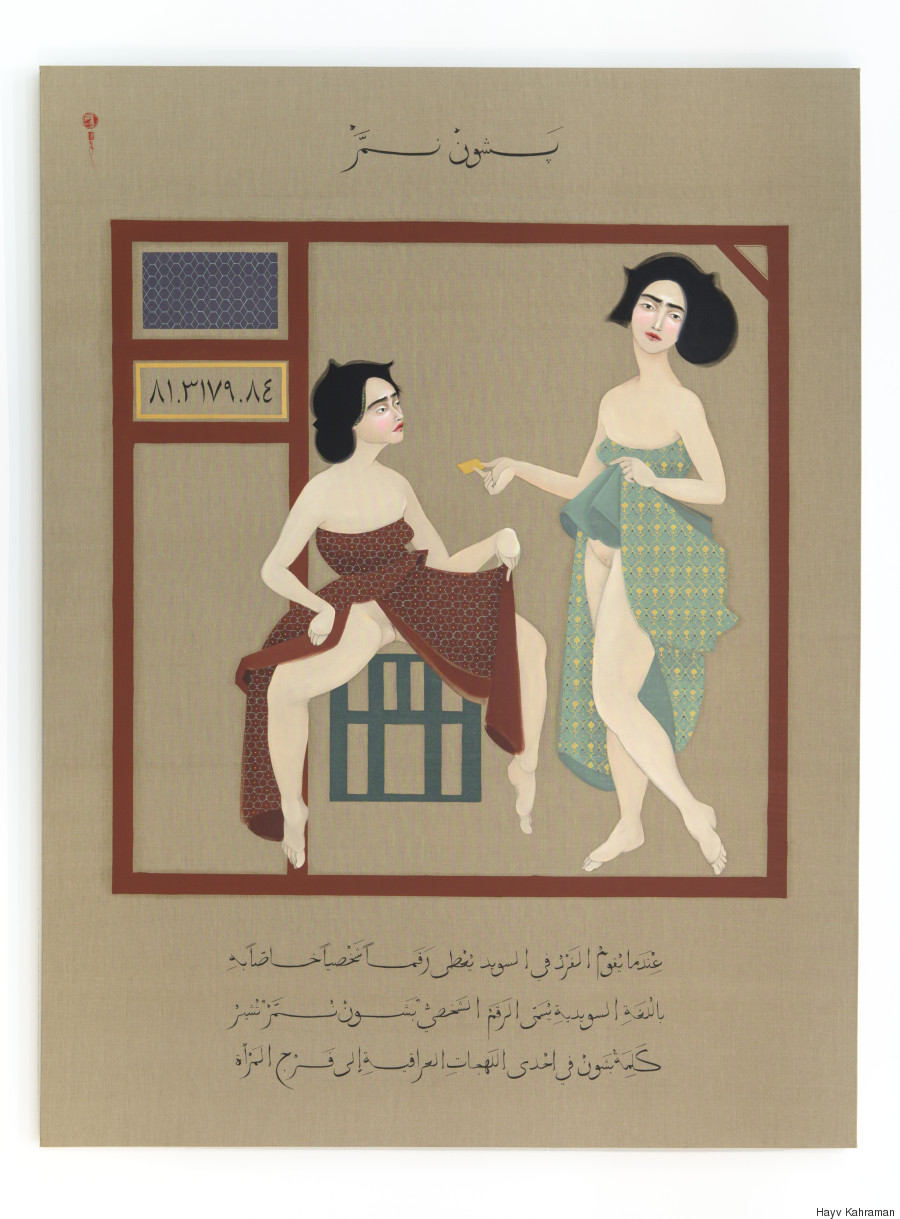 "When you arrive to Sweden you are given a personal identity number 'person nummer.' That is pronounced "peshoon nummer." In the Iraqi dialect peshoon means vagina." Caption and photo courtesy of the artist and Jack Shainman Gallery, New York.
The vignettes aren't wholly funny or sad, serious or casual. They are in a state of limbo, like the immigrant herself.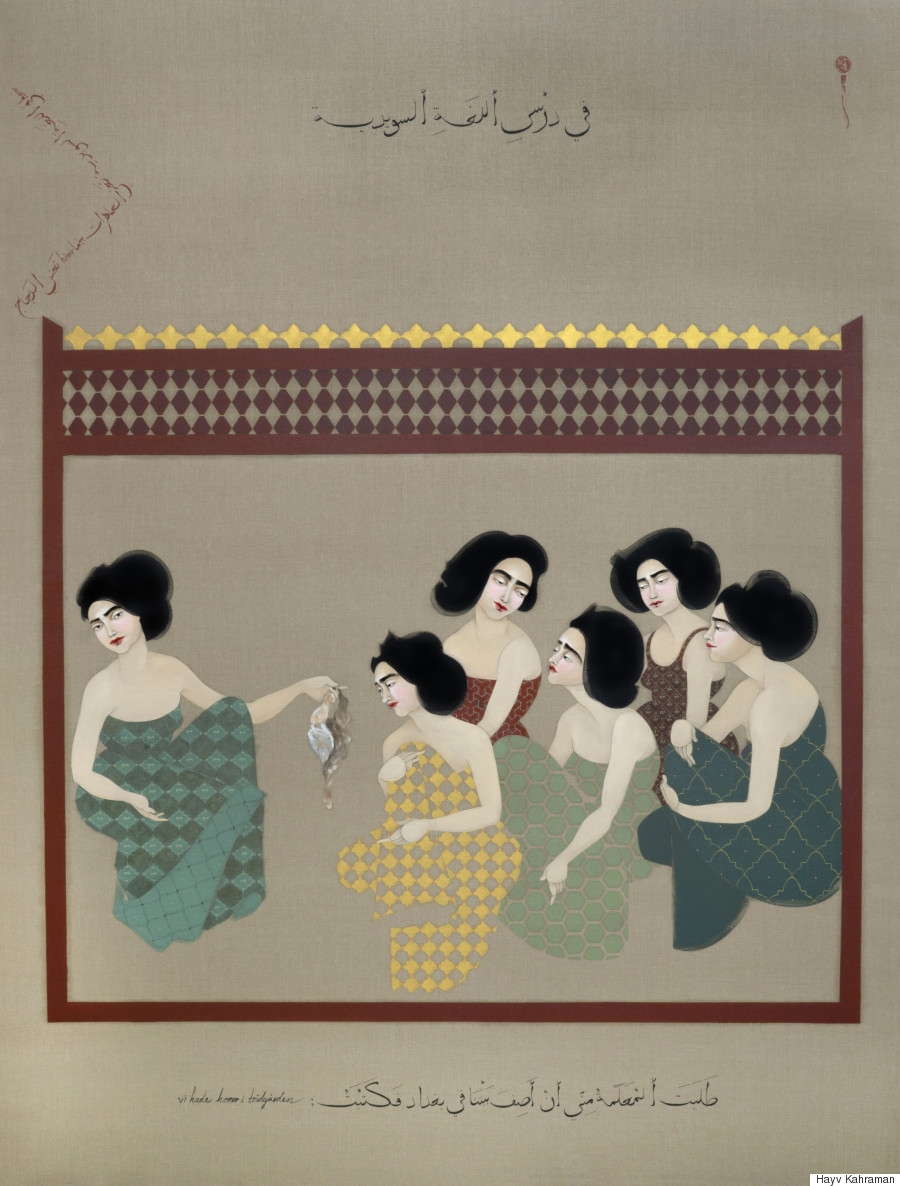 "'In Swedish class.' The teacher asked me to describe my home in Baghdad so I wrote 'vihade horor I trädgården.' Horor means prostitutes in the Swedish language while hönor means chickens." Caption and photo courtesy of the artist and Jack Shainman Gallery, New York.
In the exhibit literature the curator Octavio Zaya finds meaning in the porcelain skin of Kahraman's figures, which recall Renaissance paintings and Japanese portraiture. Kahraman paints her characters "without background or specific context, amid a flux of meanings and words, neither here nor there," Zaya writes. In this way she captures the blurring of self that redefines immigrants. Her women are losing and gaining knowledge, "as if," Zaya continues:
"in the diaspora, these figures would have reached a moment where they viewed themselves as non-different, as the passersby who do not stand out, who only retain from the past the little, unassuming, perfectly safe secrets and mysteries of the mother tongue, its games and pleasures."
Calling all HuffPost superfans!
Sign up for membership to become a founding member and help shape HuffPost's next chapter