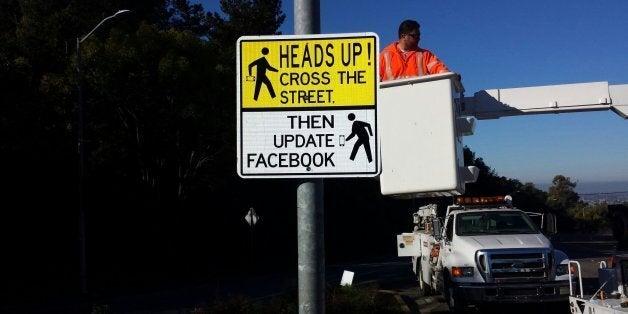 SAN FRANCISCO -- Chronic speeding had been a persistent problem along a steep, busy street in a Bay Area city, until officials installed some unconventional safety signs that are getting attention and possibly, obedience.
The signs may help with another modern problem: habitual Facebook updating.
Since January, Hayward Boulevard in Hayward has boasted attention-grabbing signs urging pedestrians to ignore their smartphones for a minute while crossing the block, and telling drivers that speed limits are not optional.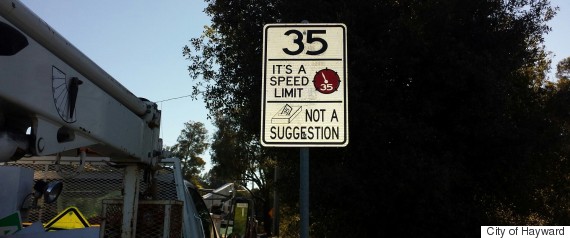 One sign, designed by Frank Holland, the city community relations officer, tells pedestrians: "Heads up! Cross the street. Then update Facebook."
Another tells drivers to stick to 35 mph because "it's a speed limit not a suggestion." It includes an image of 35 written on a sheet of paper slipping into what appears to be a suggestion box.
Holland told HuffPost that traditional signs weren't discouraging drivers from gunning it on the hilly road.
"If you don't take an unconventional approach, you run the risk of blending into the background the way everything official does," Holland said. "If you just drive through any city, you're bombard with messages. We had to find a way to break through."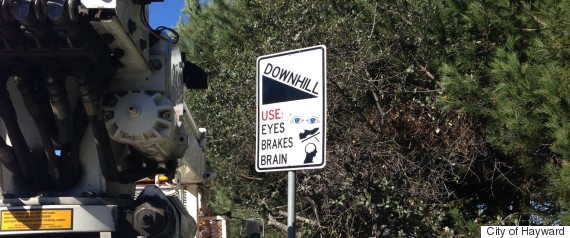 In all, there are seven new signs to supplement conventional signage about speed limits and other roadway hazards.
So far, anecdotal proof shows the signs are working, Holland said. The city hasn't compiled accident or ticket data.
The concern is that any beneficial effect from the new signs will be lost as the novelty of their message wears away.
The only criticism Holland says he's heard is that some people have called the signs "corny."
Popular in the Community