Hazmat crews have been called to an IRS building in Ogden, Utah, according to a report by The Standard-Examiner.
The newspaper reports that the building's entrance is blocked and that the FBI is investigating.
Update 5:37 PM ET -- Most response vehicles leave. AP:
As of Monday afternoon, several emergency vehicles had left the scene. One hazardous materials response truck remained along with one fire engine.
Update 5:29 PM ET -- "Emergencies" not related to incident. The FBI tells the AP that while some people at the IRS building had medical emergencies, they do not "appear to be related to this incident." No information is available about the people taken away on stretchers, reports the AP.
Update 5:11 PM ET -- Rising threats against IRS. Threats against IRS employees rose 21.5% last year, according to the Treasury Department's Inspector General for Tax Administration.
In the 2008 fiscal year, there were 834 threats against IRS employees. During that same period in 2009, threats jumped to 1,014.
Today's incident comes just 11 days after Andrew Joseph Stack III flew his plane into an IRS building in Austin, Texas, killing himself and one IRS employee. Stack left behind an angry internet posting and suicide note that singled out a tax law that he believed was unfair and made life difficult for him.
Update 4:52 PM ET -- Building on lockdown. Some IRS employees reportedly remain in the building. From the AP:
Media reports said a suspicious substance was found in the building Monday and that part of it was evacuated while other parts were locked down.
Update 4:33 PM ET -- IRS confirms report. An "unknown substance" was found at the building around 12:30 PM local time, MSNBC reports via @Breakingnews.
Update 4:20 PM ET -- First images. NBC affiliate KSL has posted aerial footage of two people being removed from the facility. Below is a screen grab of the video.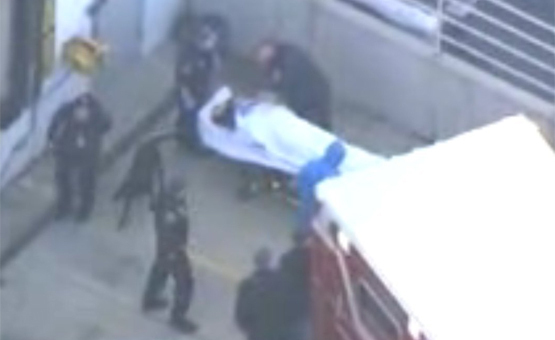 Update 4:10 PM ET -- Two on stretchers. KSL reports that two people have been removed from the facility on stretchers.
Update 4:00 PM ET -- The IRS in Ogden. A Recent Salt Lake Tribune report profiled IRS operations in Ogden. The agency employs 7,000 people in at least 12 local buildings. The IRS is Utah's 15th biggest employer.
A photo in the story showed a bomb-sniffing dog examining packages at a facility.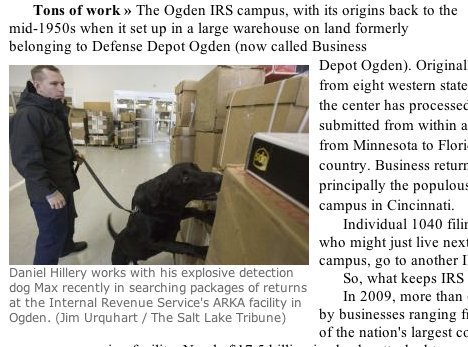 Update 3:53 PM ET -- White powder reported. @Breakingnews on Twitter reports that one person has been removed from the building on a stretcher and that white powder has been reported.
Update 3:39 PM ET -- Building location. The building affected is at 1973 Roulon White Boulevard. Below is a view of the location from Google Maps.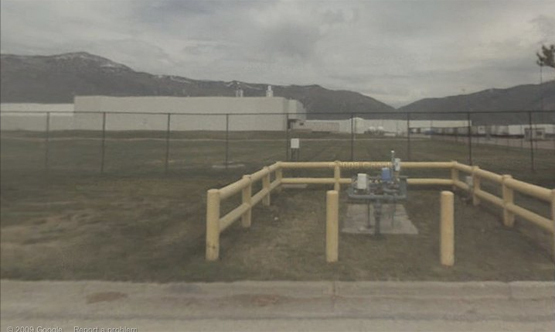 Update 3:33 PM ET -- People decontaminated. An undisclosed number of people have been decontaminated after an incident at the IRS building, according to FOX13Utah.
The TV station reports that the IRS building is in Farr West, Utah, not nearby Ogden.
Related
Popular in the Community