Protz-Sanders said her organization is now working to ensure that any new laws aren't overly onerous toward pit bull owners -- and in the meantime, she said, Hazel Park residents with pits "are at least able to breathe a sigh of relief."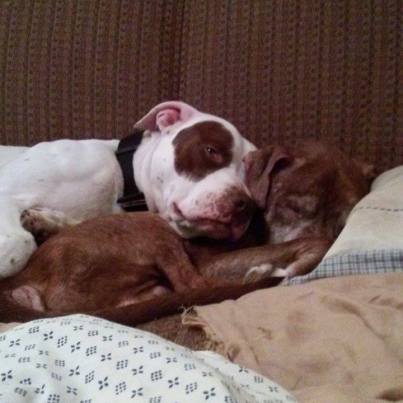 Mike Toma's dogs Puppy and Diesel. Photo: Mike Toma
One of those breathing easier is Mike Toma.
"I'm not in a financial position to pick up and move," he said. "I just feel this is very wrong."
Now, Toma told The Huffington Post, he's hoping the city won't impose difficult new restrictions on his dogs.
"But, I'm very happy we were able to get the ban lifted. It's definitely a step in the right direction," he said, adding that, through all this, his dogs seemed completely unaware of being caught up in any danger.
"I don't think they were too worried," he said.
Kraczkowski's ex-boyfriend, Jamie Dopke, pleaded no contest to domestic abuse charges on March 19, and is currently on probation, the Hazel Park clerk of court's office confirmed to HuffPost.
As for Kraczkowski and Isis: they are together, safely, in a brand new town.
"We have moved out of Hazel Park," she told HuffPost. "We are doing great."
Related