One of the world's most desired natural resources is facing a major shortage. It's not oil, it's hazelnuts. Harvests have been severely damaged this year by unseasonable weather and disease, so if you see long lines at your local grocery store, it might be people trying to get their hands on the last jars of Nutella before prices surge.
Turkey produces over 70 percent of the world's hazelnuts, but has been plagued by hailstorms and frosts, pushing the price of hazelnuts up to the highest it's been in 10 years. With Ferrero, Nutella's parent company, using 25 percent of the world's hazelnut supplies and putting over 50 hazelnuts in each jar, don't be surprised if the shortage requires you to dish out a bit more for that chocolaty, gooey goodness. (But perhaps this is a blessing in disguise for those of you who take your Nutella addiction too far.)
"Inclement weather last spring in Turkey has impacted this year's hazelnut harvest," a Ferrero USA spokesperson confirmed in an email to The Huffington Post. "We are tracking this issue closely and there's no foreseeable impact on the availability of Nutella."
To keep the stream of chocolate, hazelnuts and deliciousness flowing straight into your mouth, Ferrero has shored up its supply of hazelnuts by purchasing the Turkish hazelnut supplier, the Oltan Group. A press release from Ferrero calls the Oltan Group "the worldwide leading operator in the procurement, processing and marketing of hazelnuts."
Nutella isn't healthy, but that hasn't stopped it from becoming one of the most popular chocolate products in the United States. Nutella now accounts for over 70 percent of the sales of chocolate spreads in the U.S., with sales up 5.9 percent in 2013. Across the world last year, Nutella sold $2.46 billion worth of the spread.
Ferrero is also attempting to mitigate the environmental cost of Nutella by ensuring the palm oil they use is responsibly harvested. The company is seeking to use palm oil that does not hurt endangered species or contribute to deforestation, and claims that currently, 90 percent of its palm oil is traceable to responsible plantations.
Before you go scrambling to find a cheaper spread for your morning toast, let's count the ways we love Nutella. Oh Nutella, we wish we knew how to quit you.
Related
Before You Go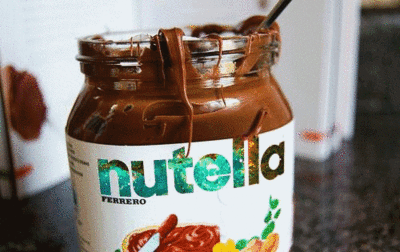 Nutella GIFs
Popular in the Community