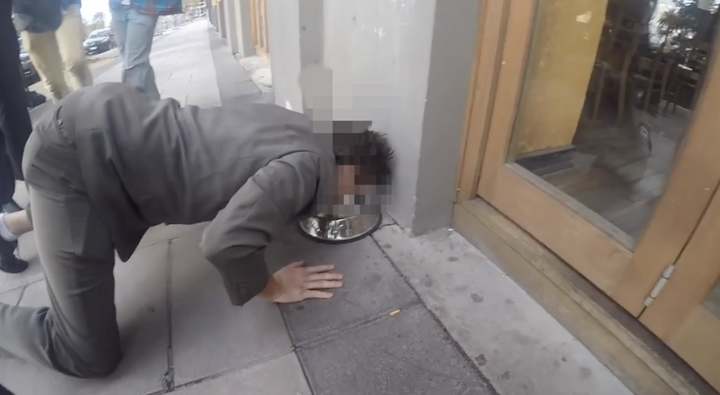 Shocking footage has emerged of disturbing hazing rituals at an Australian public university where new students were forced to drink beer off the genitals of older students, have their heads shaven and drink their own vomit, among other outrages, in "a sick cycle" of initiation.
Students living in dormitories at the University of Newcastle, north of Sydney, were exposed to initiations involving coerced drinking and humiliations, according to videos collected by the End Rape on Campus Australia group. The footage, published on news.com.au and assembled from about 200 videos recorded from 2012 to 2016, show multiple acts of hazing of male students from several dormitories.
Graphic videos show young men kneeling in front of older students and being made to drink alcohol poured along or atop genitalia. In other footage, published by news.com.au, students fitted with dog collars are made to drink from public dog bowls and have their heads crudely shaved. All the incidents take place during the day in public spaces.
Students also participate in binge-drinking competitions called "throwie cup," in which the aim is to drink 24 beers in the fastest time ― and if a competitor throws up, he has to drink his own vomit to remain in the contest.
A former student, referred to only as Andrew, told news.com.au that each new student ― called a "fresher," short for freshman ― is assigned to an older student.
″The returning student essentially treats their fresher like shit who internalises it all as a rite of passage: we treat you like shit and next year you get to treat someone else like shit. It's a sick cycle," Andrew said.
Nina Funnell, a member of the group End Rape on Campus Australia who published the news.com.au report, told the Hack radio program the rituals were dangerous. "I think it points to a pretty toxic culture where you have hypersexualised rituals meeting with alcohol at the same time. There is a lot of coercion, pressure and expectation of others, and it can be difficult for those who do want to say no. What we know is that this is not an isolated incident."
Funnell added that the hazing happens "around the country ... this is a systemic problem that requires a systemic response."
Other behavior at the university, captured on video, included students skateboarding naked in dormitory hallways and causing property damage. Older students were also shown bursting into the rooms of younger students and forcing them to drink alcohol, and images showed students being cling-wrapped to poles. None of the videos showed female students being hazed.
A University of Newcastle spokesperson told Fairfax they were "appalled" at the videos.
"The university takes all allegations of student misconduct seriously and acts swiftly to remove offensive behaviour from our campuses where it is reported," the spokesperson told Fairfax. "Four years ago, the university took over additional management responsibilities of the residential colleges. Since that time, we have worked consistently to develop and implement targeted programs aimed at educating students and their support staff on the appropriate behaviours and our expectations of conduct in our community.
"As well as the education and preventative measures, students found to have behaved in this way are subject to severe penalties."
Newcastle boasts on its website that its campus housing was "awarded the Asia Pacific Association for Student Housing award for Housing Operator of the Year in 2017 and Excellence in Student Experience in 2016."
Australian universities, unlike those in America, do not have a fraternity or sorority culture. However, hazing rituals such as this ― often involving alcohol ― associated with university dormitories or amateur sporting teams are regularly uncovered in media coverage. The drinking age is 18 in Australia.
Other well-publicized hazing incidents have occurred in the emergency services and defense forces, which were investigated as part of a federal inquiry into child sexual abuse.
Extreme forms of hazing have been reported in the Australian navy, where cadets claimed they were raped by, or forced to rape, other new recruits, among other punishments. Army recruits have claimed they were forced to "fondle other cadets' genitalia, drink urine, have sex with a prostitute for a bet."
Related
Popular in the Community