Video produced by Omar Kasrawi
HAZLETON, Pa. ― Ten years ago, Hazleton, Pennsylvania, approved one of the most restrictive immigration ordinances in the country in hopes of driving out undocumented immigrants.
Relations between the mostly white, longtime residents and the small but growing Latino community had been tense. But the ordinance made them far worse. For a time, the town was ground zero for anti-immigrant politics in America, and an emblem of the cultural tensions those policies inflame.
In recent years, the animosity began to dissipate. Courts blocked the most controversial provisions of Hazleton's ordinance, the Latino population ballooned and many residents moved on.
The real estate mogul launched his presidential campaign on a harsh anti-immigrant platform reminiscent of Hazleton's decade-old ordinance. And when it came time for Pennsylvanians to vote in the Republican primary, Trump won big, both statewide and in Luzerne County, which includes Hazleton. Now, with weeks to go before the general election, there are pro-Trump signs scattered around neighborhood lawns and in windows.
Trump's calls for a border wall and his harsh criticism of unauthorized immigration resonate here. And because of that, the conflict that broke out a decade ago is surfacing once more, even in the most mundane of places.
When I arrived here in early September, I witnessed it at my very first stop: a local Wendy's. It was midday. A middle-aged woman waiting behind me became agitated that our line wasn't moving fast enough. When a man in front of us began speaking Spanish to the cashier, her frustration boiled over.
"Hurry up," she blurted out at him. She then turned to an elderly white man and to me, hoping we'd commiserate: "That's why I'm voting for Trump."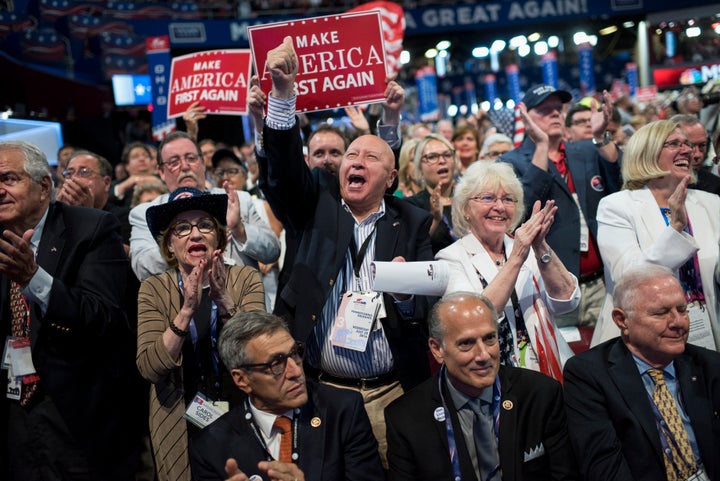 The Hazleton City Council passed its Illegal Immigration Relief Act Ordinance in July 2006. The goal was to make Hazleton "one of the toughest cities in America for illegal aliens," then-Mayor Lou Barletta (R) said at the time. Barletta has since been elected to Congress.
The ordinance declared English the official language, imposed $1,000-per-day fines on landlords who rented to undocumented immigrants and heavy penalties on employers who hired them. The city council continued to pass and amend anti-unauthorized immigration ordinances into the next year, arguing they were necessary to combat crime and help manage government resources.
Opponents said the ordinance was unconstitutional, discriminatory and so broadly written that even U.S. citizens could be forced out of their homes if they couldn't prove their citizenship.
It took years, but the ordinance's critics eventually won. In 2006, the American Civil Liberties Union, the Puerto Rican Legal Defense and Education Fund and the Community Justice Project filed a lawsuit. They received an injunction that year to keep the ordinance from being enforced, but the legal battle wasn't fully resolved until 2014, when the Supreme Court declined to review the lower court decisions that struck down the ordinance.
Latino residents didn't feel like the ordinance was just about undocumented immigrants. They felt like it was directed at legal residents and citizens, too. Retired ophthalmologist Agapito Lopez, a Puerto Rico-born U.S. citizen who helped lead the fight against the ordinance, received hate mail and threats, sometimes slipped under his office door. To this day, he keeps many of the letters and flyers, along with news clippings, together in a large binder.
One flyer was from the National Socialist Movement, which the Southern Poverty Law Center calls "one of the largest and most prominent neo-Nazi groups in the United States." "IF IT'S BROWN, FLUSH IT DOWN," the flyer reads, with a photo of a man wearing a sombrero.
"The bigotry wasn't out in the open. Well, when [the ordinance] came, it was like, "Where the hell did these Confederate flags come from?""
Francisco Torres-Aranda Jr., an engineer who owns a local business, said many Latinos felt they were being singled out because of their surnames. He was born in the area, but raised in Mexico until he returned to Hazleton with his family as a teenager.
In 2006, when family members visited from Mexico, Torres-Aranda took them to dinner in a nearby town because he was worried someone in Hazleton would use slurs or tell them to speak in English.
"After the ordinance was passed, you were surprised at times by some of the reaction and people that thought it was a good idea," Torres-Aranda said. "Sometimes, you may lose friendships over that, and I did lose a couple friendships over that."
This was disturbing to some non-Latinos, too. Anne Marie Shelby, 66, said she and her husband stopped telling people outside of Hazleton where they were from. They also saw a side to their friends, family and neighbors that they hadn't realized existed.
"The bigotry wasn't out in the open," Shelby said. "Well, when [the ordinance] came, it was like, 'Where the hell did these Confederate flags come from? I live in the North.' That was the big thing. It was like they came out. Everybody that wasn't a bigot came out. And that was the shock."
The atmosphere left the city vulnerable to economic trouble and demagogues, pollster John Zogby wrote in 2007, when his firm, Zogby International, was commissioned to assess the economy and demographics of the city.
In spite of the Hazleton's rich ethnic tradition, "now fear reigns supreme, and the biggest fear is that this great tradition can be hijacked, especially by national demagogues trying to accent the worst," Zogby wrote in a supplement to the report.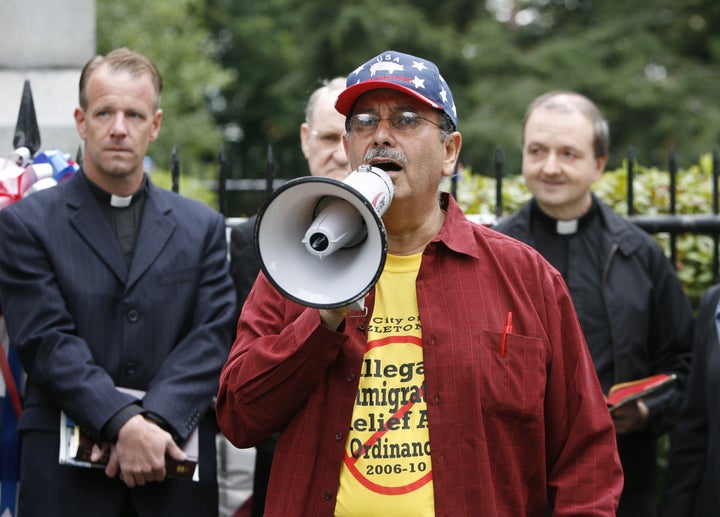 Despite the hostile atmosphere that followed the 2006 ordinance, the number of Latinos in Hazleton increased rapidly. In the past 15 years, Latinos have gone from about 5 percent to more than 45 percent of the town's population. Many came from New Jersey and New York to work in food processing, manufacturing and warehouses. The largest portion of Latino immigrants in Hazleton are originally from the Dominican Republic, and most are in the U.S. legally.
Like their counterparts elsewhere, Hazleton's immigrants came in search of jobs and a steady life. And they largely flourished. For all of Trump's talk about jobs moving to Mexico, the exact opposite has happened here. Mexican-owned corporations are major employers in Luzerne County. Bimbo Bakeries USA, the American arm of a Mexican manufacturing company, currently employs 380 people there.
To accommodate the rising immigrant population, the city has tried to better cater to Spanish-speaking residents. Government documents are translated into Spanish. There are more translators in schools. The Hazleton Police Department hired a bilingual officer and is teaching others Spanish ― a notable departure from the English-only provision that was one of the centerpieces of the 2006 ordinance.
Community groups have popped up to help foster greater integration as well. Concerned Parents of the Hazleton Area, a group Shelby co-founded, started a reading program for kids. That program's success inspired the group to begin providing English and citizenship classes for parents.
In 2011, Chicago Cubs manager and Hazleton native Joe Maddon helped launch the Hazleton Integration Project, which offers pre-K and after-school programs and aims to promote unity within the city. Up to 200 people volunteer at the organization each year. And the group's executive director, Ben Medina, said community relations have improved significantly as a result.
"The integration project, it is working," Medina said. "We're coming together."
But integration hasn't been seamless. Some longtime residents are uncomfortable with the changes and how they have affected schools, businesses and the health care system, said Rick Morelli, a former Luzerne County Council member and a Trump delegate to the Republican National Convention.
"I wouldn't call it tension ― I think it's something that people talk about often here," said Morelli, who is white and grew up in the Hazleton area. "It's the elephant in the room that they might not always talk about, but people, they see it."
And it's most visible at the intersection of politics and daily life, especially during this increasingly heated election cycle.
"They were racist inside, but they didn't dare to say anything. Now, after Trump, they can tell you anything."
Morelli said people in Hazleton grow frustrated about unauthorized immigration when they see lines at Walmart with people using SNAP benefits, often called food stamps.
Latino residents say they hear that criticism, too. Often, it's a non-Latino muttering under his or her breath ― or sometimes louder ― about how the food stamp system is being abused. It's usually accompanied by derisive references to undocumented immigrants, even when the people they're complaining about are here legally.
"They'll make comments like, 'That's why Donald Trump is going to send them back,'" said Guillermo Lara, 49.
Lara was born in Mexico but has lived in Hazleton for 25 years and is a U.S. citizen. Trump has made people less reserved about expressing racism openly, he said.
"Now that Donald Trump is running, he brings back all of this hate, all of these emotions and feelings, and some of the people believe they have the right to tell you, 'Go back if you don't like it,'" Lara said.
Lopez, likewise, has seen a change in Hazleton. In the era of Trump, he says, the city has begun reverting back to what it was a decade earlier: firmly at the vanguard of anti-immigrant sentiment.
"They were racist inside, but they didn't dare to say anything," Lopez said of some of his fellow residents. "Now, after Trump, they can tell you anything. They see you going out of a store, they think you're stealing something."
Both Lara and Lopez are supporting Hillary Clinton for president. The Democratic nominee has an office in the area, and on a recent early fall evening, the two of them went there for a Latino organizing event along with about 40 others.
The group watched a video on how to register and vote, and received a pep talk from organizers. "This is our country ― your country, my country," former Mayor Mike Marsicano, the Democrat running to take Barletta's seat in the House of Representatives, told them. A translator helped convey his message in Spanish.
"You know who Barletta is," Marsicano said. "He ruined my town. He's given Hazleton a very, very bad reputation."
Barletta has remained aligned with Trump even as other Republicans are backing away. On Monday, he appeared with the Republican nominee at a rally in nearby Wilkes-Barre. Trump gave Barletta a shout-out and brought him up on the stage, joking that it was "hard to believe" that he liked actually liked a member of congress. He called Barletta "unbelievable."
Beyond heaping praise on Barletta, Trump has also tried to plant roots in Hazleton. His campaign has an office there. And Morelli said he thinks the Republican nominee will get strong support in the city ― even from some Democrats.
"I get around, the people talk to me and ask me questions," he said. "These people who I know who are staunch Democrats and say they're going to vote for Donald Trump. ... I think his tough stance, as well as not being an insider, is going to help him get elected."
At least one Clinton supporter agrees. City Councilman Jack Mundie, a Democrat, voted for the 2006 immigration ordinance. Asked who he believes most residents will support for president, he didn't hesitate.
"I would say Donald Trump," Mundie said. "Most people in Hazleton are going to support Donald Trump."
For longtime Hazleton residents who opposed the 2006 ordinance and were relieved when the dust it kicked up largely settled, it's been distressing to see how Trump's campaign has brought those tensions back to the surface.
Shelby, who used to hide that she was from Hazleton out of embarrassment, is a Clinton supporter. She sometimes goes to the campaign office to make calls, and will sometimes get a friend on the line who doesn't realize it's her. They'll say things they've never told her before ― that they can't vote for Clinton because Trump is going to bring back jobs, or "get rid of all of these illegals," or not "allow all of these Muslims to come in."
"I can't believe the people that are voting for him," Shelby said. "I guess that's one of the hardest things. I look at them and I'm thinking, 'I know you, I didn't think you were this way. So is this in your heart and I didn't know this?'"
HUFFPOST READERS: What's happening in your state or district? The Huffington Post wants to know about all the campaign ads, mailers, robocalls, candidate appearances and other interesting campaign news happening by you. Email any tips, videos, audio files or photos to scoops@huffingtonpost.com.
Sign up for the HuffPost Must Reads newsletter. Each Sunday, we will bring you the best original reporting, longform writing and breaking news from The Huffington Post and around the web, plus behind-the-scenes looks at how it's all made. Click here to sign up!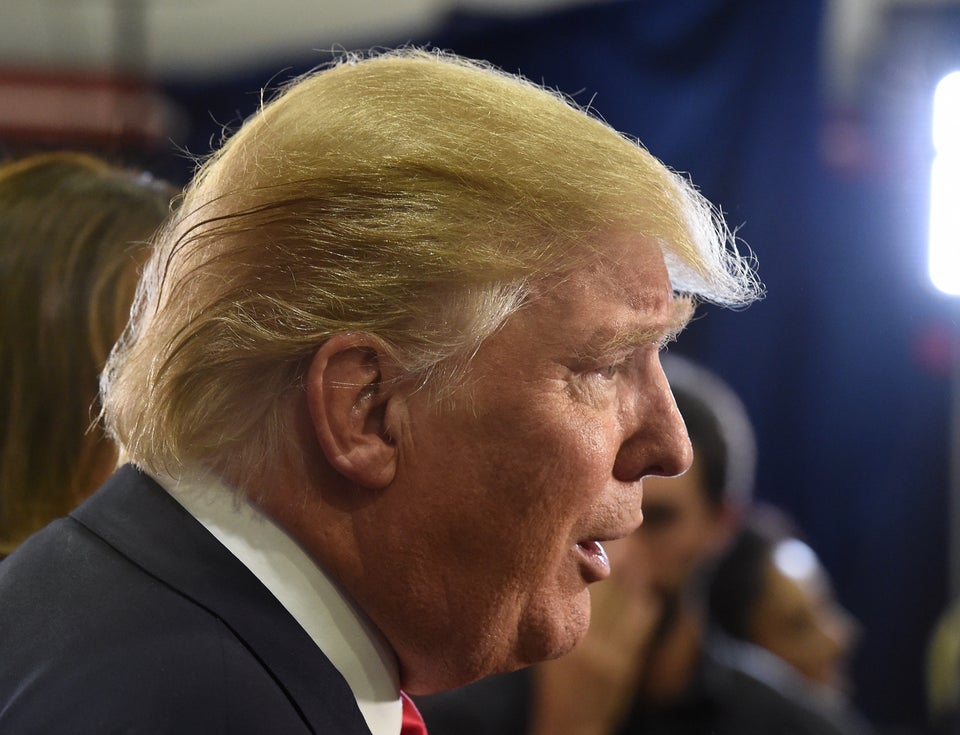 How Donald Trump Talks About Undocumented Immigrants
Popular in the Community