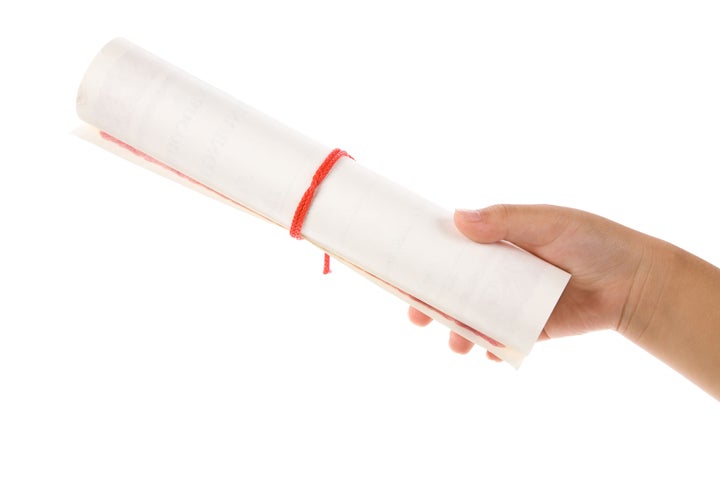 Research shows that when students are exposed to philanthropic giving while in college they are more likely to give once they graduate. Students who learn why giving is important are also more likely to be engaged in campus activities as alumni. At many majority institutions throughout the nation, especially well resourced colleges and universities, teaching students about giving and why fundraising is important to the success of the institution have become the norm. At my own institution, the University of Pennsylvania, we have a program called Penn Traditions that teaches student leaders about the role of philanthropy in the future of Penn. The program is hugely successful.
A conversation about philanthropic giving and its importance, as well as opportunities to learn about the inner workings of colleges or universities, is essential to sustaining their future. Future alumni need to be cultivated and educated about the needs of the institution.
With the exception of the United Negro College Fund's National Pre-Alumni Councils, talking to students about philanthropy has not been the norm at most HBCUs. However, this situation is changing. For example, most recently Claflin University raised $150,000 from its students. They are using innovative strategies to engage students and alumni alike and showing impressive results -- results that are the envy of any institution of higher education in the United States. And now Prairie View A&M University's students are banding together to help their institution raise scholarship funds for future students. Prairie View is a public HBCU located outside of Houston, Texas with roughly 8,400 students. The initiative, which is commonly referred to as the Student Development Initiative (SDI), has several components, all geared to expose and engage students in philanthropy while still on campus. According to Prairie View's Executive Director of Development Nelson Bowman lll, "Teaching them [students] to give now will create givers for life."
Beginning in March 2012, through a referendum, the students approved a fee increase of $10 per semester in order to establish a permanent scholarship endowment. In their eyes, this endowment is "for students, by students." It is important to note that students have the option of opting out of the fee, but the majority is choosing to support the initiative. Because Prairie View has available funds to match all endowment contributions, the institution is able to make a one-to-one match to the students' contributions. During the first five years of the program, the students have agreed to re-invest all of the income back into the endowment instead of awarding scholarships. This strategy will allow the principal to grow faster. In year 6, the university will begin awarding scholarships with each of Prairie View's individual colleges being given a percentage of the annual revenue to award based on student enrollment. Recipients of the scholarships will need to carry at least 30 credit hours and have a minimum GPA of 2.5. And, of note, only students that were willing to contribute to the scholarship fund are eligible to receive scholarships. In effect, the students are creating a circle of giving at their institution and supporting each other. Those who are skeptical about a student lead program like this should consider the potential results in the table below. Not only does this program aid current students, it also teaches them how to give and about the power of philanthropy. Moreover, this program could serve as a significant motivator to alumni wanting to support the institution through scholarships.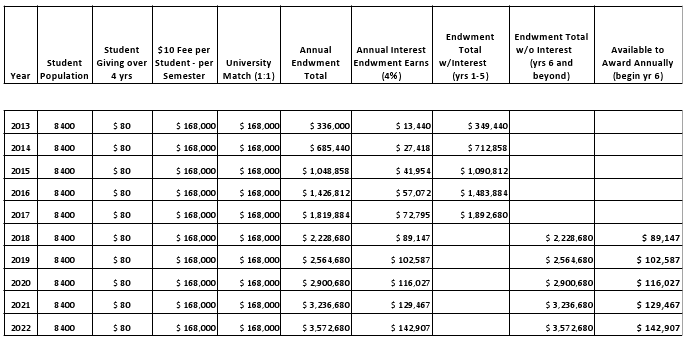 The second phase of the Student Development Initiative at Prairie View is the student driven Student Giving Campaign. The campaign's tag line is "Building Dreams One Student at a Time" and is a year-long initiative in which students are exposed to a common and consistent message: "Get Involved." The campaign has a participation goal of 15 percent rather than a firm dollar amount and in order to drum up enthusiasm, the residence halls as well as various student organizations are competing against each other to raise the most money for Prairie View. Part of the incentive for students in the Student Giving Campaign is that they get to decide on the designation of the funds (e.g., book funds, scholarships, class projects). Playing a part in the decision-making process gives students a sense of ownership in the university and serves as a source of pride.
What is most compelling about both of these student led initiatives is that they are low cost, student-powered, and create a foundation of giving at the institution. Other HBCUs should look to this initiative as a model and begin similar programs. Any efforts that bolster future alumni giving are essential to the future of HBCUs.
Calling all HuffPost superfans!
Sign up for membership to become a founding member and help shape HuffPost's next chapter