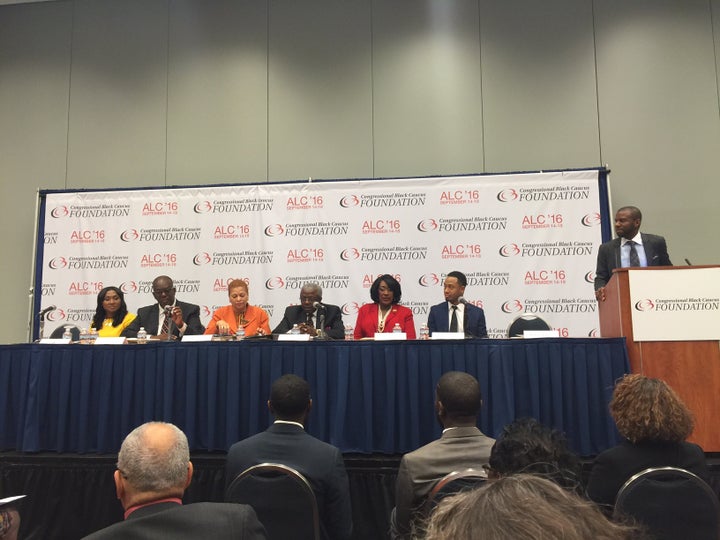 If you didn't know how important Historically Black Colleges and Universities (HBCUs) are to the education of African Americans prior to attending the Congressional Black Caucus Annual Legislative Conference panel, HBCUs: The Past, The Present, The Future "A Candid Dialogue on the State and Condition of HBCUs," you surely were aware by the end of the information -packed session.
Honorary host of the panel, Rep. Alma Adams (D-NC) is a well-known champion on behalf of HBCUs. She is the architect of the Bipartisan HBCU Caucus Internship Program in which HBCU students have the opportunity to intern in both a Republican and Democratic congressional office during an 8-week summer session.
The panel was moderated by Dr. Ivory Toldson, the former director of the White House Initiative on HBCUs. He dropped a lot of knowledge for the audience prior to kicking off the panel. One fact of which I was unaware is that HBCUs are one of the most productive group of institutions of higher learning, comprising just 3 percent of the nation's colleges and universities but producing 27 percent of the country's black graduates with science, technology, engineering and math degrees.
Terrence J, Dr. Jenkins and Dr. Boyd spoke of their backgrounds and how they were not accepted at predominantly white institutions because of their high school grades, but that the HBCUs they attended embraced them and helped to develop the intellectual muscle they would need to excel in higher education and career. Dr. Malveaux eloquently expressed the HBCU culture as looking at students as "smart until you prove you're dumb," the opposite of expectations for African American students at most predominantly white institutions (PWI). Issues surrounding ongoing educational disenfranchisement because of unequal public schools and opportunities were stressed by Dr. Johnson. This ongoing inequality demands even more support for HBCUs to help create a more fair society.
The focus shifted to why the knowledge about the impressive performance of HBCUs wasn't more commonly known. As the discussion continued Dr. Jenkins asked, "How do we protect these national treasures?" One solution is for HBCUs to improve their marketing and learn to tell their good news stories. Dr. Dubroy explained how she and her team are leading the way through establishing relationships with key leaders in the community and telling the Shaw University story in new ways. She stressed how they have changed the "value proposition," by talking about what they bring to the table and being "bold and different" in the way they approach it.
Dr. Boyd stressed that HBCUs have taken so many from the "projects to college presidencies" and how it is still doing that today. I think she was speaking for the entire HBCU leadership community when she told the audience, "If you're willing to work, we're willing to work with you."
At the close of this standing-room only two hour session all HBCU graduates were encouraged to support their alma maters by opening their wallets to help fund scholarships and opportunities for those coming behind them. And if you graduated from a PWI, you were encouraged to adopt an HBCU.
These powerful and productive institutions certainly deserve our support. What do you think?
Related
Popular in the Community