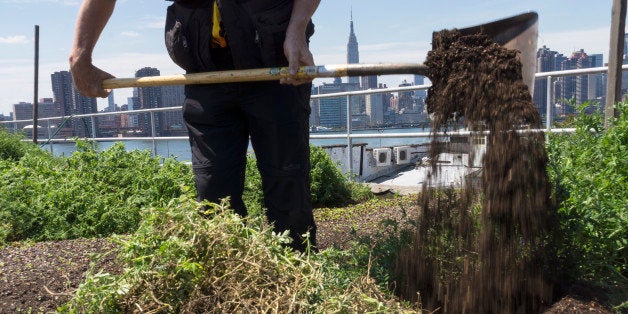 Officials at Virginia State University believe that a person with a little bit of land and a lot of work ethic can make a good living as an agricultural entrepreneur. To prove it, faculty and students from the university last summer established the 43560 Project - an initiative to demonstrate farming efficiency and productivity at its maximum potential.
The goal: to earn one dollar for all 43,560 square feet contained in one acre of land. They farmed a variety of fruits and vegetables on a small farm in Petersburg, Va., and attracted big regional attention for the innovative model they shared with underrepresented farmers and agriculture entrepreneurs throughout the state.
Virginia State is part of a growing collection of historically black land-grant colleges and universities expanding their social service and research mission through agriculture and partnership with Black and Hispanic farmers nationwide. As industry looks to higher education to produce more innovation in computer science, engineering and technology, these schools are among the nation's critical partners in supporting healthier food growing and consumption practices for the nation.
Eighteen HBCUs are classified as 1890 institutions -schools founded between 1866 and 1912 with agriculture at the center of their academic and social missions. Stationed as far north as Delaware State University, as far south as Florida A&M University and as far west as Langston University in Oklahoma, many of these schools are the bridge between small farm corporations and big opportunities with food distributors, restaurant, farmers markets, and other commercial enterprises.
"Engagement with small farmer is part of the land grant mission," says John M. Lee Jr., Vice President of Vice President of the Association of Public and Land Grant Universities' Office for Access and Success: the Advancement of Public Black Universities and Hispanic Serving Institutions. "They connect farmers to outlets to sell, help to coordinate with businesses, expose small farm operations to emerging technology and best practices to increase productivity."
Lee says the land grant mission, by nature, is a job creation engine in rural and urban settings. With research funding from the US Department of Agriculture, and growing needs for food safety and preservation, the historically black agricultural cooperative extension program creates economic impact on the campus, and in the communities they serve.
"At historically black colleges, there is a plethora of research on campus, such as producing new types of foods which are resistant to pesticides and infestation. And these research opportunities expand the knowledge base and the practical experience for students interested in agricultural careers."
Agribusiness development at these schools isn't limited to the farm. At Kentucky State University, faculty and students in its College of Agriculture, Food Science and Sustainable Systems are working to enhance the region's organic food output through aquaponics, a system where fish and vegetables are harvested together in an environment where both elements support the healthy growth of the other.
In 2013, Kentucky State was a key partner in establishing the state's first aquaponics farm system, serving as planning consultants and helping to stock a 90,000 foot indoor facility with fish.
"We work with value-added product, we teach citizens about growth production, horticulture, and organic farming," says Teferi Tsegaye, Associate Vice President for Agricultural Administration and Land Grant Programs at Kentucky State and Dean of the College. "Aquaculture is the university's program of distinction."
Tsegaye says they also embed the agricultural mission within other elements of the university's outreach profile. He cites a cooperative extension program specifically targeting returning military veterans as a part of the College's service to the community, along with food science initiative to promote environmental preservation.
At Virginia State, School of Agriculture Dean Jewel Hairston says that research is the great tide floating all vessels for the university's cooperative extension mission to aid small farmers.
"Our agricultural research division and cooperative extension programs are statewide," says Hairston, who is a key administrator of a partnership between VSU and VIrginia Tech to bring resources and training to the state's farming industry. "The education, the conferences, field days are for all Va. residents. And we have a great food science and safety division. We're creating safe food packing through nanotechnology to help preserve food and avoid food-borne contaminants."
Hairston and Virginia State have been key advocates for eliminating food deserts in Virginia, an ongoing process that has gotten the attention of state legislators. In 2013, Hairston was part of a team commissioned by the Virginia legislature to study the issue, and its solution, she says, will have to include the state's underserved farming communities.
"What crops are important to consumers? We're trying to get as many Black and Hispanic farmers connected to local markets. Whether they are selling through restaurants, consumer markets, we're trying to help them do that and to help our neighbors have access to healthy food that they can prepare and eat in a healthy way."
June will mark the one-year anniversary of the 43560 Project, but Hairston says the farming efficiency project is just the start of a movement of millions of people back to careers and opportunities in agriculture.
"It's all following the field of urban agriculture," she says. "Farmers now are retired people coming back to land left to their families, retired engineers, or may live in an urban area and just want to help communities."

Calling all HuffPost superfans!
Sign up for membership to become a founding member and help shape HuffPost's next chapter