I give this documentary, A Matter of Taste, three wows for three reasons.
First, New York City chef Paul Liebrandt, the film's subject, is fascinating. As he's a food artist, his sophisticated dishes are fascinating, too. We see close-ups of dozens being prepared in his real-life working kitchens during business hours. (That may be a first.) He no longer follows recipes, he experiments, layering and pairing unlikely food combinations. Consider chocolate-covered scallops, mackerel tartar with black olive jelly and smoked bacon sorbet, beer and truffle soup.
After restaurant apprenticeships beginning at age 15 in London and Paris, Liebrandt hit New York at 22 with dreams of culinary stardom. Those are literal stars, as the New York restaurant scene is bonded by and with Michelin Guide and New York Times food critics whose star rating systems have made and broken restaurants.
The film follows Liebrandt's up and down career in the city's treacherous restaurant business, beginning when he was 24 and executive chef at Papillon, a modest bistro. New York Times film critic William Grimes called it "a dump" despite giving it two stars (out of four) because he felt Liebrandt's food was that good despite the atmosphere. "He needs a bigger show," he wrote.
But it was neither wine nor roses there. Of Papillon, Liebrandt says:
Papillon was an in-between place before finding the right set-up. I wanted to work because a chef who doesn't cook is a miserable chef. But at Papillon, the menu deteriorated after 9/11. At times of crisis, people want comfort food they can relate to. It's not creative because they don't want, you know, "artistic" stuff.
As an example of this, a female server checking on her order enters the kitchen and approaches Liebrandt. A very tall man, he is bent over nearly double while putting the finishing touches on two plates of exotic-looking food. Watching him delicately place the last bobble, she asks, "Are you going to come out and explain that?" He does, wafting the two plates toward the customers with the server trailing behind. Grimes, who left the Times in 2004, says,
One of the great joke dishes for people who made fun of Paul back then was his signature dish, Amuse Bouche. It was a little ball of wasabi sorbet with a few grains of a special salt sprinkled over it. It sounds ridiculous, but when you're eating it and tasting the relationship between flavors, it was often inspired food.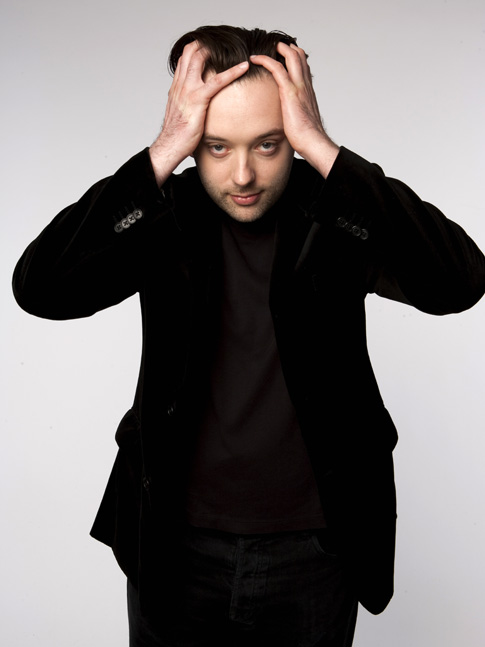 Chef Paul Liebrandt / Photographed by Leslie Hassler
Inspired, yes, and also meticulously rehearsed. "My dad wanted me to go into the military. But I wanted to cook. I like the buzz of the kitchen. Kitchens run with military precision. To get the standards, that's the only way to do it," he muses. Over the course of the film, we witness the spunk and hustle of a young man who works 18 to 20 hours a day, usually seven days a week. This means he'll never get a tan.
After four British and Parisian restaurants, Liebrandt goes through five New York restaurants and some hard times before hitting the big time. All the while, he is bending over plates, placing unrecognizable components on a dish, nudging them into place or squeezing some colorful liquid over them. Next, he's inspecting, tasting, insisting on perfection (pretty intensely sometimes) and dressing down a youthful staffer who looks tired and admits to a late date the night before. "Ladies come and go. Your career is constant," he lectures. Or "Life is not a 500-meter dash; it's a marathon."
"Yes, chef." "Thank you, chef," they say.

My second wow is for first-time director Sally Rowe, a New Zealander who also apprenticed in New York over many years. She worked a variety of film jobs before making this film. She says she found Liebrandt's food at Atlas in 2000, then at Papillon in 2001. That's when she asked for permission to film him.
I thought New York chefs would make a good film as chefs weren't sensational back then. Paul's food was delicious, visual and colorful, so I wanted him in my film. It was only later that I decided to make the film entirely about him. I shot the film over 10 years. I'd work awhile, then shoot awhile, then work again, then shoot. I funded the film myself, accumulating 200 hours of video, five of which were food shots... Paul was very generous. He let me into his busy kitchens, where it is very difficult to shoot and keep out of the way. It's hot and noisy, so Paul would tell us where we could stand. We'd use a zoom lens moving in and out. Sometimes we'd physically move in for something cooking on the stove, then quickly back away.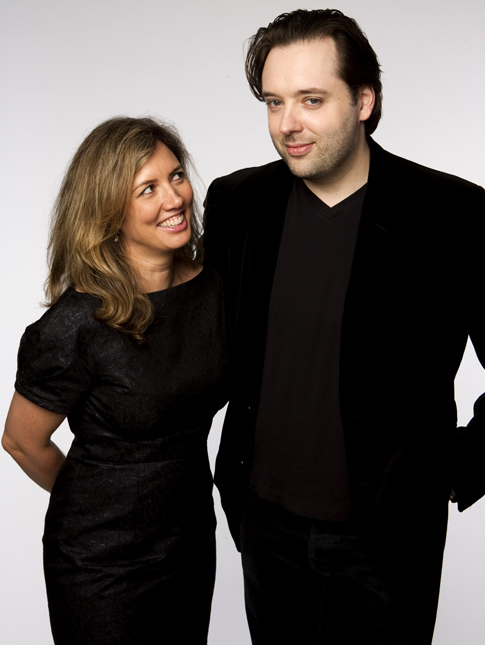 Director Sally Rowe with Paul Liebrandt / Photographed by Leslie Hassler
I award my third wow to the film's editor, Amy Foote of The Edit Center. She worked film magic in numerous clever ways. Having Rowe's 200 hours of footage to work with, she morphed them into a tantalizing character study as well as an instructional food film. She and Rowe chose the most poignant scenes, including telling interplay between Liebrandt and his girlfriend, Alleene Ocontrillo, a restaurant director who both lives with and works with him at Corton, the Tribeca restaurant Liebrandt now co-owns with the owner of Nobu, Drew Neiporent. Mingling Rowe's great footage of the preparations for opening Corton with the staff's and owners' anxiety over the secretive New York Times food critic's visits (reservations made under a false name), she's created a sensational, climactic finish. And what awards have they achieved - so far - there? Corton is one of only six New York restaurants to have two Michelin stars.
Coming back to director Rowe, I ask for her favorite Liebrandt concoction. "I'll have to go with his fois gras terrine with beet gelée," she says dreamily.
I hope Liebrandt's back holds up. He's still young at 34 and has thousands of customers to fill with wonder.
HBO will repeat "A Matter of Taste" after the June 13 premiere plus it's available at HBO On Demand through 9/11/11.
To view more of Leslie Hassler's photography: www.lesliehassler.com
Calling all HuffPost superfans!
Sign up for membership to become a founding member and help shape HuffPost's next chapter