Like most great singers, Billie Holiday never had to explain what she was singing about.
But that's a good part of what the splendid Audra McDonald does in Lady Day at Emerson's Bar and Grill, which premieres Saturday at 9 p.m. on HBO.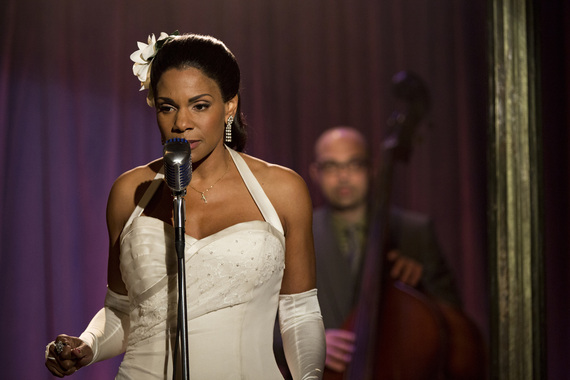 It's a TV production of the show for which McDonald won a Tony Award on Broadway, and it comes as close as TV can come to feeling live. It was filmed in New Orleans at a small club that provides a good sense of how a night like that would have felt.
Lady Day, written by Lanie Robertson, unfolds four months before Holiday died in 1959. Her life ravaged by her own excesses and an unsympathetic law enforcement community, she is playing any joint where she can still get licensed.
She still sounds like herself, partly because she never had a powerful or wide-ranging voice to begin with. What she was telling us came through the expression, so all the accumulated pain and weariness fit right in.
McDonald, a much better traditional singer than Holiday, seems at times to be dialing herself down, holding her vocal power in check.
When she sings "Gimme a Pigfoot," it illustrates with marvelous clarity the difference between the blues/jazz style of Holiday and the roaring blues of her most famous immediate predecessor, Bessie Smith. It feels like a different song.
Because Holiday's singing was so distinctive, there inevitably are also moments when it feels like McDonald is doing an imitation. Most of the time, though, particularly with the critical songs "Strange Fruit" and "God Bless the Child," it just feels like fine singing.
Lady Day at Emerson's Bar and Grill was first produced in Atlanta in 1986. It moved to off-Broadway with Lonette McKee as Holiday, and before it finished its run there, S. Epatha Merkerson had taken the role.
Bringing in Merkerson suggests, correctly, that the music was just the foundation here, not the whole show. There's a fair amount of acting as well, with Holiday's between-songs banter about her life.
That life had a lot of darkness, and while her hard road has never been a secret, it's worth retelling now for a contemporary audience that may be less familiar with Holiday.
McDonald captures Holiday's voice, keeping her mostly in outward control while clearly she's struggling to keep from falling apart.
She bitterly refers several times to the way she keeps getting busted, while alluding to the appalling things in her early life that helped drive her to drugs. She tells some of those tales with wry humor, some with anger.
It's pretty clear that without the music, she wouldn't feel like she had much of anything.
"I want a beautiful home and some kids," she says near the end of the show. "And my own club, some place where I can sing for all my friends. What else is there?"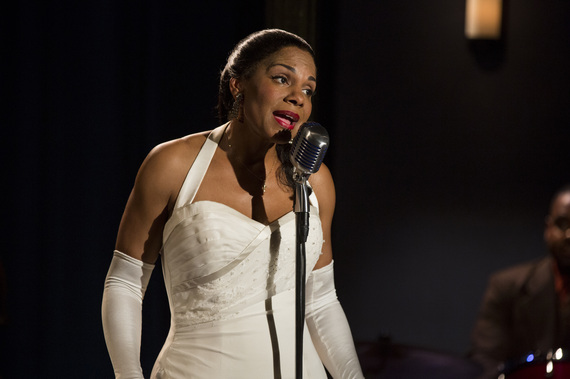 We know there isn't even that. She probably knew it, too, which is the poignance of Lady Day at Emerson's Bar and Grill.

Of course, we also get that from songs like "Foolin' Myself," "What a Little Moonlight Can Do" and "I Wonder Where Our Love Has Gone."
At several points viewers may feel a song would say as much as or more than a monologue.
But it all still adds up to a beautifully performed musical portrait of another artist whose haunted life gave more to us than it gave to her.
Calling all HuffPost superfans!
Sign up for membership to become a founding member and help shape HuffPost's next chapter