HBO has come out in defense of its upcoming series "Confederate" after white supremacists demonstrated over the weekend, in part to protest the removal of a Confederate statue. The violence in Charlottesville, Virginia, left one counterprotester dead.
"Confederate," the next project from "Game of Thrones" co-creators David Benioff and D.B. Weiss, drew immediate criticism when it was announced in July. The series will imagine a world where the South prevailed in the Civil War and legal slavery is still allowed to exist. It's set to go into production after the next and final season of "Game of Thrones" wraps.
"HBO has a long history of championing intelligent storytelling and we will approach this project with the same level of thoughtfulness that has always defined our programming. We recognize the sensitivity of this project and will treat it with the respect that it deserves. Our creative partners should be given time to develop the series rather than face prejudgment."
The statement mirrors that which the network issued shortly after the series' announcement, calling for critics to "reserve judgment until there is something to see." 
But the infant series has already prompted criticisms over its timing and potential impact, even before James Alex Fields Jr., 20, rammed his car into a crowd protesting a white supremacist rally on Saturday, killing 32-year-old Heather Heyer.
Last month, black women on social media, including #OscarsSoWhite creator April Reign, led a discussion with the trending hashtag #NoConfederate to air their criticisms of the series. "We do not want HBO to expend any additional time, money or energy on this idea," Reign told HuffPost at the time.
Other prominent voices chimed in, too. For The Atlantic, Ta-Nehisi Coates countered the network's defense, writing, "HBO executives themselves judged 'Confederate' before they'd seen it ― they had to, as no television script actually exists." 
He later continued, "'Confederate' is the kind of provocative thought experiment that can be engaged in when someone else's lived reality really is fantasy to you, when your grandmother is not in danger of losing her vote, when the terrorist attack on Charleston evokes honest sympathy, but inspires no direct fear."
"It is exhausting to think of how many people at [HBO] said yes to letting two white men envision modern day slavery. And offensive," writer Roxane Gay tweeted.
"Confederate" writers Benioff and Weiss, who are white, and husband-and-wife duo Malcolm Spellman and Nichelle Tramble Spellman, who are black, addressed the controversy in a lengthy interview with New York Magazine last month, promising they would present a thoughtful alternative history.
"We knew that we could do something easy, and that there are many, many easy things that we could've done," Weiss said, explaining how he and Benioff sought a "difficult" project as their follow-up to the hit "Game of Thrones." The two have also faced criticisms of their treatment of slavery in that series, which features a primarily white cast.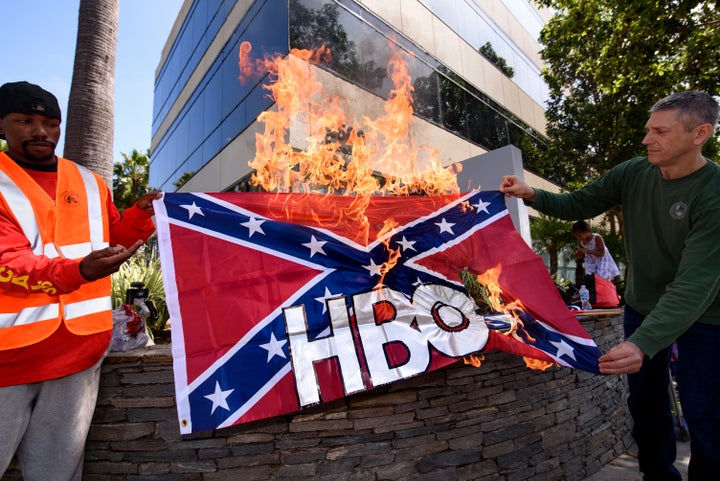 "Confederate" is not likely to air until 2018 or 2019.
REAL LIFE. REAL NEWS. REAL VOICES.
Help us tell more of the stories that matter from voices that too often remain unheard.
BEFORE YOU GO
PHOTO GALLERY
Powerful Signs From Charlottesville Protests Across The U.S.