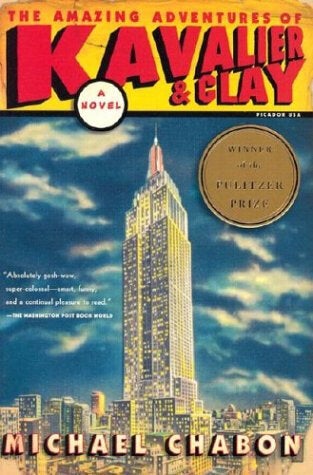 Michael Chabon's "The Amazing Adventures of Kavalier and Clay" could be coming to a screen near you.
According to Collider, director Stephen Daldry wants to turn the novel into a miniseries for HBO.
"I would love to do something for TV," he said. "I wanna do Kavalier & Clay on HBO as an eight-parter. It'll be so much better as a series, honestly."
There's just one catch -- Daldry doesn't have the rights to the book. Paramount does -- though Daldry himself was signed on at one point to direct a film version, the project has continued to languish.
"I spent a year working on it with Michael Chabon, so we're pretty close," Daldry told Collider. "And the rights, good question. Will Paramount give them to me? I don't know. It'll be a really good one. It'd go great with 'Boardwalk Empire.'"
HBO is already working with Chabon and wife Ayelet Waldman to develop a series called "Hobgoblin," which tells the story of magicians and con men working together to bring down Hitler. In June, it was announced that Darren Aronofsky will direct the pilot for the show.
Should HBO pick up the "Kavalier and Clay" project, it will be only one among what is a rapidly growing list of highbrow literary adaptations the network has taken on in the past year, to be turned into series, miniseries, and movies. Okay, are you ready? Here we go:
Along with the highly anticipated adaptation of Jonathan Franzen's epic midwestern family drama "The Corrections" (starring Chris Cooper, Dianne Wiest and Ewan McGregor, and directed by Noah Baumbach) and David Milch's adaptation of William Faulkner's work, HBO has announced its intention to adapt books including Karen Russell's Floridian picaresque "Swamplandia," Neil Gaiman's road-trip fantasy tale "American Gods," Stephen King's multi-part fantasy series "Dark Tower" series, Jennifer Egan's Pulitzer-winning "A Visit From the Goon Squad," Tom Perrotta's post-Rapture story "The Leftovers," Chad Harbach's baseball bildungsroman "The Art of Fielding," Susanna Moore's dark women's prison psychodrama, "The Big Girls," Carl Hiaasen's environmental thriller "Skinny Dip," Sara Gran's 1950s noir "Dope," Ann Hood's story of grief and recovery, "The Knitting Circle" (produced by, and starring, Katherine Heigl) and, with the BBC, Hilary Mantel's Booker Prize winning Tudor-era historical novel "Wolf Hall," and Robert Graves' classic Roman Empire novel "I, Claudius."
In addition to all that, Gary Shteyngart, author of "Super Sad True Love Story," is working on an original pilot for HBO, as is Sam Lipsyte, author of recent novel, "The Ask." It's getting to the point where acclaimed novelists may start to feel left out if they're not working with HBO.
HBO has also picked up some non-fiction titles for adaptation, including Diana Henriques' "The Wizard Of Lies: Bernie Madoff And The Death Of Trust" (with Robert DeNiro reportedly in talks to star), Robert Caro's biography of Robert Moses, "The Power Broker," Michael Gross' "Unreal Estate: Money, Ambition and the Lust for Land in Los Angeles," Barton Gellman's "Angler: The Cheney Vice Presidency," Raymond R. Sarlot and Fred Basten's memoir "Life at The Marmont" (about life at legendary Los Angeles hotel, Chateau Marmont, with Aaron Sorkin and John Krasinski attached), and Nicholas Johnson's Antarctica memoir, "Big Dead Place" (produced by, and potentially starring James Gandolfini). They will soon release their adaptation of Mark Halperin and John Heilemann's "Game Change," following their made-for-TV movie based on Andrew Sorkin's re-telling of the financial collapse, "Too Big To Fail" earlier this year.
HBO isn't just adapting books — films, and even websites, are fair game, too. The network also has plans to adapt the movie "The Kids Are Alright" into a TV series. They will do the same for Ian Palmer's documentary about bare-knuckled boxing bouts in Ireland, "Knuckle" (to be written by Irvine Welsh) and website, Lifestylelemonaid.com .
And, of course, "Game of Thrones" (based on the books by George R.R. Martin), "Boardwalk Empire" (based on Nelson Johnson's "Boardwalk Empire: The Birth, High Times, and Corruption of Atlantic City") and "True Blood" (based on the books by Charlaine Harris), three of HBO's current titles, were also adapted from popular books, as was their successful miniseries "Mildred Pierce." And though HBO is the most prolific network, it's not the only one to turn its eye towards novels for the small screen -- a tactic that the British have long employed in adapting its country's classic novels.
Still, while HBO's current slate of shows contains more original shows (not adapted from any other source) than adaptations, it looks as if the future could be another story.
Related
Popular in the Community