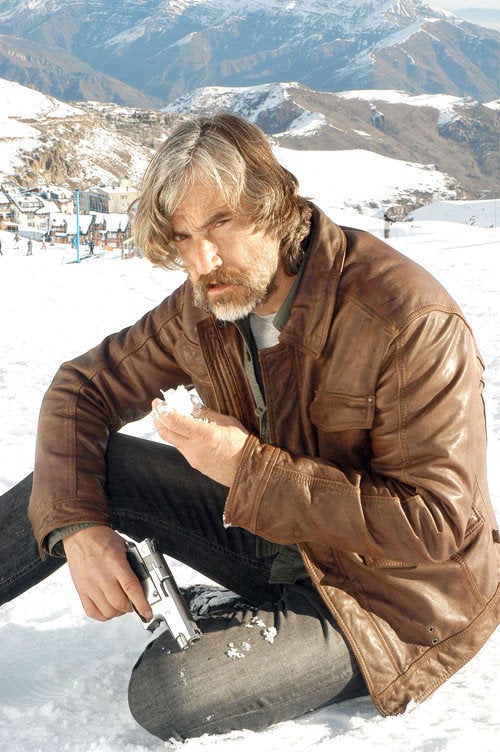 Guns, love, drug trafficking, betrayal and the search of a dream sound like the typical ingredients for a TV series like Prófugos (fugitives), but for HBO Latino, these elements are just a platform where different characters interact developing an interesting analysis of reality. A reality anyone can relate to.
"The most interesting thing to me is how these four different characters interact as their escape unfolds and they are forced into the common struggle for survival. And it is this tension in an action film that, when coupled with the drug trafficking aspect and the everyday issues that all of us can relate to, make for a compelling story or the Latino audience", said the protagonist, Chilean superstar Francisco Reyes.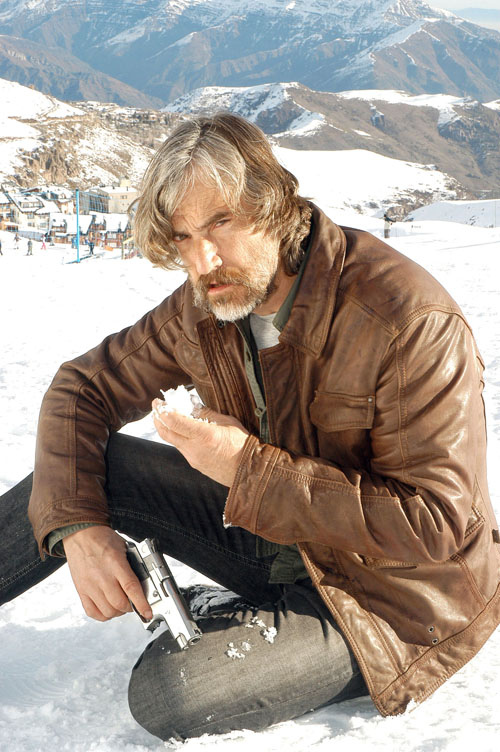 Chilean star, actor Francisco Reyes. Photo courtesy HBO Latino.
HBO lovers will not be disappointed at this new series in Spanish, filmed partly on location in the Chilean desert. "The series took three months to get ready and six months to film. It was a very demanding experience, physically and in terms of giving your all: working in extreme conditions far away, in different locations along 2,500 kilometers of desert and mountains," said Reyes.
"It's a 'road series' with complex characters", said Luis F. Peraza, Executive VP, Programming Acquisitions and Original Production, HBO Latin America, "a compelling story, relevancy for our market". Peraza agreed that shooting on location all over Chile and making action scenes credible, was a big challenge.
The enormous Atacama desert was only one backdrop selected for the first-ever HBO Latin America production in Chile. The first two episodes were premiered with a red carpet event at the opening of the New York Latino Film Festival last month.
Together with Fábula Producciones, a renowned Chilean production company, HBO Latin America faced the challenge of working on unknown territory for the first time. "There was neither the confidence nor the knowledge of how to work in Chile. So, it was like an ant's work," said Reyes.
Award-winning Chilean director and producer Pablo Larrain and Venezuelan director Jonathan Jakubowicz directed the thirteen episodes of Prófugos, an acquisition for HBO Latino. The cast also includes Chilean international film and TV star Cristian de la Fuente, who also co-produced the series.
"Pablo Larrain was the person who originated the idea and took control of almost everything", said Reyes, "half of the series was filmed by Mexican Javier Patrón, with whom I had a fantastic connection. Same with Jakubowicz, but he was there less time (and the relationship was more distant)", said the celebrated actor.
Francisco Reyes said he identified himself with the character Oscar Salamanca, an ex-revolutionary who managed to escape torture and death and decided to become involved in a drug trafficking operation to secure a future for his daughter. Reyes recalled fighting during the Chilean dictatorship: "...not armed, but I did combat in the street, confronting the police and participating at the secret meetings. But there was an important group of patriots that did armed combat. Salamanca incarnates one of those that gave everything in that fight. Then, all of a sudden, politics goes in another direction and leaves dictatorship behind through peaceful negotiations. Therefore, the armed fight was over and all those guys have nowhere to go. Some of these patriots inspired the story of Salamanca, they knew how to live at risk on the run, how to handle guns, arms and logistics, so they became criminal groups in order to make a living or perish. I was very attracted to telling this story."
The story of a failed drug trafficking operation started on the border between Bolivia and Chile and developed with the relationship of four men with different personalities, but similar criminal background and a complex web of ambitions where corruption transforms all the course of the planned strategies.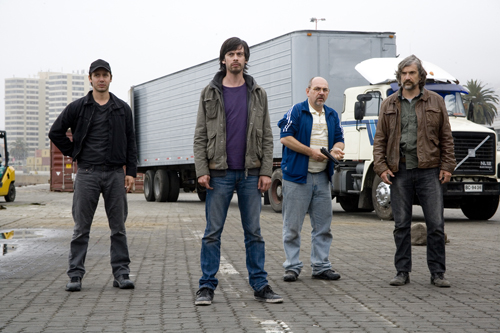 Chilean actors Benjamín Vicuña, Néstor Cantillana, Luis Gnecco and Franciso Reyes.
Photo courtesy HBO Latino.
"The action genre is very attractive, I love the idea of being on TV screens in Latino America and North America, it is great to reach millions of viewers," said Reyes.
It is indeed very exciting that HBO is betting on their productions in Latin-American countries, to reach a wider Spanish speaking audience in the United States, and therefore allowing an enriching artistic and technical exchange between American and Latino American production companies.
"Our Spanish-language content is very important for HBO Latino," said Lucinda Martínez, Vice President, Domestic Network Distribution & Multicultural Marketing for HBO. "We're the only premium Spanish-language channel for U.S. Latinos with original programming, so the content and the quality is what truly sets us apart and continues to make HBO Latino a leader in the category. We know that exclusive rights to premiere Spanish-language movies ranks as one of the most compelling programming features on the channel, so we have significantly increased the number of 'Estrenos Latinos' we acquire for the service."
In the beginning of September, HBO started showing one of their 'Estrenos Latinos' every night of the week at 8 PM. "Our Spanish-language content is also culturally relevant, which is extremely important to our audience, whether it is a series like Prófugos, Capadocia or Alice which we acquire from Latin America, original documentaries like The Latino List or our exclusive boxing events which feature Hispanic announcers who call the fights in Spanish," emphasized Martínez, the HBO Vice President.
Some great programs will be premiering in 2013: two Mandrake telefilms and the highly-anticipated third season of Capadocia -one of their most successful Spanish language series- with thirteen new episodes, are scheduled to premiere in the second half of next year. "Capadocia has intriguing, colorful characters and a really great cast including Ana de la Reguera, who is very well known to HBO Latino audiences. The storyline also makes the series very popular. The idea that life can change in an instant is something everyone can relate to."
While the second season is already in development, Prófugos will premier on HBO Latino tonight at 10 PM /9C and will air every weeknight at 10 PM. All episodes will be available on HBO Go and HBO On Demand after they air. Don't miss out on this series -get ready for an action-packed, adrenaline-dripping thriller and the high quality production that truly sets HBO apart.
Calling all HuffPost superfans!
Sign up for membership to become a founding member and help shape HuffPost's next chapter