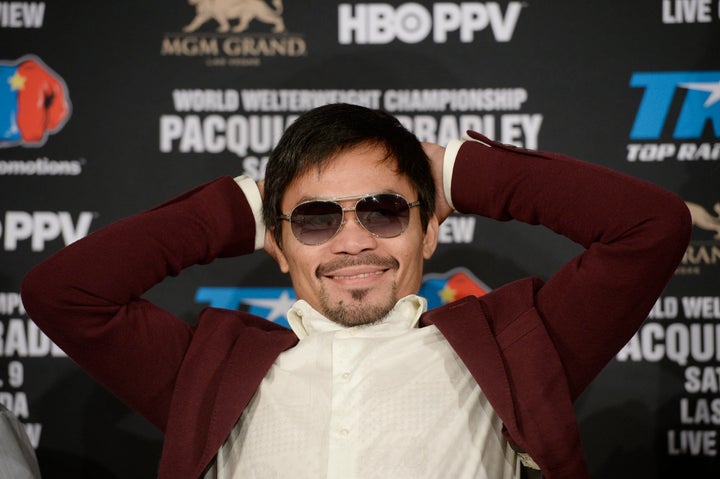 Officials for the premium television network spoke out against Pacquiao, who is currently running for a senate seat in his native Philippines, and called his remarks "insensitive, offensive and deplorable." Still, they vowed to move ahead with a planned broadcast of what is expected to be the final fight of Pacquiao's career, against Timothy Bradley Jr., on April 9. 
In a statement issued to The Huffington Post, HBO officials wrote: 
Next month Manny Pacquiao and Timothy Bradley Jr. are scheduled to meet in a Pay-Per-View bout. We have an obligation to both fighters and, therefore, will proceed to produce and distribute that event. However, we felt it important to leave no uncertainty about our position on Mr. Pacquiao's recent comments toward the LGBTQ community. We consider them insensitive, offensive and deplorable. HBO has been a proud home to many LGBTQ stories and couldn't approach this event without clearly voicing our opinion.
HBO follows Nike in criticizing Pacquiao's statements. The sportswear giant, however, went a step further and dropped its longtime partnership with the 37-year-old boxing champ just two days after the controversy made headlines. 
Pacquiao, who is the only eight-time world champion in his sport's history, made the comments while speaking out against same-sex marriage in a Feb. 15, interview with Filipino television station, TV5. 
"Will you see any animals where male is to male and female is to female? The animals are better," he said, according to CNN. "They know how to distinguish male from female. If we approve [of] male on male, female on female, then man is worse than animals."
Although, he did not back down on his opposition to marriage equality, Pacquiao offered a somewhat half-baked apology on Instagram.  
"I still stand on my belief that I'm against same sex marriage because of what the Bible says, but I'm not condemning LGBT," he wrote. "I love you all with the love of the Lord." 
Nice sentiments, HBO, but it's safe to say we won't be tuning in. 
Calling all HuffPost superfans!
Sign up for membership to become a founding member and help shape HuffPost's next chapter
BEFORE YOU GO
PHOTO GALLERY
Homophobic Tweets By Celebs