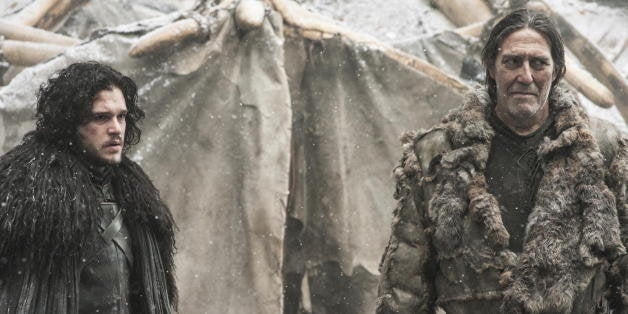 HBO CEO Richard Plepler took the stage to announce that the company's long-awaited standalone streaming service, HBO Now, will cost $14.99 per month and become available in April, ahead of the premiere of the fifth season of the hugely popular show "Game of Thrones."
HBO Now will allow people in the U.S. for the first time to subscribe to HBO without paying for a TV subscription.
It's part of a broader push by TV networks and even some TV providers to appeal to the growing number of so-called "cord cutters" -- those people who watch TV online through services like Netflix, Hulu Plus and Amazon instead of paying for cable each month.
For now, the only way you'll be able to sign up for the new service will be through an Apple TV, or by downloading an app to your iPhone, iPad or iPod Touch.
After you sign up, you'll be able to watch not only on those Apple products, but also on other devices by visiting www.hbonow.com.
HBO has said it's still in discussion with pay TV providers, so there's a possibility that when the service launches you'll also be able to buy HBO Now through the company you already pay for Internet service or TV.
In a statement, Cox Communications, the third-largest cable company in the U.S., said that it's "talking to HBO to better understand the service they've announced, but our distribution agreements have not changed."
But don't expect all TV companies to jump at the opportunity. Many want to keep customers subscribing to HBO as an add-on to the so-called cable bundle.
Comcast, Time Warner Cable, Charter Communications, Cablevision, Dish and DirecTV all declined to comment about whether they were in talks with HBO or planned to offer subscriptions to HBO Now.
Apple will be the exclusive non-pay-TV launch partner for HBO Now for the first three months the service is available, according to HBO. Subscribers who sign up through Apple during April will get one month free. After the service's first three months, it's possible you'll be able to sign up for -- and watch the service -- through other streaming devices, like those from Roku, Amazon and Google.
HBO says the service will be "similar to HBO Go" and will have more than 2,000 titles, including popular series such as "True Detective," "Veep," "Silicon Valley," and, of course, "Game of Thrones," as well as shows like "Last Week Tonight with John Oliver" and "Real Time with Bill Maher." It will also have HBO's documentaries and comedy specials, and older titles like "Sex and The City," "The Sopranos" and "The Wire."

The service won't offer live TV, but an HBO spokesperson said that programming will be scheduled to appear on HBO Now when it premieres on HBO, and live events will typically come to HBO Now within 24 hours.
For Apple, it's a great way to bring in additional revenue -- Apple is most certainly taking a cut of the subscription fee, though neither Apple nor HBO would comment on the revenue breakdown.
Apple will also sell more Apple TVs -- connected boxes used to stream video from the Internet to your TV -- thanks to the partnership. The company said on Monday it would drop the price of the device from $99 to $69.
Of course, it was also a great marketing move for HBO to gin up publicity for its new service by announcing it at an Apple event, which is closely watched by the tech and media press.
Calling all HuffPost superfans!
Sign up for membership to become a founding member and help shape HuffPost's next chapter