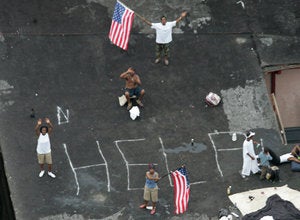 HBO has given the green light to three television pilots: a comedy based on a book about the sexual exploits of a Capitol Hill staffer, a look at post-Katrina New Orleans by the creator of "The Wire," and a drama about Atlantic City in the 1920s.
The premium cable channel announced the pilots at the Television Critics Association press tour in Los Angeles on Thursday.
"We've ramped up the volume" of pilots, Michael Lombardo, president of the HBO programming group, said. "We're very much in a 'go' mode."
The first pilot was inspired by "The Washingtonienne," a novel written by Jessica Cutler, a staff assistant to a Senator who blogged about her romantic trysts in 2004. Sarah Jessica Parker is executive producing the half-hour comedy.
The New Orleans drama, titled "Treme," was written by David Simon, the creator of the inner city Baltimore series "The Wire." According to Dave Walker of the New Orleans Times-Picayune, the pilot picks up a few months after Katrina. "Though the show's main storylines will focus on musicians, other elements of the city's unique culture will be spotlighted," Mr. Walker writes. "One of the pilot script's principal characters, Simon said, runs a restaurant."
Popular in the Community