Investors seem to think Netflix would take a hit in a world where you can get HBO without a cable subscription.
On Wednesday, HBO announced it will offer a standalone streaming service that will let you watch the network's programming without a cable subscription. The news sent Netflix stock tumbling: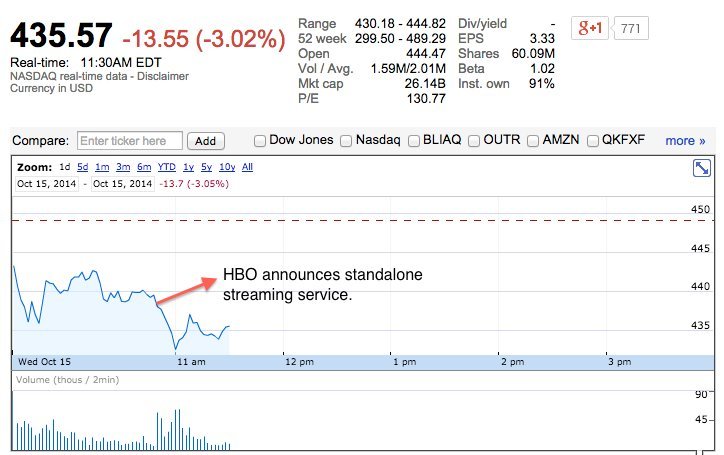 Though the stock rallied a bit after an initial drop, it was still down 3 percent to $435.63 at around 12:30 p.m. Time Warner Inc., HBO's parent, was up nearly 2.5 percent to $72.39. By 2:45 p.m., Netflix's stock price had recovered somewhat, back up to $441.75. The stock ended the day down only 0.12 percent.
HBO's announcement comes on the same day that Netflix is expected to announce its quarterly earnings and seems timed to poke at the streaming company.
We don't yet have details about HBO's service. A lot remains mysterious: How much would it cost? Would it be as robust as HBO GO? The network's current app contains an enormous amount of programming. Though many cord-cutters use HBO Go by logging in with a friend of family member's password, there's currently no way to subscribe to HBO without paying for cable.
Soon after HBO's announcement, Netflix said it was adding every episode of the popular show "Friends" to its library of content.
This post has been updated to reflect changes in Netflix's stock price throughout the day.
Popular in the Community