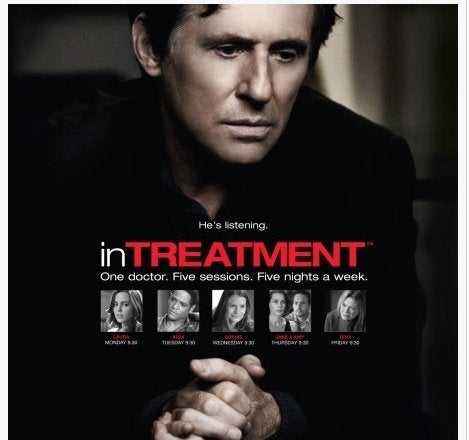 Some things sound simply awful: a family reunion holiday cruise, an all-you-can-eat haggis buffet, a television series set entirely in a psychotherapist's office.
And that is the premise of "In Treatment," a series that begins Monday on HBO. For nine weeks, five nights a week, viewers are invited to sit in on the therapy sessions of Paul Weston (Gabriel Byrne). He treats four patients (five, actually, since one session is with a married couple), and then on the fifth day he discusses his demons with his own therapist, Gina (Dianne Wiest).
Electroshock therapy might seem more welcome.
"In Treatment," however, is hypnotic, mostly because it withholds information as intelligently as it reveals it. Each night a new half-hour episode follows a different patient's session. In every session the patients' words are veined with allusions and elusions, clues to problems or patterns that are invisible to them but absorbing for the viewer.
...
Sometimes, however, a series is just a series. "In Treatment" is not a sign of network post-traumatic stress disorder but of HBO's inner resilience. This show is smart and rigorous, with a concentration that bores deep without growing dull.
Calling all HuffPost superfans!
Sign up for membership to become a founding member and help shape HuffPost's next chapter