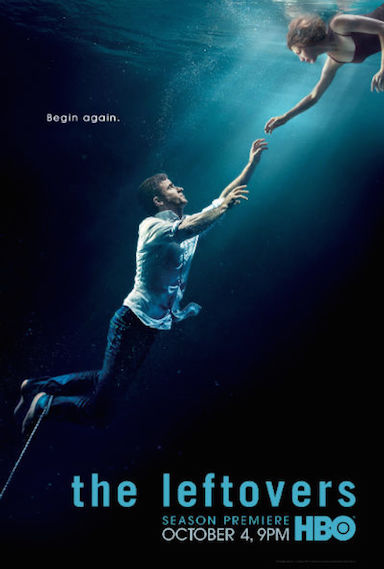 The saying "Be careful what you wish for" has that built-in caveat that should alert viewers of season two of HBO's often dark but seductively captivating drama, The Leftovers, which premieres on October 4. After the world was rocked by a Rapture-like event called The Departure, which saw two percent of the world's population inexplicably disappear "poof" into thin air, the grieving survivors are trying to move on. The first season was a gripping meditation on the human reaction to grief and loss. But that was so last season.
Now when Kevin Garvey (Justin Theroux), the former Mapleton, New York police chief and his new extended family, including Nora (Carrie Coon), his daughter Jill (Margaret Qualley) and an adopted baby, arrive in Texas and see a sign -- Jarden, Texas: Population: 9261. Departures: Zero. -- things are looking up. The town of Jarden has been re-branded as "Miracle" and it's being sold as everything you could wish for. And it is, for about two minutes!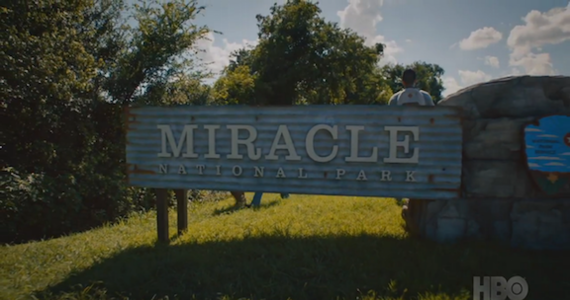 There's a homeless man living in a tree-house in the center of town. A woman in a wedding dress waters her lawn. And some dude brings a bleating scared goat into a restaurant with a knife in hand. As Justin Theroux describes it:
At the end of the first season, my character was wishing for a kid and being a family again. And he gets this cobbled together version of that family, and it's that 'be careful what you wish for thing.' Just because they've arrived in 'Miracle' (an expected sanctuary), it's not like they stopped in Tennessee and did therapy after all that grief suffered in Mapleton, so they arrive with all those extra challenges. And I think like receiving anything you wish for, the expectations are often grander than what you actually end up getting.
The new promo poster heralds the words "Begin again" and the first couple of episodes of the new season do give a sense of renewal in spite of all these peculiar and menacing David Lynchian things going on in Miracle.
Theroux, who's sporting a gold band on his wedding ring finger after his private nuptials with Jennifer Aniston in the summer, is understandably secretive about his personal life but happy to talk about the vision of The Leftovers' creator Damon Lindelof:
It could be seen as a total re-boot, yet it feels very much the same show but it's opened up the new season with other themes. Whereas last season was very grief and loss-oriented, this season gets more agnostic and spiritual and interesting in different ways. It's still very cool, right in The Leftovers' world, but Damon has chosen smartly knowing we can't mine that 'loss' vein forever in Mapleton. They've been through some extraordinarily bleak things but it's something we all do in life, we all have these challenges. Yes, the show is heightened reality, but no one really knows what's going to happen next in their lives.
Coon, who had a career breakout with her role in Gone Girl as Ben Affleck's memorably empathetic twin sister, echoes Theroux's thoughts, adding:
I find the show actually very hopeful. Yes, they're in extraordinary circumstances, but aren't we often in circumstances like that, don't we look around us and see tragedy, despair, and devastating circumstances happening to communities, and how they deal with it collectively? We wonder how do they pull it off, but they always do. Look at what happened with those Charleston church shootings -- those people going the next day to forgive that young man is beyond anything I can understand. But there are examples of it everywhere. I live in that possibility of them all being okay, and that's actually a beautiful thing, because I need those examples in my life. And I feel I get to act in a place where we're trying to live that out a little bit in a fictional way, and demonstrate that kind of resilience, which is tremendously hopeful. People talk about the show being bleak, but I actually find it very real, even though there's a supernatural circumstance.
One of the season's interesting plot points is that a group and a family of new characters are introduced upfront, so we can "attach ourselves emotionally to them" before the Garvey family arrives. Also, Kevin's former wife Laurie (Amy Brenneman) is still back in Mapleton and so is the Guilty Remnant, still smoking away, and led by GR devotee Megan (Liv Tyler) and her creepy, wordless stare. And, additionally, the now dead Patti (Ann Dowd) returns to haunt Kevin but Theroux suggests, "She's ostensibly the villain, but it's turned into a really beautiful storyline."
Theroux says of producer Lindelof, who also created Lost an iconic series that left behind a lot of unanswered questions, that he's shooting for "something more poetic than what we normally see on television." Theroux makes reference to filmmaker David Lynch, with whom he's worked on several projects (Mulholland Drive, Inland Empire), explaining:
Damon works with iconography and imagery, and it's not an untried practice -- David Lynch and Frederico Fellini, guys who go outside the bounds, take risks. At a certain point you just want the imagery and dream logic to wash over you, and when you latch on that, you find their films are very moving and powerful. If you listen to Taylor Swift a lot, you know kind of what to expect when her next record drops, talking about her recent ex or whatever. Or then you listen to a John Coltrane or John Cale record, you're asking for something different to happen. Anything outside of popular content, you may be frustrated when listening if you're just looking for a prescribed hook. So with these types of art, like The Leftovers, it's about watching with an open mind.

Calling all HuffPost superfans!
Sign up for membership to become a founding member and help shape HuffPost's next chapter