When it comes to the toughest question on the lab test, sometimes you just have to sit back and laugh. Or at least, try to make your chemistry teacher chuckle.
Probably struggling to figure out what happens when you add Sodium Formate (HCOONa) to a complex equation, a student tacked on a short but sweet answer: "matata." Clearly, this jokester has adopted the hakuna matata philosophy -- and had "no worries" about not knowing the correct answer to the question.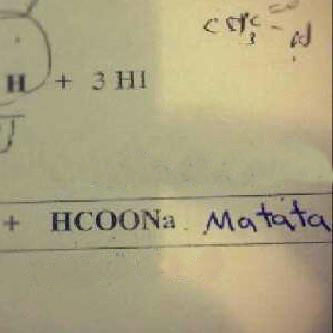 The hilarious "Lion King" reference, uploaded by Reddit user Kelnoxx, is the most recent exam answer to sweep the Internet, but this online trend ain't no passing craze. One test-taker's amazing 'Don't Fale Me' plea also went viral earlier this month, and Smosh.com collected their 18 favorite exam-answer "fails".
Do you have a hilarious test answer of your own to share? Tell us in the comments below or tweet @HuffPostTeen!
Popular in the Community