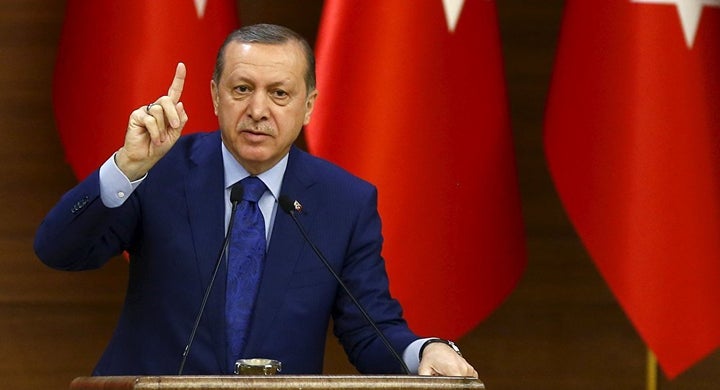 Turkish President Tayiip Erdogan's paranoid relationship toward Kurdish and other minority civilians has reemerged after mid-July's failed military coup. As "reunification" talks between the ruling Justice and Development party (AKP) and its opposition parties are underway, the pro-Kurdish People's Democratic Party (HDP) has been completely excluded, according to party leader Selahattan Demirtas, who called the action, "shallow and mindless."
The decision comes amid longtime suspicion concerning Erdogan's treatment of Kurdish communities ravaged by anti-sectarian military operations. Violations have been recognized by the European Court of Human Rights since the 1970s and as recently as 2014. Last month, HDP leaders reported extended curfews, food shortages, and deployment of excessively heavy weaponry in small cities like Nusaybin in Mardin Province, whose predominately Kurdish population of 90,000 has been displaced by nearly three-quarters.
In 2011 it was Prime Minister Erdogan who helped lead the Kurdish-Turkish solution process, ushering in a ceasefire which had relative success before the Syrian Civil War began bleeding into Turkish borders. But as President, his administration has frequently denounced the HDP since it gained eligibility to participate in Turkish Parliament in 2015. Earlier this year, former Prime Minister Davutoglu denied they were a "serious and genuine political party" and odiously linked the party with sectarian activity, insisting it hopes to "drag Turkey into chaos by cooperating with terrorists."
The exclusion of HDP officials has familiarly bleak implications for Kurdish representation in post-coup Turkey, while Erdogan has subsequently touted the meetings with Republican and Nationalist opposition groups as a "reunification" of the Turkish state and its democratic principles. With thousands of military personnel ousted, universities closed, and scholars imprisoned, President Erdogan has seized the opportunity to rebuild Turkey in his image. To HDP and over 16 million Kurds, the snub is a signal that minority perspectives continue to have no place in Turkey's political future.
The talks coincide with a bill proposed Tuesday to relocate the capitols of Hakkari and Sirnak provinces to the less Kurdish cities of Yuksekova and Cizre, which HDP leaders fear is an attempt to degrade support for the party in Southeast Turkey. "This suppresses identities and is an act of revenge," tweeted MP Selma Irmak last Wednesday. The region overwhelmingly supported the TAF-PKK ceasefire in 2015.
No Kurdish sectarian groups have commented on the snub. That Erdogan has used his anti-coup to further censure human rights obligations and gag ethnic political dissidence comes by little surprise, but poses fatal threats to its dwindled potential membership in NATO—an integral step in reducing tensions with Russian armed forces, avoiding sanctions, and curtailing even greater destabilization. For President Erdogan, post-coup Turkey is his to lose. Perhaps he should start making friends in the interim.
Calling all HuffPost superfans!
Sign up for membership to become a founding member and help shape HuffPost's next chapter