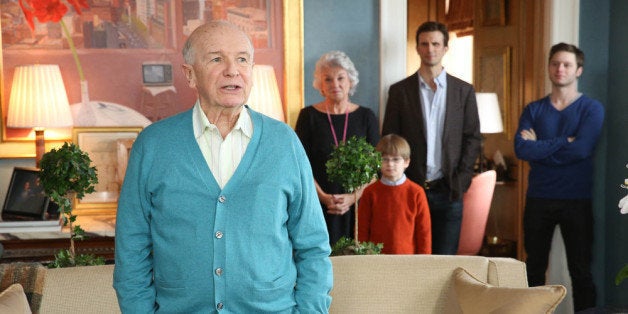 "I didn't kill Andre, I didn't give him AIDS."
For any gay man who lived through the catastrophe that decimated so many of us -- and for the parents of those young men who died -- that was a question not many of us asked of each other or, very often, ourselves.
When Andre's mother, Katharine Gerard (the superb Tyne Daly) asks it of her deceased son's partner in Mothers and Sons, my new play at the Golden Theatre in New York, the best Cal (the equally superb Frederick Weller) can answer is "I don't know." The truth is, very few of us did. For us, the still healthy, the immediate issue was not who made our loved ones sick but how to stop the epidemic before it went one life further.
I lost a partner to AIDS. Sure, I wanted to know who had infected him. When? Where? Why? How? That is a question I will always ask myself. But it won't bring him back, just as it didn't then. Then it was a question that was too painful to ask on both sides -- Gary's and mine.
So when Andre's mother asks the same question of her son's survivor, some 20 years later, Cal still can't answer it. Instead, he lashes out at her for even asking such a thing. She has picked at a dangerous scab.
Do younger generations even understand how such wounds still fester? Given the number of "thank you's" I receive after each performance, I think not. I am being thanked for giving them back their history -- a history so recent that I can still taste its ashes. Mothers and Sons wants this next generation to taste them, too. My story is their story, just as theirs is already part of mine. We are part of the same continuum.
But back to the questions.
Who killed us? We know what killed us but who? Do we survivors want their names? What would we do with them? Confront them? Katharine tells Cal she would find the man who caused her son's death and kill him.
Why didn't Cal? "We didn't do that then," is Cal's answer. It's an honest one. Like so many men, he was too busy caring for Andre, willing him back to health, to try to find out who had infected him.
Remember, we were partners then -- boyfriends, lovers, significant others. Katharine's is a mother's rage. In my own life, Gary Bonasorte and I were only roommates as far as our legal rights were concerned. Maybe if Gary and I had been married, the rage I felt as a husband about what was happening to him and how it was being allowed to happen by too many uncaring or simply uninformed people, maybe my legal voice would have been heard over the angry voices of another minority group demanding its rights at another street rally, blocking more traffic, disturbing the chaotic routine of New York City to another fracture point.
Gay men and women had to make themselves seen and heard during the crisis. We'd gotten very good at being neither. Spouses have rights; boyfriends have none. I was hoping the hospital would let me visit Gary. Every time I got past the nurses' station seemed like a victory. We tried to make his passing as little a bother for everyone else in the hospital as possible. We were good, dutiful visitors -- except when there were too many of us in his room and the mood could become joyful, almost raucous. Zero to 60 in 10 seconds flat. AIDS soon put an end to that. The mood got somber again and then he was gone. The funeral homes took our money but there was little compassion in the transaction.
Teeth were gritted, handshakes were perfunctory. Even in death, we were second-class citizens, an annoyance almost. Sure we had a few rights but couldn't we please, just fade away, back to where we'd been, and take our very own disease with us?
I want young people to know about all this. I am lucky to have the tools to tell them what happened. Bobby Steggert, the youngest member of the cast, says it is a privilege to share the stories of Cal and Katharine.
Of course, a lot of the anger my play accesses is my own internalized homophobia. I've had almost a lifetime to work on it. I'm 75 and have been out for at least 60 of them. That's a lot of time to have spent out of the closet -- but not entirely out of its shadow. The legacy of Stonewall did not make us new men and women overnight. Neither did Edie Windsor's triumphant assault on DOMA.
I'm still not a first-class citizen in my own country. There are still battles to be fought and won over basic guarantees and festering discrimination in the workplace .
But things are getting better. Until very recently, the military services didn't want the likes of me and too many work and social opportunities were closed to us as well. Even in love, the best I could hope for was what Justice Ginsburg called a skim-milk marriage, i.e. a civil union.
My husband Tom Kirdahy and I chafed under one until Edie Windsor just said "no." Like Rosa Parks, someone has to be the first to just say no. Thanks to Ms. Windsor, we understood we'd indeed been living in a semi-legal relationship that boiled down to nothing when push came to shove. We were both out of the closet but now we are out from under the spectre of legal discrimination and societal disapproval as well. Give people their legal rights; they'll seek "approval" when and where they see fit. That's our responsibility; the legislation is the government's.
Marriage has elevated our relationship. That's the only word I can find to describe it. We were great before we were married. With luck and commitment, we would have continued to be great if we hadn't won the right to marry. But we are greater because we did. Recognition, dignity, respect -- sometimes we forget how much these basic principles matter.
"I didn't kill Andre, I didn't give him AIDS."
I wish I could answer Katharine's question but really, of what use would a name, an answer be? Andre is gone. I wonder if by the end of the play his mother can accept that her rejection of him because of his sexuality killed him as surely as the virus that took his life.
I think that is why audiences are so moved by Tyne Daly's fearless performance. Too many parents still cannot believe their child is gay or that AIDS happened and is still happening. Their denial costs them an honest relationship with their own children. When Bud, Cal and his husband's six-year old boy, asks Katharine about Andre's death, Cal tries to silence him.
It is Cal's younger husband, Will (the pitch-perfect Mr. Steggert), representing the next generation of gay men and women, who stops him: "No, he has questions." Fortunately, people like Will are the new mindset of younger gay men and women.
Some questions will never be answered, of course, while others still demand an answer. The point is we keep talking and listening to one another. To both sides. To every side. That's what theatre is for.
Right now, my favorite seven words in the English language are "The reservation is in my husband's name." My second favorite are "This performance of Mothers and Sons is sold-out."
If you're under 30, it will only cost you 30 dollars.
Few plays on Broadway today speak as urgently to our times as "Mothers and Sons," the 20th Broadway production from legendary 4-time Tony® Award-winning playwright Terrence McNally, now playing at the Golden Theatre. In the play, Katherine -- portrayed by Tony®- and Emmy-winning Tyne Daly in perhaps her most formidable role -- visits the former lover of her late son twenty years after his death, only to find him now married to another man and raising a small child. A funny, vibrant, and deeply moving look at one woman's journey to acknowledge how society has evolved -- and how she might, "Mothers and Sons" is certain to spark candid conversations about regret, acceptance, and the evolving definition of "family." Daly is joined by Broadway vet Frederick Weller ("Take Me Out"), Tony® nominee Bobby Steggert ("Ragtime"), and newcomer Grayson Taylor, under the direction of Tony® nominee Sheryl Kaller ("Next Fall"). For more information and tickets, visit www.mothersandsonsbroadway.com.
Calling all HuffPost superfans!
Sign up for membership to become a founding member and help shape HuffPost's next chapter