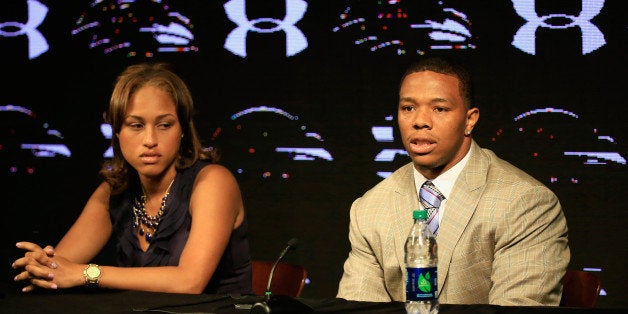 I usually tune out when the newscast segues into sports, because there's only so much space in my skull, but this particular story was at the intersection of sports and gender politics, so I listened. The commentator was outraged about the brief, two-game suspension of Ravens' running back Ray Rice received after he beat his then-fiancée unconscious -- on camera -- in a casino elevator. You get a five-game suspension for smoking a joint, he gasped, and that stuff's practically legal!
I don't care about the length of the suspension nor do I give a crap about the Ravens (they're from Baltimore, apparently). What I noticed was the then-fiancée part. "Well, at least she had the brains to walk out before he beat her to death," I thought. Then I heard the reason that she's his then-fiancée: Not because she left him, but because she married him the day after a grand jury indicted him on charges of aggravated assault. Janay Palmer -- her name is rarely mentioned in all these Ray Rice stories; it's Janay -- is his then-fiancée only because she's his now-wife.
Why, then, does an abused woman stay with her abuser? I don't speak to this as a family court judge, or a social worker, or a marriage and family counselor. I speak as a woman whose first husband beat her black and blue, and who nonetheless stayed with him until we were forcibly separated by the State of California, because men and women go to different jails.
I know why I stayed. I know why many other women have stayed, because they told me.
I also know why lots of men think that Janay stayed. They think she stays because Ray Rice got $35 million when he signed with the Ravens. (They're from Baltimore. Did I mention that?) There are just a lot of men who think that, deep down, all women are hos. They don't seem to realize this makes them all johns. I used to write a show called Players, which was Ice T's series television debut, and we would debate this endlessly on set. Relationships are a transaction, he said; sex is currency. He explained he didn't believe in monogamy because "As much money as I'm bringing home, she should be going out and finding girls for me."
FYI, I don't seriously believe that's how T actually conducts his marriage. But I do believe it colors his worldview. He would say Janay stays in an abusive marriage because it's the pricetag for the Bentley and the bling.
I never thought of the violence as a price. I thought of it as a sign of passion. He only got so jealous because he loooved me so much. He was so possessive only because he loooved me so much. He never meant to hurt me, he was always so apologetic, and who had ever been -- or would ever be again -- so totally out of his mind crazy about me?
Plus, we were pretty high pretty often. Over-reactiveness and the inability to make good decisions were already in our wheelhouse.
But perhaps the most insightful and complex explanation for why women don't leave their abusers was told to me by Leslie Morgan Steiner. Actually, she told it to everyone; she gave a TED talk. She said she stayed not because she was weak, that the self-esteem was beaten out of her. No, she says, "I was a very strong woman in love with a deeply troubled man, and I was the only person on Earth who could help [him] face his demons." She stayed because she thought she was noble. I stayed because I thought I was loved. I don't know what Janay Rice's denial mechanism is.
It's possible that, underneath it all, though, we stay because our brains are wired wrong. I know I was addicted to the oxytocin produced by having a man in my life -- no matter how awful a man. And if my brain didn't have cocaine, it would settle for the dopamine and adrenaline stimulated by the anticipation of physical violence. Abusive relationships are like most drugs: They get you high, and they also suck.
One in three women are (or will be) victims of partner abuse or stalking. Are you one of them? Why do you stay?
The title of this piece, in case you didn't recognize it, is also the title of the Crystals' 1962 song "He Hit Me (and it Felt Like a Kiss.) Gerry Goffin and Carole King wrote it after Little ("Locomotion") Eva told them her boyfriend beat her, but it was okay; he only did it because he loved her. The record was produced by Phil Spector, who finally did succeed in murdering a woman.
Popular in the Community