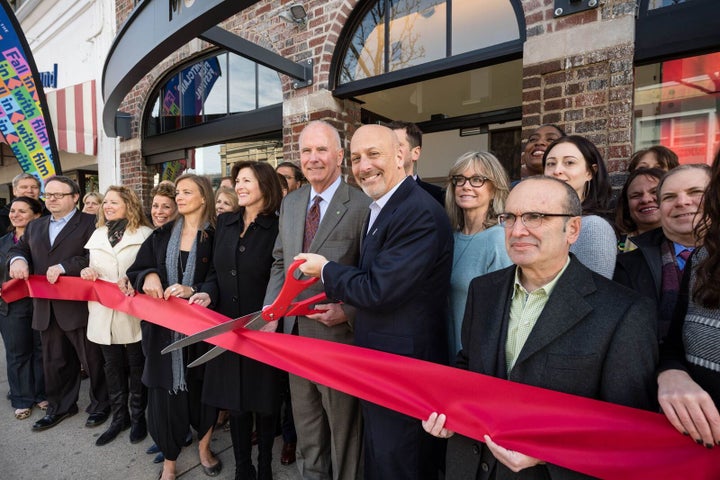 March 30, 2017, MONTCLAIR, NJ - Yesterday, Montclair Film, the sponsors of the Montclair Film Festival cut the ribbon on its new home, the Investor's Bank Film & Media Center, located at 505 Bloomfield Avenue in Montclair, NJ. On hand to launch the building were Kevin Cummings, President and CEO of Investors Bank, which made the gift of the building to Montclair Film; Bob Silver of the Bravitas Group, who was Project Director of the renova- tion; and Evelyn Colbert, President, and Bob Feinberg, Chairman, of the Montclair Film Board. The festival has been made famous by Montclair's most prominent resident, Stephen Colbert.
Investors Bank gifted the building to Montclair Film, which is the non-profit sponsor of the festival. The facility, a state of the art home for the organization's film, education, and administrative programs, was assembled by Gravitas Group, architects from Sionas Architecture and design architect Rachael Grochowski from RHG Architecture and several others.
"The opening of our new building is the realization of a dream, where a community fo- cused not-for-profit and a financial institution partner to create opportunities for our constituents, patrons, and students while providing great, entertaining programming for the community throughout the year," said Kevin Cummings, President and CEO of Investors Bank.
"Just in time for the launch of our 6th annual film festival, Montclair Film has a wonderful, permanent home in Montclair Center, that will not only allow us to expand our educational and entertainment offerings, but will add to the ongoing renaissance of Montclair," said Montclair Film Founder and Chairman Bob Feinberg. "We look forward to welcoming our neighbors from near and far to the Investors Bank Film & Media Center."
"I am truly grateful and honored to have worked with the visionary team of Montclair Film in bringing them their new home," said Design Architect Rachael Grochowski from RHG Architecture + Design. "Our team worked hard to create a balance of artistic quali- ty, creative energy, and flexible space that would become uniquely Montclair Film. From a magical ticket booth to focused classrooms, I couldn't be more excited to see how this space acts as a place to bring community together."
"It was a very cool project and a great team effort. We wish MFF continued success in their new home," said Jack Finn, of Jack Finn & Company.
6th annual Festival will open with Amanda Lipitz's STEP on Friday, April 28.
Related
Popular in the Community