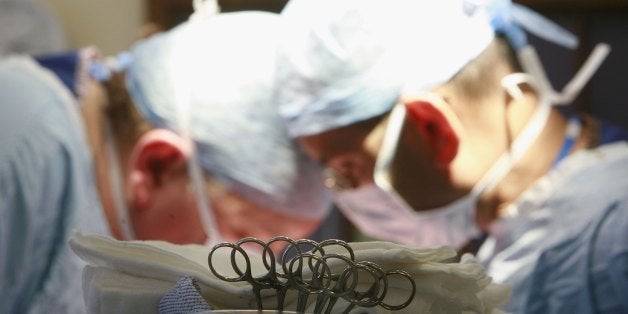 Across the United States, 22 people die each day waiting for a lifesaving organ transplant. This issue is a growing problem, with more than 123,000 Americans currently on the transplant waiting list. In fact, this list grows by one person every 10 minutes according to the United Network for Organ Sharing.
As a two-time kidney transplant recipient, I understand that waiting for a lifesaving organ takes a physical, mental and emotional toll. In 2003, I was devastated to learn my kidneys were failing to due to complications from high blood pressure. I started dialysis treatments at a clinic three times a week for four hours at a time, and soon after was extremely fortunate to receive my first kidney transplant. After the procedure, I was able to resume my busy life as a single father of a two-year-old. Unfortunately, in 2011 my transplant failed and I was forced to go back on dialysis. While on dialysis the second time around, I felt I wasn't able to act like a "normal" father; I couldn't work full-time or play sports with my son, Caleb. Dialysis treatments were exhausting, but I knew I had to keep fighting for myself and Caleb.
In May 2011, I received a call that changed our lives forever--there was a donor match. After seeing a Facebook post about my kidney health problems, Kellen, a member of my church and an Iraq war veteran, was tested and found out he was a match. In July, I received my second transplant, and soon after I joined the American Kidney Fund's Advocacy Network to pay it forward and help educate others in my community who are at risk. Through the American Kidney Fund, I have had the opportunity to talk to legislators on Capitol Hill, share my story and experience with other patients, and educate at-risk individuals on kidney disease. This has been a life-changing experience for me, particularly when it comes to explaining the donation process
Since a person is more likely to find a compatible donor organ from someone of the same ethnicity (due to more easily matched blood and tissue types), the need for donors, especially minority donors, is urgent. November 13-15 is National Donor Sabbath--a three-day observance where faith leaders, donor families, transplant recipients, and donation and transplant professionals educate the public on the need for lifesaving organ donations. It's also a time to encourage people to sign up on their state registeries to be an organ, eye and tissue donor.
Many myths exist about being an organ donor, but they are unfounded. Every major religion has endorsed becoming an organ donor. The donation process is free to the donor's family and emergency health care personnel will work just as hard to save you regardless of your donor designation. It's also important to understand that with kidney donation, you can be a living donor. Everyone is typically born with two kidneys - yet we only need one to live. Kidney donation from a living donor provides some major benefits to the recipient: Generally, the kidney functions better, lasts longer and has a reduced risk of rejection.
The fact is that a single organ donor can save up to eight lives. The same donor can also improve the lives of up to 50 people by donating tissue or eyes. If you have not yet registered to become an organ donor, registering is quick, free and easy. Simply visit Organdonor.gov to learn how to become a designated organ donor and let your loved ones know your intentions.
I was lucky enough to receive a kidney transplant from a member of my congregation. It was truly a lifesaving gift, one that allowed me to be the father my son needed. I encourage everyone to talk to their congregation about organ donation. On behalf of the 101,000 kidney patients waiting for a kidney transplant, thank you for considering the gift of life.
Ellery Payton is a patient-advocate with the American Kidney Fund. For more information on kidney disease, visit www.kidneyfund.org.