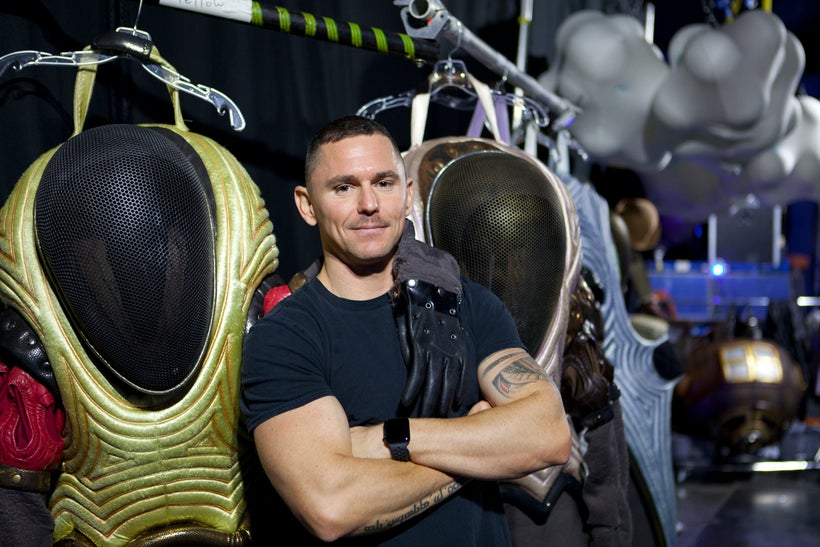 For me, Cirque de Soleil is a celebration of life and its possibilities, a place where the impossible is possible. It opens my mind and fills my heart with wonder and imagination and leaves me feeling tremendously inspired.
Whenever I see a show I ponder, "What would it be like to run away with the Cirque?" It was time to find out.
I was excited to go behind the scenes at the big top in Vancouver with Nathan Dennis, 31, one of the 46 performers with Kurios – Cabinet of Curiosities, Cirque du Soleil's 35th production with 122 tour members from 23 different countries.
Nathan, from Australia, is one of the acro-net artists and the performer trainer. He was leading a core training session with the contortionists and I was invited to join in. Although a little intimidated, I decided to go for it, after all when would I ever get the chance to train with Cirque artists again?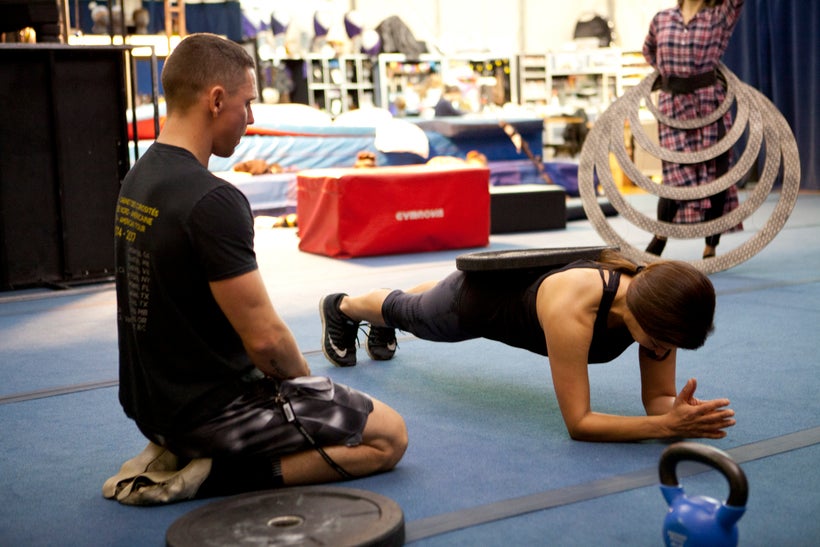 I felt enormous next to the diminutive and graceful contortionists. Although they appear to be delicate, they are in fact, strong as steel. Nathan, with about zero percent body fat, led us through a series of core exercises. I was mostly able to keep up, surprising everyone, including myself. I guess being a Pilate's instructor helps. There was one exercise that eluded me: the hanging leg raise. Hands gripped overhead, hanging from a pull up bar you lift your legs, keeping them straight, and touch your toes to your hands. The contortionists, from Russia and Mongolia, did it effortlessly as if lifting a feather; I could only pull my knees to my chest.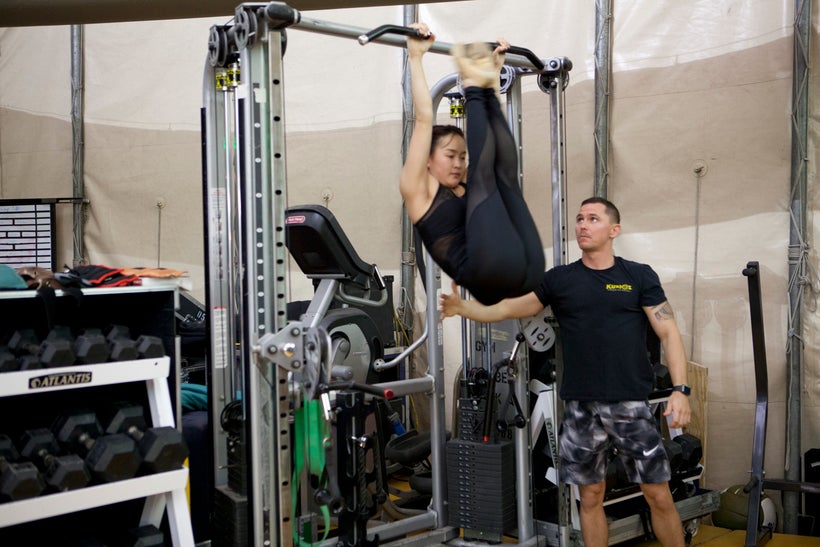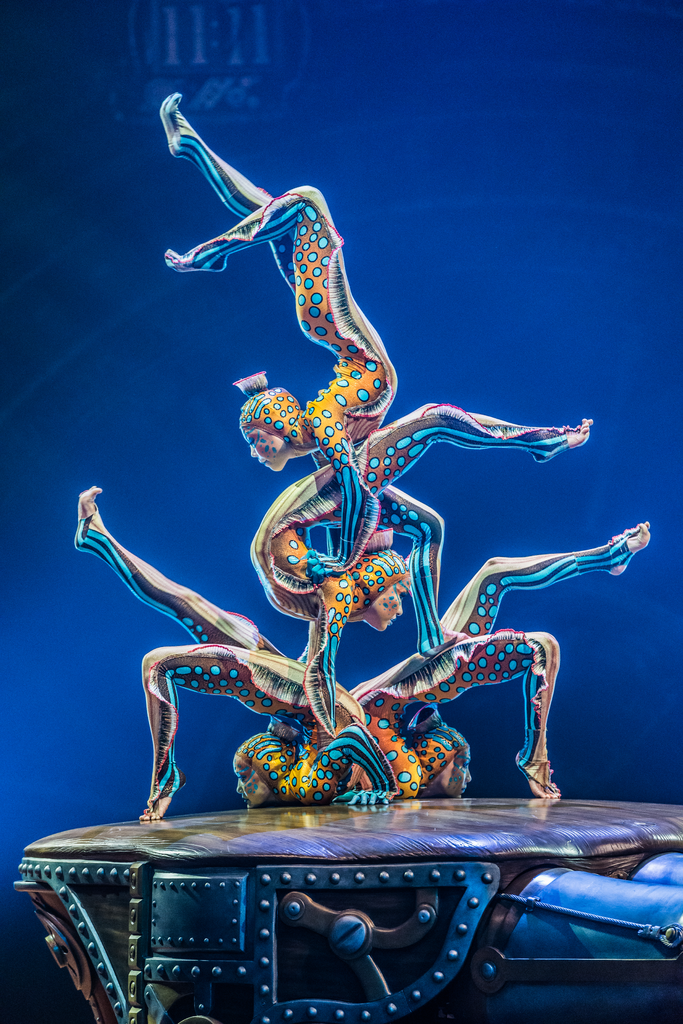 Backstage is not glamorous, just simple and practical. The area directly behind the stage is full of props and costumes. The main performance tent connects to a smaller backstage tent where the artists hang out. It has an area with a bouncy gymnastics floor, a trampoline, a trapeze, a large change room, a small weight room with a Pilates reformer, a living room area with a TV, a large sewing area, a banquet of mirrors with lights and an area for a massage therapy - artists have access to a half-hour massage each week. People are working out, rolling on foam rollers, doing their make-up (everyone does their own) and practicing routines. Wrapped in heating pads, the contortionists stretch under a heat lamp for an hour before each show. In a separate smaller tent there is a dining room where lunch and dinner are provided six days a week.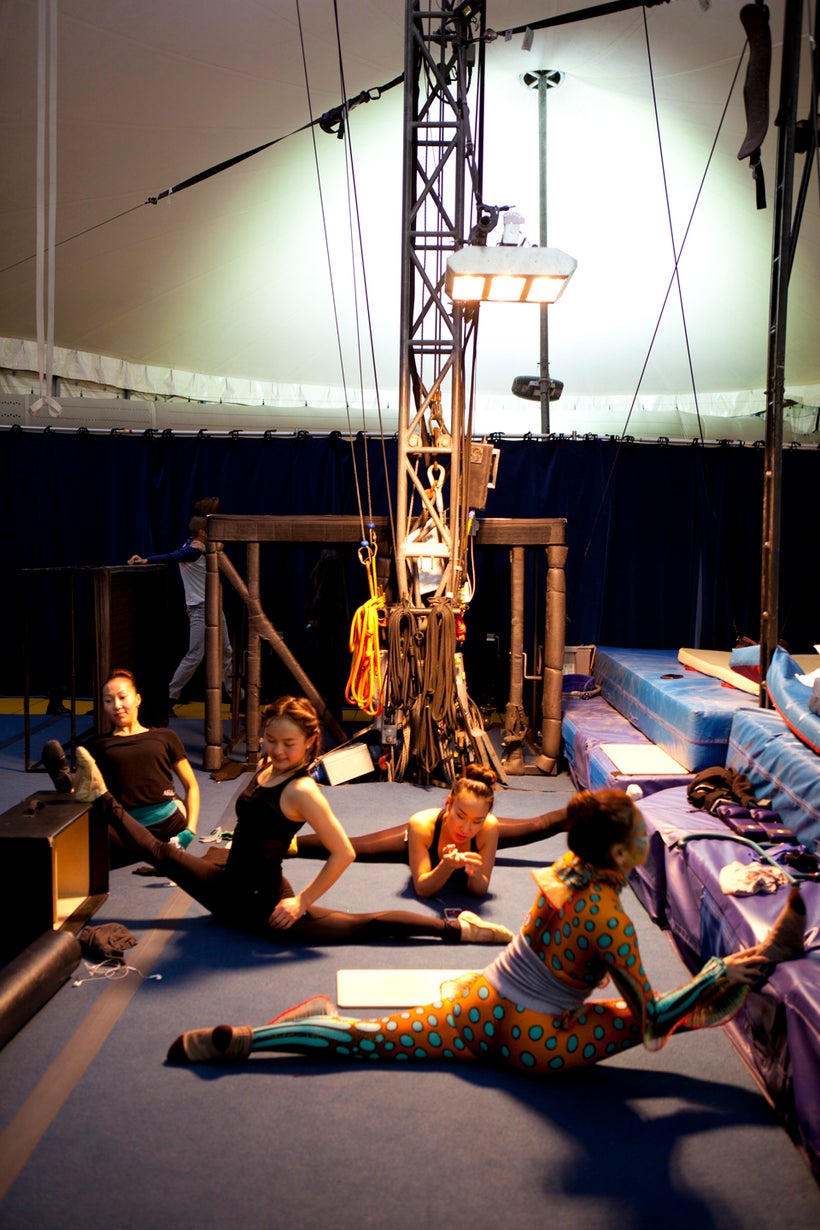 Nathan is one of nine acro-net artists touring with Kurios. Acro-net is a fusion of trampoline and trapeze: an enormous net is stretched over the stage like a giant trampoline. Dressed in outlandish fish costumes, six team members stand along the edges of the net jumping in unison to propel one teammate at the centre of the net skywards, slingshot style, sometimes almost to the top of the tent. Each artist creating, sometimes death defying, acrobatic flips as they skyrocket upwards.
As a child, Nathan was always involved in sports and got into trampoline at 10, "I always found it interesting watching people flip, I just wanted to learn it as a hobby, nothing serious." He likes that gymnastics is the "ultimate test to the human body." He started to get "kind of good at it" and began to compete. Then, at 13, he saw Cirque de Soleil and his mind was blown. He decided that it was what he wanted to do with his life.
He realized that if he wanted to join Cirque he'd have to compete at a high level, so he started to focus on competing. "I never liked competing; it was never the fun thing for me, I was only doing it for Cirque."
His mom has a cleaning business and his dad was a heavy machine operator. If he hadn't discovered Cirque he says he probably would have followed in his father's footsteps.
At 21 he sent a video to the casting department, as is required, and was invited to audition. The audition was a full day affair. The first stage was flexibility and body control, while many were eliminated, he made it through. The second stage was acrobatic ability, handstands and trampoline, again he pulled through. For the final stage they brought in an acting coach and a choreographer. They tested their ability to act, sing (he had never sung in front of anyone before) and pick-up choreography quickly. He passed!
"If you pass you get put on the database of approved candidates", explained Nathan, and then it's a waiting game for a contract fitting your profile. "It helps to be good at many things so you can fit into many roles". Some wait for years, but he got lucky and just four months later was recruited for Saltimbanco, which coincidentally was the first Cirque show he had seen. He stayed with Saltimbanco for six years and then moved to Kurios four years ago, when it was created. They were creating an all new acro-net segment which had never been done before, so they brought in artists to play and see what was possible.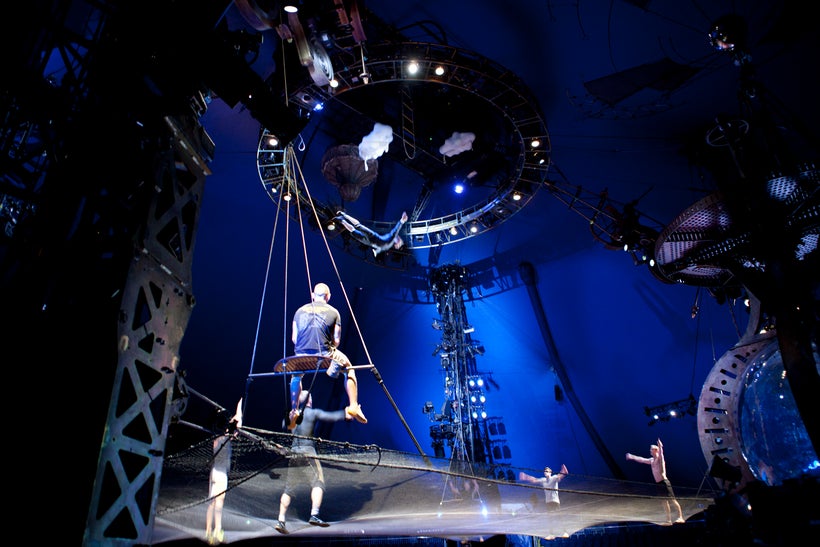 Nathan's not so much into crazy tricks but prefers to make them laugh, "We can do some crazy fish jumps in the air and the audience goes wild. I like those reactions more than the shock value of a crazy trick, I like more the laughter side of it." He never feels his life is on the line, "We rehearse constantly, it's just programmed into your body, you just go onstage in the right mindset and you're concentrated then you're fine. Everything's been triple checked."
Artists are given a one-year contract, halfway through they're asked if they want to sign-on for another year. He's toured through Europe, Asia, North America and Australia. Cities that stand out for him are Chicago and Santa Monica. They usually spend 8 weeks per city, although it can vary depending on the market, "It's nice visiting all the cities, you get to live there for 8 weeks, so you get to experience the city for a good amount of time." They get one week off between cities and get sent home for two-weeks each year. Cirque will provide accommodation or they can take the money and rent their own, sometimes performers choose to share.
His average day consists of getting up around 9am, going to Cross-fit or to the gym where he does cardio, resistance training and Olympic lifting to keep the body functioning well. "We've done the show 1,300 times so the body is adapted to that, you don't get more fit by doing the same thing everyday, so you have to mix it up and do new things". He works out around 2.5 hours a day, 4 to 5 days a week and they rehearse as a group on the acro-net twice a week. He hasn't had any injuries, his secret weapon: keeping the core strong. If he has muscle soreness, he's put on light duties or may take a little time off. He goes to the big top around 6pm, has dinner, warms-up and gets ready for their 7-minute routine. He also performs through-out the show in supporting roles. They do 8 to 10 shows a week and have Mondays off.
Although he says physically he could continue, after 10 years, emotionally he's ready to move on. "Mentally I'm ready to move on, ready to have a life outside of work. The schedule is quite tough; it's Tuesday to Sunday working, you don't have a normal weekend like the rest of the people, it's just general life stuff." He's signed an 18-month contract for the Japan tour. Rehearsals start in January and the show opens in February. Then he's heading back to Brisbane, Australia to open his own gym. He says he'll feel relieved to settle in one place.
"It's definitely something I'm glad that I did. I've become very worldly, I've met many people around the world and gotten to know different cultures. It's a good way to grow up, instead of being stuck in just one city, in one little life. I like meeting new people from different countries and working with them, learning new languages or a few bad words from them, it's fun." He laughs. "It's a nice way to grow up, a good way to spend your twenties." The main thing he will miss is connecting with the audience, "I remember when I first saw Cirque I was so impressed, it made me feel so happy to watch something like that, so just to be able to be onstage and give that to somebody else, that is the most rewarding aspect of it."
Running away with the circus sounds as interesting and exciting as I expected, maybe in my next life.
Calling all HuffPost superfans!
Sign up for membership to become a founding member and help shape HuffPost's next chapter
This post was published on the now-closed HuffPost Contributor platform. Contributors control their own work and posted freely to our site. If you need to flag this entry as abusive,
send us an email
.