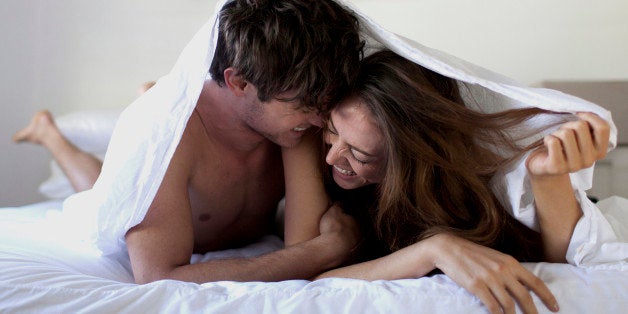 However, more often than not, what is learned "back in high school" arrives via friends or porn. For most of us, official sex education was mediocre or simply non-existent.
Fast forward 20 (or so) years and the situation hasn't really improved.
It may surprise you to learn that only 22 states in the U.S. mandate sex education, and of those, a mere 12 mandate sex ed that is medically accurate!
And if your position happens to be that you don't want teens having sex at all, rest assured: many teens aren't taking your position into account -- and are doing what comes naturally, instead.

As many teens go on to become sexually misinformed adults, they're likely to experience sex ranging from less than satisfactory to hazardous to their health, often simply for lack of awareness about how to make better choices in their sex life.
On the other hand, teens with comprehensive sex education develop healthy sexual attitudes and practices -- and as adults, enjoy healthy sexual attitudes and relationships. As confirmed here and here.
By opening up a public conversation about just what kind of sex-positive information is essential for shaping healthier attitudes around sex, we will educate each other while empowering teens to more satisfyingly and safely navigate the increasingly sexualized world they face.
To help get this discussion started, I began by speaking to friends and sex educators in my circle about the sex ed curriculum they wish they'd been given.
Here is our first take: Sex Ed 101: Safety & Pleasure for the Real World -- (and yes, my quote is #3):

1. Build Upon a Foundation of Consent and Positive Sexuality
"I want to see holistic sex education that teaches us creative, sexy ways to respect our bodies while encouraging us to practice safer sex. We need to teach that active, enthusiastic consent must be central to every sexual relationship. I wasn't taught consent can be fun, consent can be sexy. When young people are getting terrible messages about what sexual relationships are or should look like from the media or our peers, we have to create a more transformative, more sex positive ethic in sex education." - Jamie Utt
2. The Difference Between Gender & Sex
"The difference between gender identity and sexual orientation, and that both are spectrums, not binaries. [Education] about sexual practices, at least a few of the more common ones, and some uncommon ones, too, all taught with the same lack of judgment. That if you're being safe, sane and consensual, you are doing it right." - Justin Cascio
3. Condoms Should Be About Pleasure First.
"If your condom feels good, you'll use it. First, make sure you or your partner is wearing the right size condom. (Here is how you figure out your condom size.) Next, don't rely on free or cheap condoms. By spending $1 on a premium condom you can have a greatly improved experience. And if you don't know where to start, beginning with a condom sampler is a great, affordable option." - Melissa White
4. Use lube.
"Don't listen to the myths that say that vaginal lubrication = arousal. There are lots of reasons why that's not true, including hormonal changes, medical issues, medications and drugs or simply because that's how someone is. Plus, lube is great for hand jobs and you definitely need it for anal play. Use lube. Use a lot of lube." - Charlie Glickman, PhD
5. Orgasms. What Are They? And Did I Just Have One?
"Left to rely on what I heard, I expected to feel something akin to a sonic boom followed by that sparkly thing twilight "vampires" do. When that didn't happen, it took me forever to even identify my orgasms. I was convinced there was something wrong with me and I was broken. And many people parroting the line "If you you're not sure you've had an orgasm, you haven't," didn't exactly help. (So really, don't say that. It's condescending, wrong and obnoxious.) In her "Girlgasms" class, Ducky Doolittle says "If you are aren't sure but you've felt involuntary muscle contractions during masturbation, you've probably had an orgasm." Hearing that earlier would have been a game-changer for me." - JoEllen Notte
6a. An Overiew of Genital Health
"I wish I'd learned more about genital health. Not just STIs but also bacterial vaginosis, yeast infections, typical discharge, cervical mucous and things like that. An owner's manual, if you will." - Ashley Manta
6b. "What a "normal," healthy-looking penis and vulva look like. A wide range -- sizes, colors, states of arousal, age, circumcised/not circumcised -- in real pictures. Our young selves have no frame of reference, except for Playboy and porn. Even as adults, our reference points are often limited. This could help young adults with body image, as well as, not be shocked/surprised with future partners." - Marrie Lobel
7. Sex Is Fun
"I wish they taught me that sex didn't have to be so serious like it is in the movies. It took me many years to realize that the best kind of sex for me is messy, loud and often not very conventionally pretty. We can still be hot as hell with one false eyelash stuck to our cheek, socks still on and laughing our ass off because we just fell off the bed having an orgasm. I wish they taught me that sex was supposed to be fun." - Sunny Megatron
8a. Masturbation Is OK
"Don't be embarrassed about masturbating, and for god's sake, use lube!" - Cooper S. Beckett

8b. Sex Toys Exist. (And pleasuring yourself isn't weird or wrong.)
"In popular culture, guys masturbating is considered "ha ha funny" (think the movie American Pie) whereas when it comes to women pleasuring themselves, it's still looked upon as something slightly shameful. When I finally worked up the nerve to go buy a vibrator in university it was like this big, secretive deal. Now that I own a whole drawer full of them I realize it's not a big deal at all. Toys are actually really empowering. I wish more girls knew this." - Simone K.
9. Women Have Sex Drives. Women Like Sex. (Enjoy That.)
"In this day and age, the trope that women don't enjoy sex as much as men still exists. What a fallacy. Our bodies are built to enjoy this natural part of being human... the difference is we've been taught it's "slutty" to fully demonstrate and embrace our sexuality. If I hadn't believed women who pursued sex were desperate and easy, I'm certain I would have chosen my partners more wisely and discovered the pleasure in sex that is the right of each and every one of us." - Elle Chase
10. Teaching Healthy Boundaries & Consent Starts Way Before Puberty
"Children need to learn to be able to say 'yes' or 'no' and to know how to accept the answer when someone says "no" to them without negotiating, nagging, or persisting. Children also need to learn the importance of "Do No Harm" as it relates to someone or something else. Teach them if it doesn't feel good then they have the right to have the activity stop. Think about this in terms of when kids are roughhousing or tickling -- if someone is tickling and it's too much, sometimes, adults forget and persist until the child is disturbed or upset. Kids need to know when to stop and when to speak up as well. Learning about consent is a skill they'll use throughout their lives." - Lanae St. John
So now, we'd love to know... what do you wish you'd been taught in Sex Ed?
Popular in the Community