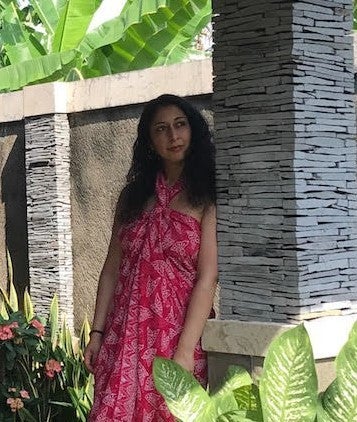 …So I booked a trip to Bali.
My father felt a deep responsibility to bestow any knowledge he could muster through the exhaustive nature of his illness. He'd pull me close to him so I could hear as his speech was slowly and deceptively becoming slurred. My Father with a capital "F" had once again returned. His need for immediacy to formulate language in its most concise and succinct way often resulted in getting right to the point: "Stop the noise," he emphatically stated.
I've shared my father's candid counsel with several over the last couple of years. The expansion of his personal artistry was born from a life emboldened and enraged with complexities. I have examined this statement with a fine tooth comb, wrestling with its simplicity and then ever so slightly offering myself moments of saving grace, using it as an emblem of purpose. It has motivated me and muddied the way I live. It has asked me to receive time in a more embracing fashion. But most of all, it has pushed me to become - to become the woman that has been many years in the making.
And so I write through the harps and drums of my own inner workings, trying my best to follow the light of fireflies.
But if my father's trajectory in this life has taught me anything, it's that truth is ever changing and worthy of investigation.
The interesting thing about the fabric of thoughts is that if allowed, you can hop on to its infancy all the way to its true rumblings of maturity. And when you rise to its calling, you can truly become enamored with the playfulness of our humanity. I have always operated under the assumption that my father wanted me to live a life full of peace and prosperity. And this was his way to be of service to his daughter, as a father. But if I wanted to truly live into the legacy of his teachings, it will ask of me to gather an intimate familiarity to a statement that can often be easily defined as the obvious. It's the discourse of our rapidly moving life, to find the heartbeat in meaningful statements and then claim them as "the truth." But if my father's trajectory in this life has taught me anything, it's that truth is ever changing and worthy of investigation.
So when I pull, tug, tear and finally come to core of this statement, I realize it's about returning to back to myself, to the innocence I once found so undemanding to incarnate. It's about re-gifting what has been forgotten. I reminisce on the integrity of its delivery and the sincerity in which I now receive it. I also reflect on how I will return to what has over the years felt unattainable. The story starts with a blink of an eye…
My father and grandfather were certainly two different sides of a coin. Together they were powerfully loving yet distinctively clashing in their natures. My grandfather was conscious of what life could embody with riches and with struggle. Because he was an observer of such strife, it developed him into a man that held the capacity to reach beyond himself and offer pure love. As a child, I would often think of him as not only a grandfather, but a companion who walked this life with me hand in hand, despite being on the other side of the world. His smile lit the way and made this world a better place. In the years following his passing, my father relied on the memories of him to fuel wisdom. His absence taught my father presence. My grandfather's public life encompassed selling cloth, often taking him away from home for long periods of time. His private life was that of a harmonizer, meticulously watching his children and their precise attributes. A story we often heard as children was my father's incessant need to feel entitled in displaying frustrations at dinner time as the youngest in the family. My grandfather always answered first staring sternly, then blinking his eyes. They acknowledged each other's position, the revered provider at the helm and the mischievous son driven by his convictions. My grandfather knew the story written for my father would be exceptionally different than his. But he had always hoped it would be a story that reminded him that no matter where he was in his life, home would always find respite in the depth of his being. And in a blink of an eye, a youth's dreams could endure any provocation.
I was faced with raw and unflinching narratives against a backdrop of history, generational connection and rituals.
Everything lasts because everything is connected. That is the essence of a spiritual life. It's vibrant, intoxicating, and at times downright frightening. But in it lives a copious amount of fulfillment. Life can be gently relentless in its requests. It asks us to inhabit despair but to treasure love and compassion as a constant. Every day, we are asked to dive deeper into a threshold of exposure - one that magnifies our vulnerability. Bali unveiled itself to me, as it does with everyone. Wooing me with its capacity to amaze, I felt cleansed and refreshed. The people on the island operate on collective resilience and energy that can only be described as flowing from the miraculous. I was humbled by perpetual care. I felt seen and I examined. I was faced with raw and unflinching narratives against a backdrop of history, generational connection and rituals. It is an island that has strong village establishments and communal devotion to all things sacred. On many days, I found myself entrenched in traffic reminding me to trust and rest in the forgiving nature of time. Mornings were filled with roosters unleashing their voices and piercing moments of silence interwoven with electrical hums of the street. Evenings brought brilliant sunsets settling under the warm and illustrious pallet of the sky. And in the midst of its radiant nights, transformed by the glistening moonlight, I found myself giggling like a school girl with new friends, dancing to the joyful beats of our heart.
Within its vortex is where I met my father. I saw him in the little baby being cradled by its mother on a rainy Wednesday morning, amid a group of school children skipping on the edges of rice paddy fields, embedded in the respectful outcries of those who constantly reminded me, "if you're happy Miss Priya, I'm happy," in the healers that challenged me to breath into the wounds and in the elders perched on the steps of their home, permeating knowledge from their merciful eyes.
And in a blink of an eye, there he was, a man transformed into a creator of meaning and teacher of acceptance. And I return to who I've always been and who I continue to become, his daughter, embracing the infinite. 
Priya Soni is the Founder and CEO of The Caregiving Effect LLC, a platform and service launched to create a space for family caregivers who care for their loved ones due to aging, illness and/or disability. She has developed a mission to build a movement of mentors, caregiver visionaries, who are utilizing the insights and wisdom from their stories as a tool to help the many who will or are walking the path of caregiving. She is a certified caregiving consultant and coach and aids caregivers in turning their unexpected role into a role of a lifetime—The Caregiving Effect (#thecaregivingeffect), a term she has coined. In addition, she currently works at a mission-oriented organization focused on educational inequity. Priya has earned a B.S. in Theatre and Psychology from Towson University and M.A. in Disability Studies from City University of New York's School of Professional Studies. She has worked in a variety of settings including working with women who have substance abuse; women who have been affected by domestic violence; and with children and adults with disabilities. One of her greatest passions is creating community. Reach out to Priya at www.priyasoni.net. Instagram, Facebook
Calling all HuffPost superfans!
Sign up for membership to become a founding member and help shape HuffPost's next chapter
This post was published on the now-closed HuffPost Contributor platform. Contributors control their own work and posted freely to our site. If you need to flag this entry as abusive,
send us an email
.