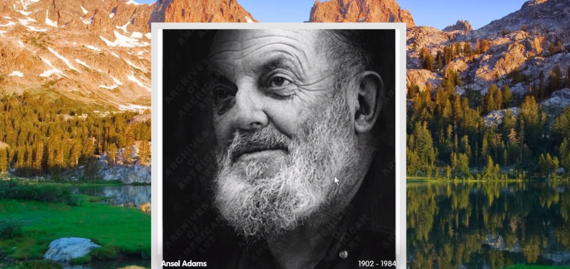 One hundred years ago this month, a 14-year-old from San Francisco whose passion was the piano took a trip with his parents to Yosemite National Park. With a Brownie box camera given him by his father for the trip, Ansel Easton Adams took his first photographs.
"The splendor of Yosemite burst upon us and it was glorious," he later wrote. "One wonder after another descended upon us. There was light everywhere. A new era began for me."
It was a "new era" that marked a change in the direction of his life. What Adams may not have known at the time is that this change would alter forever the way the world sees Yosemite - and all of our national parks.
Putting aside the career as a concert pianist he had long envisioned, he shifted his passion to photography and, with his typical enthusiasm, learned everything he could about lenses, the darkroom and the use of lighting.
"Yosemite Valley, to me, is always a sunrise, a glitter of green and golden wonder in a vast edifice of stone and space. I know of no sculpture, painting or music that exceeds the compelling spiritual command of the soaring shape of granite cliff and dome, of patina of light on rock and forest, and of the thunder and whispering of the falling, flowing waters. At first the colossal aspect may dominate; then we perceive and respond to the delicate and persuasive complex of nature."

-- Ansel Adams, The Portfolios of Ansel Adams

Adams was born on February 20, 1902 in the Western Addition of San Francisco, California, to distinctly upper-class parents, Charles Hitchcock Adams and Olive Bray Adams. The Adams family came from New England, having migrated from the north of Ireland in the early 18th century.
When a devastating earthquake struck San Francisco on April 18, 1906, Adams was unhurt by the initial tremors. But the four-year-old Adams was tossed face-first into a garden wall during an aftershock three hours later, breaking and scarring his nose.
Among his earliest memories was watching the smoke from the ensuing fire that destroyed much of the city a few miles to the east. Although a doctor recommended that his nose be re-set once he reached maturity, Adams's nose remained crooked for his entire life.
Known primarily for his nature photography, Adams photographed other areas as well, including, notably, the War Relocation Camp at Manzanar, California, where thousands of Japanese Americans were interned during the Second World War. A major exhibition of the Manzanar photographs concludes next week at the Skirball Cultural Center in Los Angeles.
In 1927, Adams produced his first portfolio, Parmelian Prints of the High Sierras, including his famous image "Monolith, the Face of Half Dome," taken with his Korona view camera using glass plate and a dark red filter (to heighten the tonal contrasts). On that excursion, he had only one plate left and he "visualized" the effect of the blackened sky before risking the last shot.
He later said "I had been able to realize a desired image: not the way the subject appeared in reality but how it felt to me and how it must appear in the finished print."
Between 1929 and 1942, Adams's work matured and he became more established. In the course of his 60-year career, Adams focused on detailed close-ups as well as large forms from mountains to factories. In 1930, Adams's first book, "Taos Pueblo," was published, accompanied bytext by writer Mary Hunter Austin.
In New Mexico, he was introduced to notables from Alfred Stieglitz's circle, including painter Georgia O'Keeffe, artist John Marin, and photographer Paul Strand. His piano playing and humor made him a popular with the crowd.
Assisted by a friend with Washington connections, Adams arranged his first solo museum exhibition at the Smithsonian Institution in 1931 featuring 60 prints taken in the High Sierra. The exhibit received a glowing review in "The Washington Post":
"His photographs are like portraits of the giant peaks, which seem to be inhabited by mythical gods."
On a trip in New Mexico in 1941, Adams shot a scene of the moon rising above a modest village with snow-covered mountains in the background, under a dominating black sky. The photograph is one of his most famous and is named "Moonrise, Hernandez, New Mexico."
Adams's description in his later books of how it was made probably enhanced the photograph's fame: the light on the crosses in the foreground was rapidly fading, and he could not find his exposure meter; however, he remembered the luminance (a photometric measure of light) of the Moon and used it to calculate the proper exposure.
Many of the prints were made in the 1970s, finally giving Adams financial independence from commercial projects. The total value of these original prints exceeds $25,000,000; the highest price paid for a single print of Moonrise reached $609,600 at Sotheby's New York auction in 2006, making it one of the most expensive photo prints ever sold.
Adams did not work exclusively in black and white. He also experimented with color. His subjects ranged from portraits to landscapes to architecture, a similar scope to that of his black and white work.
In September 1983, Adams was confined to his bed for four weeks after leg surgery to remove a tumor. He died on April 22, 1984, at the Community Hospital in Monterey, California. He was 82 and suffered from cardiovascular disease. He was survived by his wife, two children, Michael and Anne, and five grandchildren.
REAL LIFE. REAL NEWS. REAL VOICES.
Help us tell more of the stories that matter from voices that too often remain unheard.