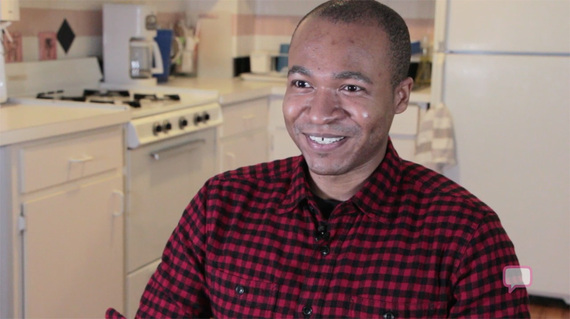 I'm From Driftwood is a 501(c)(3) nonprofit archive for lesbian, gay, bisexual, transgender, and queer stories. New stories are posted on the site every Wednesday.
When Michael Coulter left Flint, Michigan, and went to college, he "met more gay people in one hour" than he had in his entire life. But there was one who caught his eye, and that boy would become his first love. Michael recalls:
The more we hung out, the more I was falling for him, just because no one had ever shown me that type of attention before. And from then on, I just felt like, "OK, this guy -- he's turning into my everything." And I remember just pouring myself into him, and the more we were together, the more I was feeling for him and having these feelings of love for him.
As the school year continued, Michael's feelings only grew stronger, and with summer break approaching, he felt like he was ready to share his feelings:
I was shaking in my boots, because I was like, "I have to say this. This is my moment. I have to get this out. I'm not going to see him again until the fall, so I have to say this." So I looked him in the eye, and I said, "I love you." And he looked me in the eye and said, "Aww, thank you." And that was it. And I was crushed. And he basically just left. He was like, "OK, have a great summer."
The relationship ended, and nothing was ever the same for them after that. Michael finished college and moved back home, awaiting his move to New York City. To his surprise, he met someone before leaving Flint and ended up in the exact same scenario he'd just been in, but with the roles reversed this time:
I could see in his eyes that he was developing these very, very intense feelings for me. And in my mind I was thinking about New York City. One night we were in his room on his floor, making out, when suddenly he just started crying, and he looked up at me, and he whispered -- he couldn't even say it fully -- but he whispered, "I love you so much."
Michael reflected on his previous experience and responded the way he thought he should:
[I]n my mind I was like, "Whoa." And so I did not want him to feel that way at all; I didn't want to put him through the pain that I felt, and so I said, "I love you too."
Calling all HuffPost superfans!
Sign up for membership to become a founding member and help shape HuffPost's next chapter