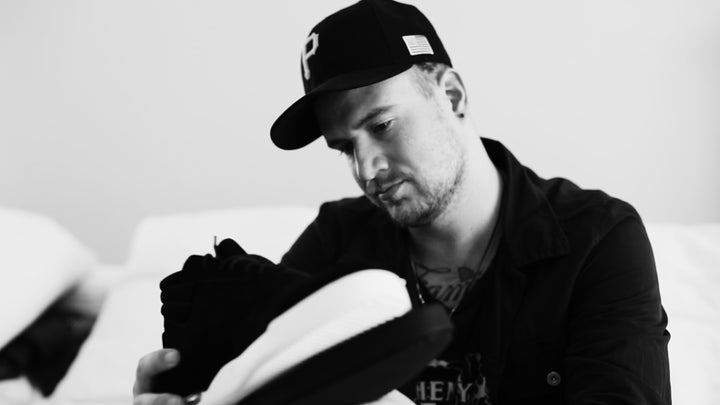 Two years ago I found myself musing "Who is John Geiger?" No one could really tell me exactly who this mysterious man was but I heard tidbits like "oh, he worked with one of the guys from the Jets" and "he's a huge sneakerhead and has a crazy collection." Oh ok. That helps. Thanks guys.
It took a while to find some more information on the man who is famously camera shy and would rather have his work speak for itself. But eventually, last December I found myself in a party held by Kith and streetwear wunderkind Ronnie Fieg in South Beach and someone approached me and said "Hey Mike." I looked up, confused but trying to pretend I knew who this person was. Turns out that for the first time in my life I was face to face with John Geiger.
Throughout the past year I've been able to get to know John, his work, and some of his friends straight from the source himself. In short, John Geiger is a man with a unique vision that has found his niche in an industry dominated by mass market retailers (Nike, Adidas, Reebok, Puma, etc) and has been able to successfully turn it on his head. Few people outside of Kanye West and the team at Supreme have been able to create such a frenzy and buzz around sneaker culture, but Geiger has with the custom Air Force 1's that he creates. Put it this way: I've had an easier time getting Yeezys than I've ever had getting a pair of his custom, limited run Air Force 1's. But, like every good story, there's more to it than meets the eye and a year after our first encounter, he was finally ready to sit down and tell it to me.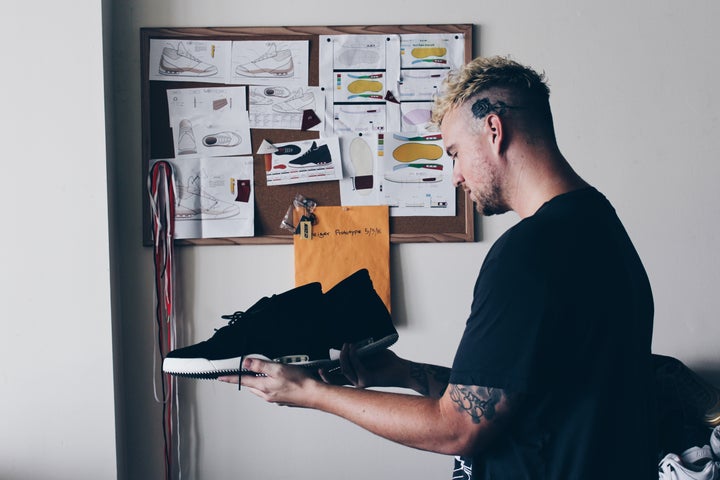 First things first - what led you to start working on custom sneakers?
JG: What originally led me to working on "custom" sneakers was the vision I had for certain silhouettes - whether it was Nike or another brand, it was just something about certain designs I knew they wouldn't make. I'd get this feeling that if I didn't do it, I would always wonder what if, and I've used that motto till' this day. Everything I've done has been a little outside the norm & a little far fetched. My ideas wouldn't really be released by Nike so my personal way of doing things would be to buy the shoes and change them myself and then release them myself. The main purpose was to learn the process and release my first collection of footwear, which I've been working on for over a year and a half and will release in 2017.
How do you find inspiration for each new release you work on?
JG: The inspiration behind my first collection has always been the same and that's the medium between high end and streetwear. A lot of brands claim this and I'm not saying they aren't but my John Geiger collection project is just that. The 001 is a representation of a high-end feel, but very sneakerish, so the inspiration behind it is just my love for fashion in those two departments, and combining them. The inspiration for all the customs I've put out and continue to put it (it's too fun not to keep doing them) is just traveling and my peers. I have a good amount of ideas stashed in my notes on my phone that if I ever got the call from Kanye or Nike I know exactly what I would bring to the table. The LA Flame AF1 that I released the Alchemist shop at Art Basel was actually an idea before the misplaced checks - I j ust had it stored and ready to shoot it out when the time was right. The Flame Forces aren't the typical sneaker head sneaker, it fits more of the artsy fashion scene so planning for the release at Basel just made sense. I'm doing a online release of those December 16th.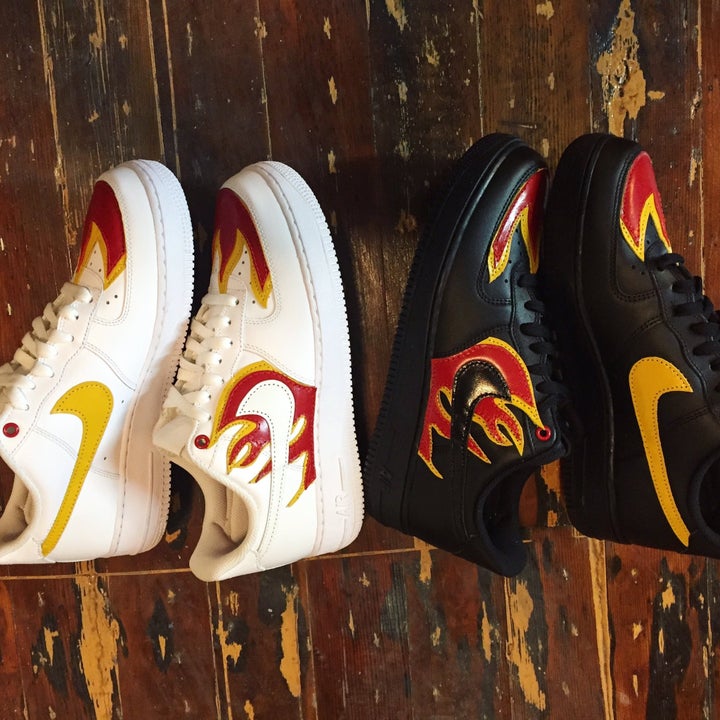 How has the enormous success you've had impacted the way you create and work?
JG: I think the success I've had just reassured me that some of these crazy ideas I have aren't really crazy at all and that some people out in this world enjoy them as much as I do. From 2015-2016 I released over 2000 customs ranging in price from 550-900 and sold out of everything every time. So that just shows the lane I put myself in is working and people enjoy it so why stop?! So on top of putting out my own collection, I will continue to release customs as well, maybe just not as many.
Would you ever be interested in creating a shoe for a brand and having them release it in mass quantities, like with Nike or Adidas?
JG: I would 100 percent be interested in creating a shoe with a big brand like Nike or adidas for a larger quantity release. I've had conversations with reebok, and a few others but if they aren't giving me 100% creative freedom and I'm not letting anyone disrupt that. That's exactly what happened every time I've got to the point of collaborating, I ended up turning it down because I wouldn't have 100% creative freedom to do what I wanted. Overall with what Nike is doing with the AF1 right now it's seems the best fitting and I would love to collab with them, fingers crossed.
Any plans on expanding into other verticals like fashion or photography?
JG: Actually yes, I've been working on a collection of cut and sew pieces with one of my best friends Davin Gentry (who is the owner of Premium co) at the moment we are just going through changing some patterns but I should start teasing it soon. The name of this brand has so many meanings to us, Diet Starts Monday but with both of our ideas and his knowledge in that field I feel it will be something everyone will enjoy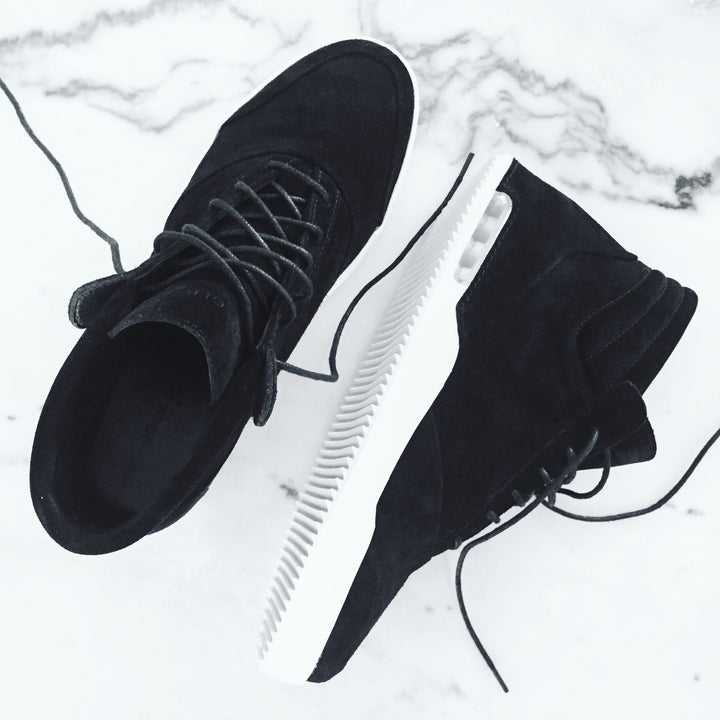 What would your ideal collaboration be?
JG: Besides the bigger brands like Nike or Adidas, which are a given, there are a few individuals that have been killing it in my eyes like Ronnie (Fieg), Jerry (Lorenzo) and Virgil (Abloh). I think if I was to ever create anything collab wise with a person or the brand they have, ideally it'd be one of them. As far as the past, I'm from pittsburgh and I enjoy art, Andy Warhol would have been my ideal collaboration. From what I've learned we both have the same social awkwardness about us and have have high social anxiety.
What's your advice on getting a pair of your sneakers?
JG: I think that the customs pairs have always been difficult to get because they were so limited, I tried to stop the whole bot movement but sometimes that happens. If we are talking about my first collection, 001 will be a larger scale release and will also be picked up by a couple accounts so that should be a easier way to own something by myself. I never intended on it to be so hard to own something by me, but when you are a independent with no backing it will never reach the masses unless a big name can back it (Editors Note: This was sentiment echoed by Virgil Abloh & Heron Preston at their recent Surface Magazine Design Dialogues.)
Any advice for people who look up to you?
JG: It'll sound cliche but I get a lot of people telling me how do they get into or just start on sneakers. Everything will be a trial and error so just go start. Even if you start with paint, just start it. Starting a project is almost 30 percent of it. Once you know you can actually make something, then you should have enough courage to continue. Everything looks so easy if you follow certain people on social because they are only showing the highlights, the truth is setbacks, production dates and having a product is not easy.
What's one thing you wish you could change about "the culture"
JG: The "culture" lol I actually hate when people use that in terms of like "do it for the culture" but my personal opinion and what I have done is just accept the change. I think a few older guys hated some things I've done but they respect it, I will never hate on the younger guys under me, I gotta accept the change and apply the changes. If you are not accepting what's going on, either on social media or just in general you will for sure get passed up. Change is good, if you don't like something at the moment try to understand it, so if I was to try and change anything it would be for people to be more understanding and if you don't like something keep it moving why look like a hater. I lend a hand anytime I can, so with that being said accept change because change isn't going to wait for you.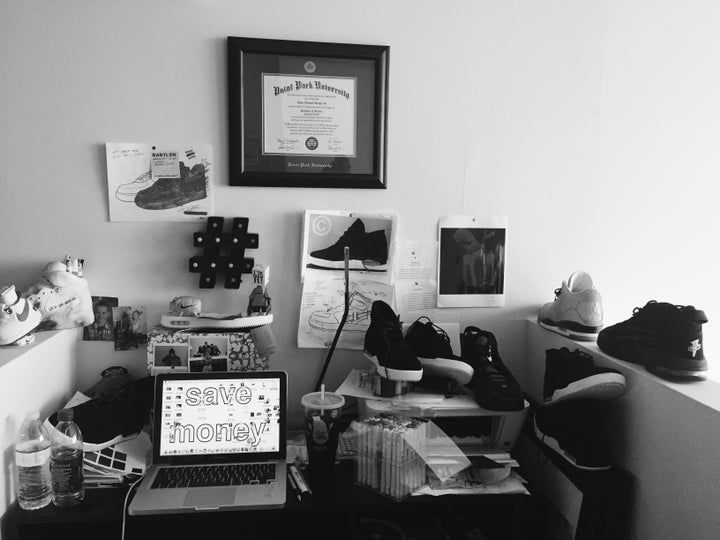 Geigers latest collection will be available on December 16th and your best chance of getting a pair of sneakers is to follow him on social @johngeiger_
Related
Popular in the Community