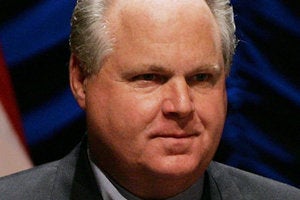 According to ESPN, the executive director of the NFL players union has written an email to the association's executive committee, detailing his opposition to any purchase of the St. Louis Rams football team by Rush Limbaugh.
NFL Players Association Executive Director DeMaurice Smith wrote, "I've spoken to the Commissioner [Roger Goodell] and I understand that this ownership consideration is in the early stages. But sport in America is at its best when it unifies, gives all of us reason to cheer, and when it transcends. Our sport does exactly that when it overcomes division and rejects discrimination and hatred."
Limbaugh -- a native of Cape Girardeau, Missouri -- first mentioned his interest in owning the NFL team in spring 2009, and has teamed with St. Louis Blues owner Dave Checketts to submit a bid. ESPN reports that the pair are among six potential bidders.
The St. Louis Business Journal reports that "given the poor state of the economy and the Rams' miserable on-field performance," sources estimate the franchise's entire value at $700 million to $750 million. The team is family owned. Its majority owners are siblings Chip Rosenbloom and Lucia Rodriguez.

"I think what we've had here is a little social concern in the NFL. The media has been very desirous that a black quarterback do well,'' Limbaugh said. "There is a little hope invested in McNabb, and he got a lot of credit for the performance of this team that he didn't deserve. The defense carried this team."

The New York Daily News caught up with several players who voiced concern that Limbaugh might soon become an NFL owner.
New York Giants defensive end Mathias Kiwanuka:
"...if it goes through, I can tell you where I am not going to play."
Calling all HuffPost superfans!
Sign up for membership to become a founding member and help shape HuffPost's next chapter