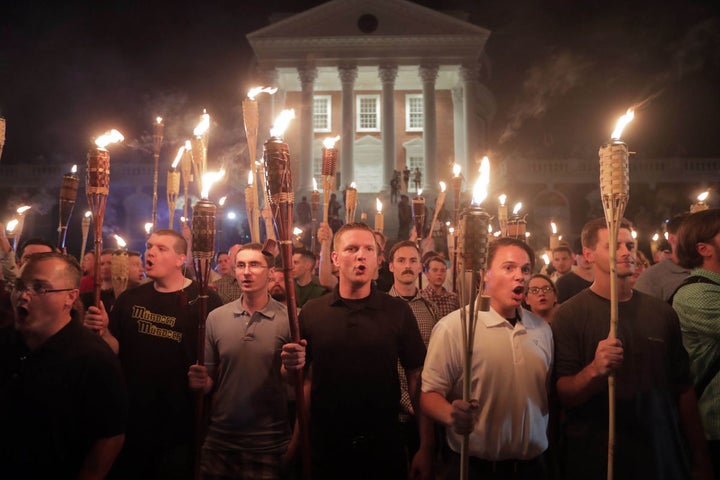 On Aug. 11 and Aug. 12, a group of white supremacists, neo-Nazis and members of the Ku Klux Klan gathered at the University of Virginia and Charlottesville for a "Unite the Right" rally. This farce of a rally turned violent, and acts of domestic terrorism have been responsible for taking the lives of three members of our community and injuring many others.
As a student at UVA, I watched in horror as images and videos of torch-lit marches through the lawn and near the rotunda surfaced, with ralliers giving Nazi salutes and attacking my friends and classmates. The next day, the rally turned violent, and I was dismayed to see the videos of violent outbreaks and domestic terrorism as a car drove into a group of counter-protesters. Seeing national news stations reporting "live from Charlottesville" followed by such horrific footage was surreal.
As a College Republican, I was horrified to see these vile beliefs attempting to use the conservative movement in order to legitimize their actions. Their hateful ideas are inconsistent and directly in opposition to many of the reasons that I, and many others, call ourselves Republicans. The entire Republican platform is built on the idea of equality of opportunity, and that the American Dream should be accessible to all who want to work for it no matter their race, religion or sexual orientation. The Republican Party was formed in opposition to slavery, and to this day it still holds those values true to its core. Our organization has been fighting these white supremacists from the last time they had a rally, and we will continue to fight them in the future.
As I reflect back on the last few days, there are so many emotions I want to feel at the same time: anger at the white supremacists, sadness for those who have been injured and killed, admiration for those who counter-protested and the state police who prevented further violence, and fear for the safety of my many friends who were in Charlottesville.
These hateful groups chose the conservative movement, our movement, in order to try to gain some form of legitimacy. By calling themselves the "alt-right," they imply that they are still part of the larger conservative movement as a whole. Over history, this type of hatred has latched onto many different movements, sometimes calling themselves Republicans and sometimes Democrats. No matter how far their beliefs may be from the true values of the Republican Party, it is still our party they have chosen to latch onto, and it is our duty to reject it.
While the vast majority of Republicans have been on the front line rejecting this hatred, including our Congressman Tom Garrett, Ed Gillespie and the entire statewide GOP ticket for Virginia, there are some who have been tepid in their response. President Trump could have and should have gone further in his condemnation. Others, like Corey Stewart, who instead try to condemn the "leftists" instead of the racists, are the reason that the "alt-right" has been able to grow.
I have seen too many Facebook comments trying to rationalize the acts of the Nazis and white supremacists, some even blaming the police and the counter-protestors for the violence. The first step in fixing a problem is realizing that there is a problem, and for the Republican Party, the problem is that enough people have rationalized the "alt-right" that they still feel at home in our movement. Moving forward, we as Republicans need to do everything in our power to let these racists know that their beliefs are not our beliefs and that the alt-right is not welcome in our party in any form.
With all the negativity that the national press has associated with the events in Charlottesville, it is important to realize that this city is an amazing place and that these events are by no means representative of the town. Law enforcement estimated that over 90 percent of those at this rally came from not only from outside of this city but outside of Virginia as a whole. They brought their hate-filled beliefs to Virginia, but do not represent those ideas that Virginians hold true.
The actual Virginians who were present as the events unfolded represent the true Charlottesville. The Virginia State Police, including Lt. Cullen and Trooper Bates, both of whom gave their lives attempting to protect others, represent the true Charlottesville. The reporters who risked their well being to record the events, including members of the student-run Cavalier Daily (some of whom were pepper sprayed during the events), represent the true Charlottesville. The doctors, nurses, and medical volunteers, who helped to treat those who were injured, represent the true Charlottesville. And the members of our community, including Heather Heyer, who attempted to counter this hate by letting these white supremacists know that they would not be welcome here, represent the true Charlottesville.
It was in Charlottesville that UVA's founder, Thomas Jefferson, first wrote the words, "We hold these truths to be self-evident, that all men are created equal." As UVA students arriving on grounds next week, some for the first time, we must do everything we can to unify and heal as a university and a city. Beliefs like those espoused on the 11th and 12th have attempted to drive fear into our hearts before, and we have defeated them. I have full confidence that the UVA and Charlottesville Community will speak as one in rejecting these beliefs and defeating them again.
Inquiries can be directed to news@collegereaction.com.
Popular in the Community