WASHINGTON -- The ripple effects of sequestration are taking hold. And among the first and most affected are hundreds of lower-income parents forced to game out major life adjustments to accommodate cuts to Head Start.
Across the country, administrators of Head Start -- the federal preschool educational, health and nutritional program for disadvantaged children -- have begun taking drastic measures to meet the 5-percent cut as mandated under the sequester. Unlike other agencies that have used budget dexterity to temporarily put off those cuts, Head Start has been forced to deal with budget gaps now because the school year ends this spring.
What's resulted is a series of operational changes that have left needy families even further in the lurch.
In Palm Beach County, for instance, Head Start has ended its bus service, forcing families for 2,300 children to find their own methods of transportation.
That's a relatively minor inconvenience compared to the other challenges Head Start parents now face. Many have been forced to figure out what to do with their children (often 3- to 5-years-old) during the days that the program will no longer be operational -- dozens of chapters have said they will shut their doors weeks early. Others have seen their child thrown off the Head Start rolls entirely. In Wisconsin, 700 families could end up losing Head Start access. In Cincinnati, nearly 200 children are at risk. In Oklahoma City, that number is 100.
In some of these locations, families have already been informed that their child will lose access to Head Start. In Indiana, two Head Start programs held a random drawing to decide which students would no longer receive service. The mother of one child dropped from the program said she was "heartbroken."
Many more parents, however, have been left in limbo, waiting to see if their child will suffer the same fate and figuring out how they will cope without the social and educational service. Several of those parents spoke to The Huffington Post.
Anita Wolfe has two children -- Anthony, 2 ½, and Alyssa, 1 ½ -- who could lose their spots in Cincinnati's Head Start due to sequestration. The program could shed as many as 182 children, although officials are still waiting for final budget numbers before figuring out what to do.
The uncertainty -- and the possibility that she may have to choose which of her children has to leave Head Start -- has been heart-wrenching, Wolfe said. She recently joined other affected families at a rally to save the funding.
Among the assistance that Wolfe stands to lose is the special attention Head Start teachers have paid to her children's disabilities. Alyssa, who was born premature and was developmentally behind when Wolfe adopted her, has managed to catch up to other children with the help of Head Start. Anthony has a hearing deficiency, which Head Start Teachers have helped him navigate by teaching him signs to indicate when he wants water, is hungry, or is ready to play.
"That's really helping me to help him have basic communication, so when he does school he can help himself," said Wolfe, adding that she's worried about what will happen if that extra assistance is taken away.
"We'd have to look around for other day cares," she said, when asked what she will do if one of the children loses his or her spot in the program. "Right now, we don't pay for Head Start because they go part-time. We would really really have to look at our budget to see if we could put one in another place. But that would be really really hard financially for us. Could we do it? We would have to rob Peter to pay Paul."
Wolfe's story is one of many now surfacing that illustrate how families that lean on Head Start and other social programs are struggling to cope with their uncertain futures. It's been emotionally draining for some parents. Others say the changes are already having a damaging impact on their communities as well. The consequences of sequestration, they insist, can't just be measured by budget lines or dollar figures.
Deborah Paris is one of those parents going through the tumult. A hair-stylist from Columbus, Ga., she has already sent two children through the Head Start program with sterling results. Her oldest, Kennedy, now 7, is in second grade, being tested for advanced classes, and is a member of the chess club. Her second child, London, now 6, followed a similar track. Head Start, she insists, ensured that they both entered the public school system on a level playing field with their peers.
Paris' youngest child, Joshua -- "a little grumpy old man," she calls him -- is now in Head Start as well, benefiting from speech therapy and behavioral services. But the program is being downsized to meet the demands of sequestration. And it's unclear if Joshua, now 5, will be a casualty of the cuts.
So far, all Paris knows is that Joshua will have fewer days of coverage. But in meetings with parents and officials in the area, she's been told that roughly 100 Head Start slots could be fully lost as well.
"It is a very uneasy feeling," Paris, 50, said of not knowing what the future has in store for your child. "You don't know what your next move is going to be or if you need to take on another job to cover the costs."
None of the alternatives are attractive. The early closure of Head Start this year will force Paris to spring for a babysitter or find a day care center for Joshua -- both of which cost money and, in the case of some day care centers, time.
Though divorced, Paris says she can cover the cost. But it will be tight. She's planning on putting out an ad for a "gray-haired lady who can watch [Joshua] for not too much," she said.
Finding a sitter isn't easy though. Paris said she's frightened by the possibility of leaving her youngest with someone she doesn't know. And generating additional income to make it less painful will be close to impossible. Business was already slow before sequestration made it worse. Nearby Fort Benning has been hit hard by the cuts as well.
"We got a double shot being hit in a military community," she said of being a Head Start parent in Columbus. "[Sequestration] has had a huge impact with the military. They send a lot of jobs here, jobs that are going to be lost and cut ... There aren't too many people out, shopping or buying. Everyone is cautious."
Caution is now pervasive in Paris' life as well. Once hopeful that she could get a teacher's certificate at Columbus State University, she now worries that she'll have to put that dream on hold. "I kind of wish I had started back with Kennedy," she said, of becoming an educator, "but other things come up and it causes you to take a back seat."
Support HuffPost
The Stakes Have Never Been Higher
Before You Go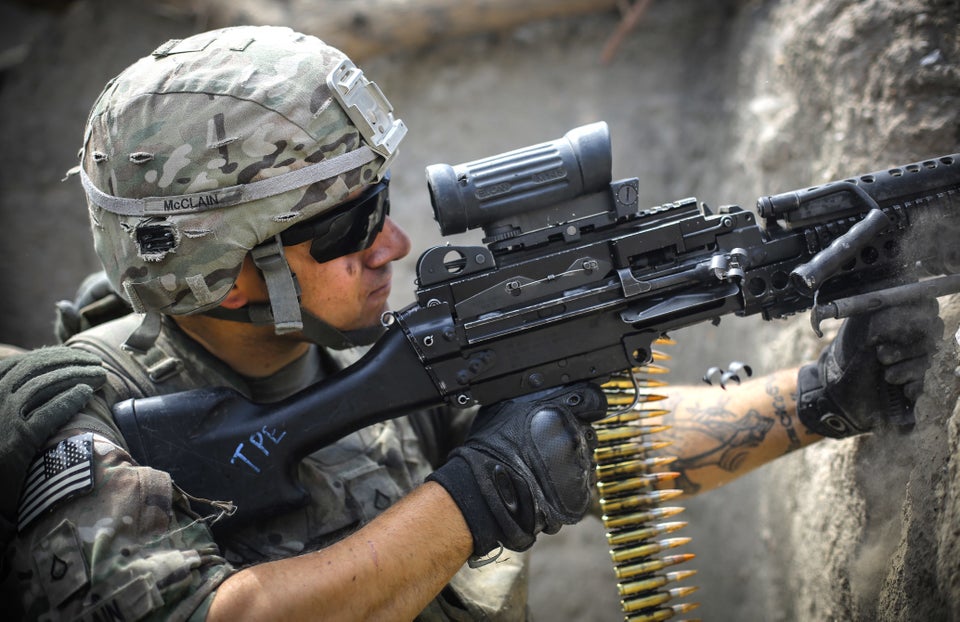 What Sequestration Would Cut
Popular in the Community