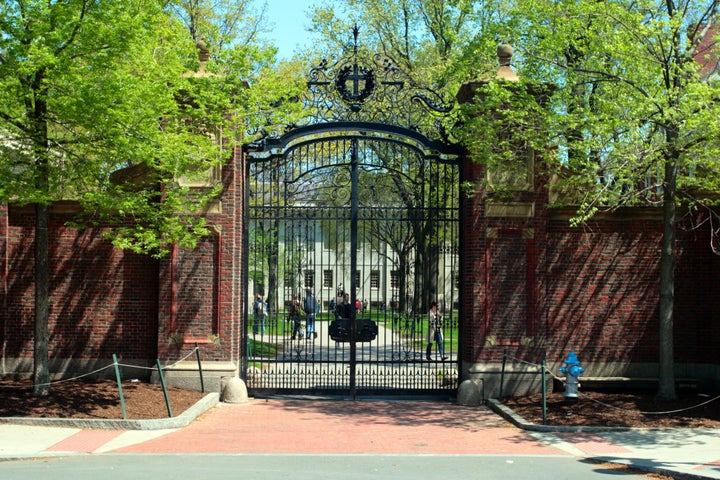 This is part of our monthly series 'Mission: Accepted,' in partnership with Minds Matter, which chronicles the lives of three students as they apply for college in their senior year.
"Sometimes love hurts, but remember that when one door closes, another one is opened." - My Grammy
MIT's rejection letter hurt, like being rejected by your freshman-year crush after finally getting the courage to ask her out. It made me question myself: Had I overestimated my abilities? It made me feel awful, like I hadn't tried hard enough. At the time, I already had been accepted to Washington University in St. Louis and UPenn. These are both great schools, but they aren't MIT. At the end of March, I was accepted to Harvard, Brown, Princeton, Cornell and Yale. I know, crazy, right?! These acceptances greatly overshadowed my lone rejection. They also made me realize that my grammy's words weren't entirely accurate, because when one door closes, many doors may open. The problem is, you can only walk through one of them.
After getting my acceptances, I immediately called my mother and told her the great news. In the middle of her Bible class, she jumped up and down and cried tears of joy. I told her, "It is all beginning to pay off." Still feeling humbled and in shock, I called my high school principal, Mr. McClellan. As he told me how proud he was, I realized just how big this was. It takes a village to raise a child, and there have been so many people who have helped me become who I am.
When I was 14 years old, my family and I lost our home to gang violence. I refused to join the gang, so they retaliated, leaving bullet holes in our house and our family. As a result, my family had to split up because no one had room to take us all in together. My siblings went to stay with a family friend, but I was kind of left to fend for myself. I stayed at friends' houses or sometimes at my grandma's, but she really couldn't afford to take care of me. This was the story of my life for nearly two years before my mom was able to secure us a safe place to live. Even having experienced this hardship, I am still able to enjoy great successes because of some very important people who helped me through.
The most important person to me is my best friend, Eric, who has taught me the value of brotherhood and companionship -- whenever I need him, he is there. His mother, Shinelle, became like a second mom to me. She showed me how much one meal can affect someone who has nothing -- her kitchen was always open to me. My mentors, Tom, Corey, Brandon, Jelani and Charles have all shown me the importance of giving back. Through Minds Matter, they volunteer their time on Saturdays, but through their hearts they volunteer their support year-round. Mary and Robert Gatson, my middle school nurse and her husband, reminded me how to be a kid -- when I stayed with them, they told me that my only responsibilities were to go to school and have fun. Principal McClellan and his family taught me about family and treated me as one of their own. Lastly, my mother has taught me how to weather a storm -- no matter what life throws at her, she keeps moving forward. All of these life lessons have shaped me into who I am, transforming my dreams and aspirations and allowing me to free myself from what was becoming an unproductive environment.
I know that these people will be proud of me wherever I decide to matriculate, and this has made it much easier for me to decide where to go. In making the final decision, my first criteria was financial aid -- but that went out the window when I received that Gates Millennium Scholarship. My second criteria was food, but that became not so important when I realized that I'll get tired of it wherever I go. So the final criteria was location. To help me make my decision, I visited a few of my schools -- and I am so happy that I did.
I visited UPenn, and Philadelphia reminded me too much of Cleveland. I want a change of scenery, so I crossed that one off the list. I visited Princeton, and it was far too quiet at night -- no city noise. Though I was unable to visit Yale, I knew I'd definitely be able to achieve great things there academically. But I'd done a lot of research on the place, and I didn't feel like it was exactly the right fit for me. I want to go to school in a city I can really explore and that offers a ton of internship opportunities, and New Haven doesn't seem like that city. Finally, I found the perfect school for me when I made my way to Cambridge, the home of MIT. Yes, after a month of traveling from school to school, I ended up back in a city I loved, but at a different institution than I had planned on. It brings me great pleasure to announce that I will be attending Harvard in the fall of 2012.
Related
Popular in the Community