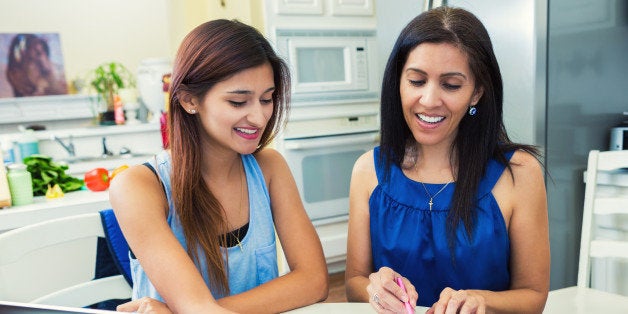 I was just about to send out a "What the new application essay prompts are" email to students with whom I work. Right in the middle of writing it, it dawned on me that everyone should have access to this information, especially since it's not that easy to find. And so I decided to write a HuffPost blog.
I am well aware of how busy students are now with AP tests, finals and other end-of-year activities. In the middle of this hustle-bustle, however, I have heard from any number of juniors (and parents) wanting to know what students should be doing during the summer re: college admissions and application essays. Here is what I have to offer:
2. ACTIVITIES RESUME
Create an activities resume. There are so many ways in which you can use a resume, including submitting it to colleges through The Common App. A resume is an essential tool in making sure you fully answer the 5-item Honors space and 10-item Activities Grid on the Common App. Finally, a resume is perfect for evaluating your involvements and talents in order to focus on what's important and meaningful in college essays. For information about creating and using an activities resume, read "Activities Resumes: A Surprising First Step to Having a Successful College Application."
3. COLLEGE APPLICATIONS: THE COMMON APP, UNIVERSAL APPLICATION, UNIVERSITY OF CALIFORNIA APPLICATION AND THE COALITION APP
The following notes the different applications colleges use for their respective admissions programs. Of course, many colleges have their own unique applications. Determine which applications the schools on your college list use.
A. COMMON APP
The Common Application now has more than 600 colleges signed up to use their application service.
After school is out, begin filling out the different spaces in The Common App. As you may have heard, The Common App has a new policy that allows students to sign up for a 2015-2016 Common App account AND begin working on it. What's new is that the account you create can be rolled over to the 2016-2017 Common App. This is HUGE! To learn more, go to The Common App's "Five Things to Know about Account Rollover."
Another thing to do is begin identifying the potential topics you want to consider for your Common App Personal Statement essay. You will be glad to know that the Personal Statement prompt options for 2016-2017 are the same for 2015-2016. Here they are:
THE COMMON APPLICATION ESSAY PROMPTS 2016-2017
In 650 words or less, please respond to one of these prompts:

PROMPT #1: Some students have a background, identity, interest, or talent that is so meaningful they believe their application would be incomplete without it. If this sounds like you, then please share your story.

PROMPT #2: The lessons we take from failure can be fundamental to later success. Recount an incident or time when you experienced failure. How did it affect you, and what did you learn from the experience?

PROMPT #3: Reflect on a time when you challenged a belief or idea. What prompted you to act? Would you make the same decision again?

PROMPT #4: Describe a problem you've solved or a problem you'd like to solve. It can be an intellectual challenge, a research query, an ethical dilemma-anything that is of personal importance, no matter the scale. Explain its significance to you and what steps you took or could be taken to identify a solution

PROMPT #5: Discuss an accomplishment or event, formal or informal, that marked your transition from childhood to adulthood within your culture, community, or family.
Colleges who make use of The Common App may also require other essays as Supplements to the above essays.

B. THE UNIVERSAL APPLICATION
44 colleges make use of The Universal Application, including American University in Bulgaria, Bay Path, Beloit, Brandeis, Bryant, University of Charleston, University of Chicago, Christian Brothers University, Colgate, Cornell, Dean, Duke, Embry Riddle Aeronautical University, Emerson, Fish, Gardner-Webb, Harvard, Johns Hopkins, Johnson & Wales, Lake Erie, Landmark, Lawrence Tech, Lynn, Milwaukee School of Engineering, Monmouth, Nazareth College, Newberry College, Notre Dame of Maryland, Princeton, Randolph College, Rensselaer Polytechnic, Rice, Rochester Tech, University of Rochester, Roger Williams University, Savannah College of Art and Design, Southern Vermont College, University of Tamp, Utica, Vanderbilt, Wentworth Tech, Westminster, Wilson College and the University of Wyoming.
THE UNIVERSAL APPLICATION ESSAY PROMPTS

PROMPT #1: In 650 or fewer words, please write an essay that demonstrates your ability to develop and communicate your thoughts. Some ideas include: a person you admire; a life-changing experience; or your viewpoint on a particular current event.

PROMPT #2: In 100-150 words, tell us about one of your extracurricular, volunteer or employment activities.
Colleges who make use of The Universal App may also require other essays as Supplements to the above essays.
C. UNIVERSITY OF CALIFORNIA APPLICATION
While The Common App essay prompts are the same, the UC questions are TOTALLY different. The directions are to answer four of the eight questions and limit your responses to 350 words each. Here they are:
THE NEW UC ESSAY PROMPTS

1. Describe an example of your leadership experience in which you have positively influenced others, helped resolve disputes, or contributed to group efforts over time.

2. Every person has a creative side, and it can be expressed in many ways: problem solving, original and innovative thinking, and artistically, to name a few. Describe how you express your creative side.

3. What would you say is your greatest talent or skill? How have you developed and demonstrated that talent over time?

4. Describe how you have taken advantage of a significant educational opportunity or worked to overcome an educational barrier you have faced.

5. Describe the most significant challenge you have faced and the steps you have taken to overcome this challenge. How has this challenge affected your academic achievement?

6. Describe your favorite academic subject and explain how it has influenced you.

7. What have you done to make your school or your community a better place?

8. What is the one thing that you think sets you apart from other candidates applying to the University of California?
In case you haven't heard, 80 "elite" colleges and universities are coming together to offer an alternative to The Common Application starting 2016. Their goal is "to improve the college admission process for all students" and it's free!
The colleges include American, Amherst, Bates, Bowdoin, Brown, Bryn Mawr, Cal Tech, Carleton, Claremont McKenna, Clemson, Colby, Colgate, College of the Holy Cross, William & Mary, Colorado College, Columbia University, Connecticut College, Cornell, Dartmouth, Davidson, Duke, Emory, Florida State, Franklin and Marshall, Olin College of Engineering, Georgia Tech, Grinnell, Hamilton, Harvard, Haverford, Illinois State, Indiana University, James Madison, Johns Hopkins, Miami of Ohio, Michigan State, Middlebury, Mount Holyoke, North Carolina State, Northeastern, Northwestern, Oberlin, Ohio State, Penn State, Pomona, Princeton, Purdue, Ramapo, Reed, Rice, Rutgers, New Brunswick, Skidmore, Smith, St. Olaf, Stanford, SUNY, Geneseo, SUNY Binghamton, SUNY, Buffalo, Swarthmore, Texas A &M, College Station, College of New Jersey, Tufts, Union, University of Chicago, University of Connecticut, University of Florida, Gainesville, University of Georgia, Athens, University of Illinois, Champaign-Urbana, University of Iowa, University of Maryland, Mary Washington, University of Michigan, Ann Arbor, University of Minnesota, Twin Cities, University of Missouri, Columbia, University of New Hampshire, Durham, University of North Carolina, Chapel Hill, Notre Dame, University of Pennsylvania, University of Pittsburgh, University of Rochester, University of South Carolina, Columbia, University of Vermont, Burlington, University of Virginia, Charlottesville, University of Washington, Seattle, Vanderbilt, Vassar, Virginia Polytechnic, Wake Forest, Washington University, St. Louis, Wellesley, Wesleyan, Williams and Yale.
The Coalition essay prompts directions say that applicants should choose one essay and recommend that the answer be no longer than 500-550 words.
THE COALITION ESSAY QUESTIONS

1. Tell a story from your life, describing an experience that either demonstrates your character or helped to shape it.

2. Describe a time when you made a meaningful contribution to others in which the greater good was your focus. Discuss the challenges and rewards of making your contribution.

3. Has there been a time when you've had a long-cherished or accepted belief challenged? How did you respond? How did the challenge affect your beliefs?

4. what is the hardest part of being a teenager now? What is the best part? What advice would you give a younger sibling or friend (assuming they would listen to you)?

5. Submit an essay on a topic of your choice.
It goes without saying that many colleges have their own unique applications, and do not make use of any of the above.
In writing this blog, MY GOAL FOR YOU IS TO COMPLETE ONE MAJOR COLLEGE APPLICATION, INCLUDING ITS ESSAYS, BEFORE SCHOOL STARTS IN THE FALL! You have no idea how useful this is.
Students who do this usually end up submitting much more complete, creative, powerful and better written applications because they have the time and energy to do the best job they can. That really pays off in their potential for admission.
Calling all HuffPost superfans!
Sign up for membership to become a founding member and help shape HuffPost's next chapter