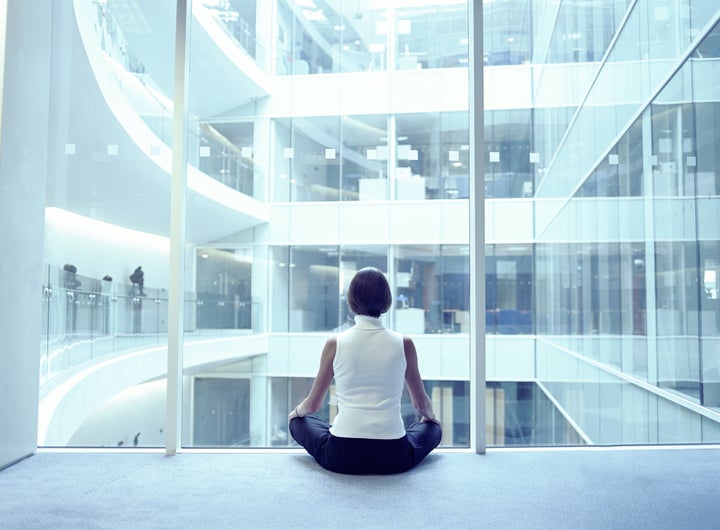 Headspace is carving out a place for itself in the corporate world.
The meditation service, which closed a $30 million funding deal on Wednesday, plans to release an enterprise product next year for companies that want to provide mindfulness training to their employees, CEO Sean Brecker told The Huffington Post on Friday.
"It's a huge opportunity," he said, speaking by phone from the patio of the company's headquarters in Venice Beach, Los Angeles' burgeoning tech hub. "We have a pipeline of potential clients."
Headspace, a multimillion-dollar business with more than two million users, has become a major player in the fast-growing wellness industry. The app provides audio of guided meditation sessions and lets users track their progress. It also includes animations explaining the science of mindfulness and how meditation can improve mental and physical well-being.
As more companies focus on employee health as a perk and a driver of productivity, Headspace has the potential to tap a larger pool of deep-pocketed clients.
For now, the company has offered corporate packages on its app to a limited number of businesses and other institutions -- including HuffPost. A yearly subscription costs $95, which amounts to just under $8 per month.
But many of the potential clients who wanted to use the service requested special features that Headspace couldn't provide -- until now.
"Every enterprise wanted something pretty bespoke," Brecker said. "They may want different live manifestations of the product, or they may want people from Headspace to do lectures on their campus."
Other companies, he said, requested reporting tools to help managers understand how employees used the product.
With its latest funding round, led by the investment firm Chernin Group, Headspace plans to hire more engineers, salespeople, designers, marketers and content creators to service companies, universities and other groups willing to pay for its service.
No stranger to the idea of patience, the company is not in a rush to launch its enterprise product, which it plans to release sometime next year.
"We'll only tackle that enterprise market when we feel like we have the resources to build out the product," Brecker said. "We'll do it when the time is right, and we have the right product and we have the right team to build that product."
Related
Popular in the Community