A West Virginia woman is accused of stealing headstones from a cemetery near her home and using them for a fire pit.
Police say Penny Snodgrass, 54, is charged with grand larceny after she admitted to stealing the memorials from Brounland Cemetery in Alum Creek, according to WCHS.
The headstones were reported missing on May 27 and, thanks to a tip, recovered the next day.
"Somebody flagged down a state trooper who was driving through the area and said they had seen headstones on Ms. Snodgrass' property," Sgt. Brian Humphreys of the Kanawha County Sheriff's Department told The Huffington Post.
Authorities investigated the lead and quickly identified the missing headstones. They also discovered other allegedly stolen grave decorations on Snodgrass' property.
The South Charleston woman had placed the headstones around a burn pit, where she set trash and other items on fire, police said.
It is unclear how long Snodgrass had the headstones on her property. Family members of the deceased visited the cemetery in April, police said.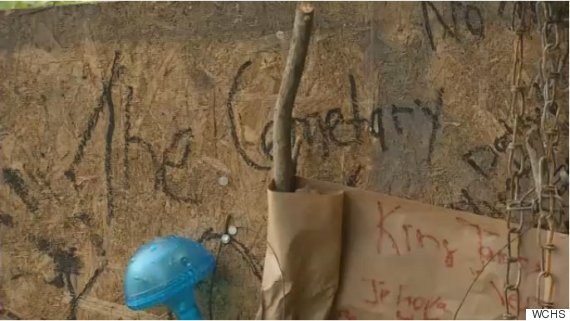 A sign at the foot of a hill leading up to Snodgrass' home identifies the property as "The Cemetary."
Jamie Wilson, whose grandparents are memorialized on the recovered headstones, said the ordeal upset him, but also that he feels Snodgrass needs help.
"If you would have asked me the day that it happened, I would have had no sympathy, but I could blatantly tell by seeing her on the news that she has some serious issues she needs to work out with herself," Wilson told WCHS.
The two headstones are valued at approximately $2,500, police said.
Calling all HuffPost superfans!
Sign up for membership to become a founding member and help shape HuffPost's next chapter