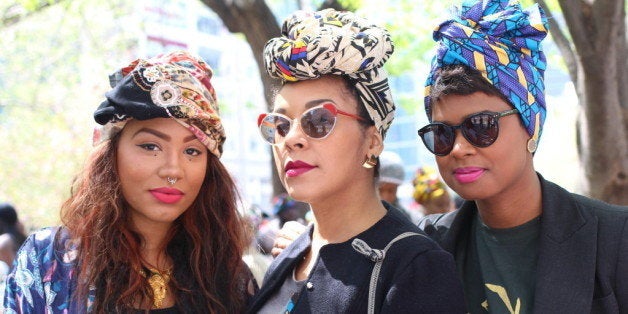 On April 14 Boko Haram, a Nigerian Islamic terrorist group, kidnapped over 200 girls from their school in the rural town of Chibok located in Borno State in Northern Nigeria. They reportedly planned to convert each of the girls into Muslims and sell them off as brides. Boko Haram later released video footage of some of the girls reciting Muslim prayers.
The incident sparked an outcry on social media, which resulted in the popular hashtag, #BringBackOurGirls. Protestors across the globe also took to the streets.
One demonstration held last month in New York City asked female attendees to "rock a crown" (a head wrap), to show solidarity with the mothers of the young women who were violently stolen.
When I first saw the invitation to the rally, my emotions kicked into full gear for the young women of Chibok. I thought about how on-trend head wraps have become. A part of me wanted all of us to put our good fashion sense on pause. Did the mothers of these young women really need us to wear a gele or a turban to show solidarity? Clearly our headgear would be the furthest thing from their minds at such a trying time.
REAL LIFE. REAL NEWS. REAL VOICES.
Help us tell more of the stories that matter from voices that too often remain unheard.
Read more on scriptsandsightings.com