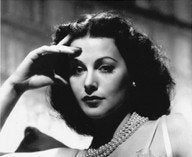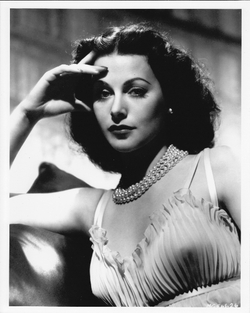 While he was growing up in Ottawa, Illinois, the film writer Stephen Shearer's mother told him how in 1939, she and a girlfriend went to the local cinema to see Charles Boyer in Algiers. Co-starring with the Frenchman was MGM's latest European import, Hedy Lamarr.
When she first appears in the film, cinematographer James Wong Howe shoots Lamarr, then known as "The Most Beautiful Girl in the World," in deep shadow. Approaching the camera, her face is revealed in light.
"The entire audience gasped," Shearer's mother recalled. Hedy Lamarr was that beautiful.
And they didn't make 'em like that in Ottawa, Illinois.
I learned this fun nugget at a talk at Larry Edmund's Bookshop on Hollywood Boulevard, celebrating the publishing of Shearer's new biography Beautiful: The Life of Hedy Lamarr. The Austria-born actress was among the many German-speaking Jewish artists who made their way to California in the 1930s.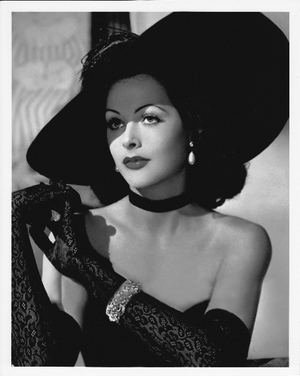 Born Hedwig Kiesler, Lamarr was a celebrity in Europe before coming to the U.S. -- notorious for bobbling in the buff in Ecstasy (1933). In 1937, anticipating the Anschluss (Shearer intimated that Lamarr was well connected in politic circles), she and her husband departed Vienna. Meeting L.B. Mayer in London (he was in town scooping up European talent, to his credit, much of it Jewish), she inked her MGM contract.
As the duo plowed across the pond on the S.S. Normandie, Mayer renamed Lamarr, so the legend goes, after the heroin-addicted silent film actress Barbara La Marr. In another version, which I prefer, the multilingual LaMarr from landlocked Vienna gazed at the sea through her gorgeous eyes, and murmured, "La mer!"
A star -- Lamarr -- was born.
One other charming detail of that crossing is that L.B. dispatched Hedy -- who more or less had a knapsack and about 80 bucks to her name -- to the ocean liner's Chanel boutique on the first-class deck. There, on MGM's dime, Lamarr was suited up for the mob of press awaiting the Normandie's arrival in New York harbor.
Shearer implied that Mayer mismanaged his exotic charge's career. He was gifted at dolling up homegirls like Garland and Turner into cinema queens. But in casting an elegant, intelligent, sophisticated woman like Lamarr, Mayer was flatfooted. This problem is amusingly addressed in "What not to do with Hedy Lamarr" in LIFE magazine, August, 1939.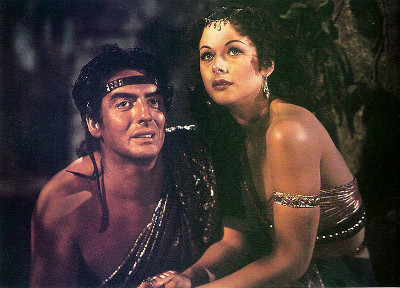 I'm a big fan of Cecil B. DeMille's Samson & Delilah (1949); one reason why is the gorgeous Hedy Lamarr's precise performance. Leafing through the Samson files at the DeMille archives while investigating Theodore Kosloff's choreography in the epic, I came across a telegram Hedy sent to DeMille. Holding the fragile paper in my hands, I read the words of a woman sitting on top of the world.

PARIS FRANCE
JULY 8 1948
MR. CECIL B. DE MILLE
PARAMOUNT STUDIO
HOLLYWOOD CALIFORNIA
-------
HAVING THE TIME OF MY LIFE STOP CAN I DO ANYTHING FOR YOU STOP STAYING AT GEORGE V.

LOVE DELILAH
-------
Debra Levine blogs about dance, film, music and urban culture on arts•meme.
Calling all HuffPost superfans!
Sign up for membership to become a founding member and help shape HuffPost's next chapter