Imagine every week you spend a couple hours sharing music and having fun. You meet old friends, and make new ones. There's no plan beforehand what you're going to play. There's no commitment or expectation that everyone has to be there. And you don't even have to be a musician - you're just being yourself, and sharing Aloha.
This is happening right now on the beautiful and powerful Hawaiian island of Molokai. It's nicknamed The Friendly Isle, and this it totally true. People care about each other. When you're on Molokai you'll feel you've gone back in time, you'll remember your childhood.
On Molokai, people of all ages come together every Tuesday morning outside the Coffees Of Hawaii shop. From the youngest generation to the elders, or kupunas, everyone comes to make music and dance the Hawaiian hula. Visitors are always welcome to join in, and of course it's free to come and watch.
Some people may be having health problems, or going through personal struggles like anyone else. But music is a universal language and when the music starts you can just see the joy on everyones face and feel the Aloha.
What is Aloha? 3 founding members of the group explain:
"Aloha is family, friends, and the spirit of sharing everything with everybody. Aloha is healing. The world needs more Aloha."
-- Waipa Purdy
"Aloha means everything - it means hi, welcome, good-bye, I love you. We started this program here just to give Aloha - to bring happiness through music."
-- Roy Horner
"We are sharing our Aloha with the people that come here. That's our love, our welcoming spirit to welcome them not only to Molokai and to Coffees, but to sit at our table and join in the songs and the hula. We're not here to perform for an audience, we're here to perform for ourselves and to share our love."
-- Bill Perdue
Aloha expresses feelings of love, gratitude, and kindness. It is a way of life.
Playing in the group is more though than just enjoyment and sharing Aloha. Actually now more and more you may hear about the effectiveness of group music therapy on optimum health. One recent study showed how group therapy leads to an overall improvement in cardiovascular health. Stress has a powerful negative impact on your health, and group music therapy can help you to reduce stress too. More and more studies are confirming the positive effects of music on health.
I am hugely grateful to be a part of this amazing group, sharing Aloha. I never played an instrument before - actually I did play the recorder as a child, but very badly! Now I join in the group and play the pakini bass - a big metal bucket turned upside down with a hole in the bottom, and a piece of rope coming out of the hole that's attached to a broom handle! I pluck the rope, while moving the handle to tighten or loosen it and change the tone. I certainly don't have any special skills, I just listen to the rhythm, feel the music, and play what I feel.
"I look forward to this every Tuesday. We're just sharing music, and music is the international language. Everybody who comes here doesn't have egos, we just come and everybody shares. It's just a festive, happy feeling!"
-- Waipa Purdy

There's no question that happiness can keep you healthier, younger and improve your overall health. And happiness is infectious, so when you are happy you can share your happiness and your Aloha and help improve the health of those around you too.
If you can't come to Molokai, and you can't find a local group near where you live, then you can start getting the benefits by just taking a little time to listen to positive music. You don't have to play an instrument, just feel the music. Maybe sing along, or use it as an excuse to learn to play an instrument.
Music brings happiness and puts a smile on your face. I believe we all have the power to heal ourselves, and to help heal others. And music helps this - so let's make music!
He'olina Leo Ka Ke Aloha (joy is the voice of love).
Noho Me Ka Hau'oli - A Hui Hou! (Be happy - until we meet again!)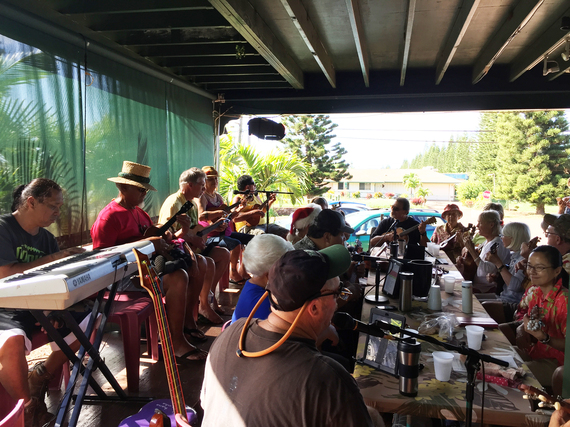 Calling all HuffPost superfans!
Sign up for membership to become a founding member and help shape HuffPost's next chapter