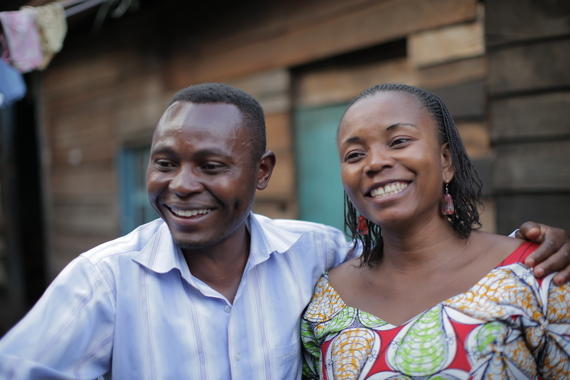 This blog was co-authored by Alexa Hassink, Communications Officer and Program Associate at Promundo.
"We found the love we had lost." That's where the story ends, but it's not where it began. Those are Abby's words. Abby is a man that we worked with in Democratic Republic of the Congo (DRC) -- a country that has seen millions of lives lost and where conflict-related trauma has touched the lives of nearly all of its inhabitants.
In a country where 70 percent of men and 80 percent of women have experienced at least one conflict-related traumatic event, including displacement or death of a family member, Abby and his wife Kyalu's attention, right now, is focused on how to rebuild their relationship at home.
Abby, a 37-year-old nurse, in Goma, DRC has been married to Kyalu for 13 years. They have three children. In 2008, during the war, Abby and his wife went to the village of Walikale to work in the coltan mines. Rebel groups were active in the area. Abby was kidnapped to do hard labor for the rebels, and his wife Kyalu was detained and raped. Three months after the kidnapping, Abby and Kyalu finally returned home.
Kyalu became pregnant from the rape. Because of this, she was rejected by Abby who sent her to live with family for several years, unable to face her. All attempts of mediation by family and religious leaders failed. But finally, at the insistence of friends, Abby decided to reconsider his decision and accept Kyalu back into their home. Her return, however, was met with violence from Abby. He refused her cooking, took her money, and resented the son born of rape.
Abby and Kyalu's story is not unique. Research carried out by Promundo in eastern DRC found that 43 percent of men and almost as many women (37 percent) - agree that a man should reject his wife if she has been raped. Many men report feeling helpless and frustrated after their wives experienced sexual violence, and these feelings often led to yet more violence. Men, particularly, have been found to cope with conflict-related trauma in DRC by avoiding feelings of vulnerability through substance and alcohol abuse and by using violence against or abandoning their families or friends. Many women are subject to this violence. Almost half of the men surveyed (47 percent) report having used physical violence against a partner, and a similar number of women (49 percent) report having experienced sexual violence from a male partner.
The United Nations advises that states should adopt laws and policies to prevent, punish and eradicate gender-based violence in conflict and post-conflict situations. While laws and policies criminalizing sexual violence are necessary, they should be combined with other mechanisms that encourage change in attitudes and behaviors, if we want to effectively prevent violence, long after conflict ends.
In 2013, Abby became part of Promundo's Living Peace program, which provides psychosocial support through group therapy to men (and their partners) in DRC. Over the course of some 15 meetings, participants build a sense of responsibility and accountability for violence and its prevention. They reflect on their experiences of violence and conflict; discuss and build positive coping mechanisms; and, through homework assignments, take their new behavior and skills out into the community.
Living Peace was designed to break cycles of violence: to prevent men from using further violence as coping mechanisms from conflict-related trauma and to prevent husbands of rape survivors from re-victimizing their wives. After his sixth meeting, Abby began to change. He says, "For me, changing the way I lived was difficult at first," but after sharing his pain and experiences with other men in the group, Kyalu noted, "he started talking to me differently" and caring for the children. Indeed, Abby said, they found the love they had lost.
Recovering from conflict is a lifelong journey. Working to change attitudes that support violence and foster those that prevent violence is essential for sustainable peace, not only for couples like Abby and Kyalu, but also for communities and countries.
REAL LIFE. REAL NEWS. REAL VOICES.
Help us tell more of the stories that matter from voices that too often remain unheard.