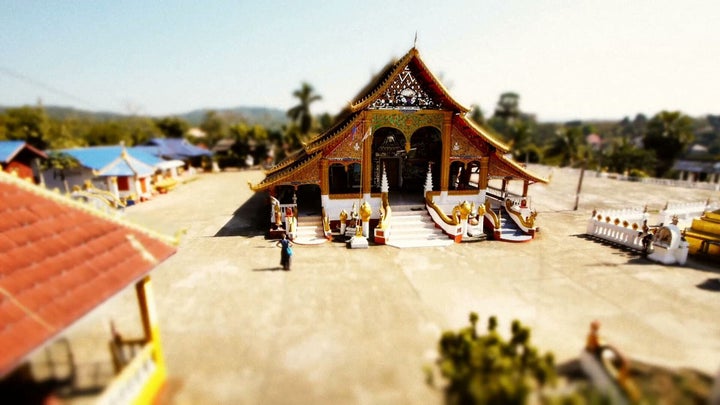 Few Americans know about the bombing of Laos. Fewer still know how heavily bombed it was -- the most heavily bombed country per person on earth, more than Japan and Germany during World War II, with over 250 million bombs dropped.
According to the New York Times, 30 percent of the bombs the United States dropped on Laos did not explode, leaving a literal minefield that continues to injure and kill decades after the end of the war, the resumption of full diplomatic relations between the United States and Laos, and peaceful relations between the two countries.
On a recent visit to Laos, Hilary Clinton stated that the United States is interested in expanding aid to speed up the removal of American bombs from Laos.
It is heartening that Clinton has proposed a measure that could have very substantive and transformative impact on citizens of Laos in making their country safe for children to play, farmers to plant and harvest, citizens to live and travel freely, and individuals to engage in commerce and trade without fear of injury.
But the United States needs to do more, especially for those Lao citizens who have already been injured by American bombs for whom bomb clearance will have arrived too late.
Thousands of Lao citizens are struggling with physical disabilities as a result of American bombs and other ordnance. Helping these Lao citizens is as important as removing the bombs that currently litter the country. It should be pursued alongside bomb clearance efforts.
Many American and international organizations are already on the ground in Laos providing such services -- but they need greater funding to reach the large numbers of Lao citizens who have been injured by American bombs but have not been able to access proper health and rehabilitative support services.
These services promote the broader development efforts of Laos -- which are supported by the American people through the programs of the U.S. Agency for International Development and through many American and international NGOs.
They are not acts of charity but acts of justice in the context of efforts to increase the well-being of the Lao people, the growth of their economy, and their overall development and capacity to enjoy their social and economic rights.
The suffering, dismemberment, disability, and poverty that results from Laotian civilians being maimed by U.S. ordinance is massive and no amount of aid can bring back the individuals killed by these bombs, nor the quality of life individuals who are now injured enjoyed prior to their injuries. But aid can still have profoundly positive impacts -- enabling self-sufficiency and reducing poverty, restoring confidence, strengthening families and communities, and inspiring hope where it has been dimmed.
In many injured individuals rehabilitation can lead to dramatic and sustained improvement in their functioning with positive ripples across Lao society.
This is a charitable sum -- not one that approaches the demands of justice. The increase to $9 million is a positive sign, but it is not enough given the scale of the problem.
Unexploded ordinance impedes the development of Laos and is a continuous threat to the safety of its citizens. It is the responsibility of the U.S. State Department and its aid agency, USAID, to address this speedily and comprehensively and not in the slow and paltry way it has until now. Some foreign policy goals are massively complicated, take years to achieve, and sometimes are riddled with failure. Still, billions are spent on them despite these obstacles to success.
It won't take billions of dollars to clear Laos of American bombs and to provide an improved health and rehabilitative service for those Lao citizens injured by American bombs.
But it will take sustained genuine political will at the State Department and the US Agency for International Development and a more realistic and honest appraisal of need and adequate funding in response. Already USAID funds programs (on a very small scale) for the protection of vulnerable people in Laos through its support for the Lao Disabled People Association and through projects to improve health and rehabilitation services for individuals injured by bombs as well as education and injury prevention outreach programs to the Lao population at large.
Scaling up bomb removal and health and rehabilitation programs for Lao people injured by bombs is not unduly complex and the end goals are achievable -- indeed, there is already a strong record of success upon which to build.
The U.S. has the resources to get this right and to enable healing and health in a land and for a people ravaged by war. Clinton should be commended for taking note of the problem and expressing the desire to address it.
Now good intentions need to be followed up with right action and Congress and the State Department should follow through on Clinton's commitment.
----------------------------------
Readers interested in learning more about development efforts to address the legacy of unexploded ordnance in Laos can visit the following websites:
http://www.careinternational.org.uk/where-we-work/laos
http://blogs.oxfam.org/en/blog/10-11-11-laos-worlds-most-bombed-country
http://www.handicap-international.org.uk/where_we_work/asia/laos
http://transition.usaid.gov/rdma/countries/laos.html
https://legaciesofwar.org/
REAL LIFE. REAL NEWS. REAL VOICES.
Help us tell more of the stories that matter from voices that too often remain unheard.