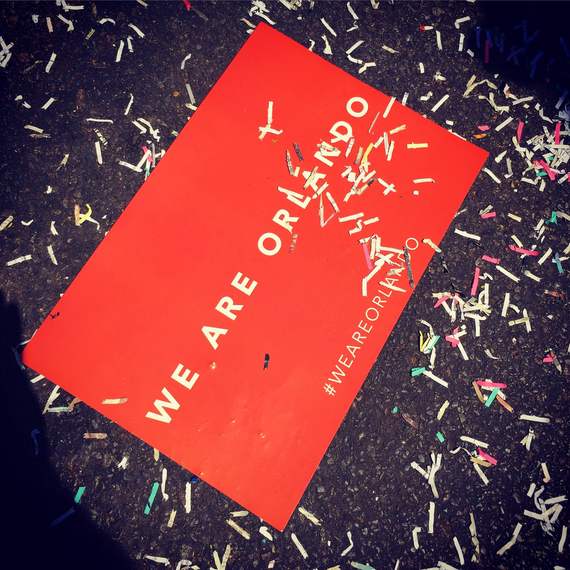 When the shooting in Orlando happened, I was down in Alabama helping my Dad at his U-pick blueberry farm.
I saw the news on my phone and ran outside hollering. My dad lumbered up into the house and helped me navigate his TV to CNN. Initial reports and footage made at least one thing clear. "Lord have mercy, somebody did this because of hate," my dad said quietly.
Later that day, alone on an acre of plowed dusty dirt, I drove in wooden stakes alongside cages to protect the tomato plants from wind and rain. But as my skin began to burn under the scorching sun, I began to ponder the awfulness of 49 lives snuffed out, and I stood there and cried. A few days later when I got back to New York, I reached out to a few experts in psychology, history and politics to better understand how both LGBT and straight people, can process the pain and from that place of healing, make common sense changes happen, especially with guns.
"If you look at the long arc of American history, most of the violence against civilians by other civilians has been perpetrated by organized groups or mobs, such as lynching," said Brian Balogh, co-host of Backstory with the American History Guys.
There was a period during the late 19th and early 20th centuries when bombs, allegedly planted by radicals or anarchists, killed large numbers of civilians. The worst act of terrorism before September 11, 2001 was the Wall Street bomb that blew up at noon on September 16, 1920, just outside J.P. Morgan's home. It killed 30 people.
He said the bombings garnered tremendous publicity that helped further fuel the Red Scare.
"From there, you kind of have to jump to the age of the lone gunman, randomly selecting targets, sometimes for no apparent reason, other times a certain racial, ethnic or as in the case of Orlando, possibly a group chosen because of their sexual orientation," said Balogh.
FBI statistics show active-shooter incidents are becoming more frequent in our modern era. FBI statistics show active-shooter incidents are becoming more frequent in our modern era. From 2000 to 2007, the nation averaged 6.4 incidents annually, but from 2008--2013, that increased to 16.4 annually. All totaled, the incidents resulted in 486 deaths. By both 2014 and 2015, the number of incidents reported by the FBI had increased to 20 annually. Over a two year period, 40 active shooter incidents killed 92 people and wounded 139.
ONGOING RECOVERY IN ORLANDO
Orlando based Dr. David Baker Hargrove, a psychotherapist and CEO of Two Spirit Health Services has been working non-stop in an emergency counseling center there.
When I spoke to him by phone June 20, he told me he had gone grocery shopping at Target the night before.
"It was really the first time I'd been out in public. On one level, it felt very comforting to be in this familiar busy place but on the other, it felt stark because I haven't fully processed the event for myself," said Hargrove.
Every individual's response to Orlando will be different. He says a lot of how one processes what happened at Pulse nightclub has to do with your personal connection to the LGBT community. Some straight people may not fully understand how someone who is gay, but lives on the west coast, might still be deeply impacted by a shooting Orlando.
SOCIETY'S LINGERING HOMOPHOBIA
That made me think back to how I felt that afternoon in Alabama, as I moved from the tomatoes to clearing weeds from blueberry bushes. Orlando is a bleak reminder that homophobia is always lurking in the shadows. It gets sanctioned by inflammatory political rhetoric, policy positions and the doctrines embedded in many of our religions. Homophobia shows up among the truckloads of baggage hauled around daily by people who grew up in households hostile towards anything gay.
LGBT people are twice as likely to be targeted for hate crimes than any other minority group according to FBI data.
"This statistic creates a mindset of expectation. Possibly, it may not have been of question of it, but rather when. Knowing that one is a member of a group that's hated does intensify the response to the crime," said Melissa Singh MSW, adjunct lecturer, University of Southern California, School of Social Work.
Singh says crimes directed towards stigmatized groups can leave people feeling vulnerable and wondering, "what if I'm next?"
Jim Downs, Professor of History at Connecticut College said despite the landmark significance of marriage equality, LGBT people are still impacted by hate and harassment.
"So much of the discourse of marriage equality has also posited a brand of assimilationist politics. Many LGBT people claim we are just like everyone else. While the spirit of such sentiments make sense, the logic of such claims undermines our urgent need for a sense of community to bind us together, especially in this time of need," said Downs.
A few days after the Orlando shooting, Downs penned a thought provoking op-ed at the "New York Times" about the Upstairs Lounge on the edge of New Orlean's French Quarter where on June 24, 1973 someone set a fire that murdered 32 mostly LGBT individuals.
He says one big difference between New Orleans and Orlando was the way the Upstairs Lounge fire got covered by the media.
"In the 1970s, mainstream news outlets did not uniformly report on the massacre of gay people in the Upstairs Lounge. When the press did cover the event, their tone was often derogatory and dismissive. News reports did not mention that the people who died in the fire were actually members of the Metropolitan Community Church," said Downs.
Congregants met at a bar because they did not have their own church building and the local churches in New Orleans wouldn't even rent them a room or basement to hold services, Downs says.
That seems unthinkable today, but then there's Orlando.
SELF CARE ESSENTIAL FOR LGBT PEOPLE
Psychotherapist Kristen Martinez says self-care is a real priority for LGBT people, their loved ones, and allies right now. People are hurting, feeling overwhelmed, scared, angry, numb, or various other feelings, said Martinez, who grew up about an hour north of Orlando but is now based in Seattle.
"Do the things that make you happy - don't let this stop you from enjoying your moments and your life," said Martinez, who works at private practice Pacific NorthWell in Seattle.
She says an important point here is that the racialized telling of the tragedy will try to pin Muslims and Muslim-Americans up against the LGBT community, and that is not the way to deal with this situation.
Martinez says reports hinting the shooter may have been gay, adds a layer of complexity to the narrative.
"Internalized homophobia is incredibly destructive and hurtful for everyone involved. We, as LGBT people and allies, are speaking up about the dangers of internalized hatred, and we need the larger culture to acknowledge these damaging ideas too," said Martinez.
Recent FBI reports say there is no evidence that Mateen had any same sex affairs.
TALKING ABOUT GUN CONTROL REFORMS
Whatever Mateen's motives, we do know that despite having been on government watch list and reports of a troubled past, he was able to acquire a high-powered killing machine almost as easily as buying a quart of milk.
The afternoon of my last day in Alabama, an old friend stopped by. Our talk turned to Orlando and then weapons, still a sticky topic in the gun-loving South.
"I just hope this doesn't become just a gun thing," she said.
On one level I agree with my friend: an adversarial tone that paints all guns as evil might prove simplistic and probably won't move the needle on sensible background check reforms or even an assault weapons ban.
But a big fear among many gun lovers is that any background check expansion or ban might lead to a slippery slope.
When talking with gun lovers, it's probably better to preface the conversation by first distinguishing between military grade weaponry and hunting rifles.
When I spoke with Brian Balogh he also suggested saying: "I think we have to get rid of the slippery slope and simply try to do something as soon as possible to assure at a minimum that mentally unstable people or people with known contact with terrorists can not get their hands on weapons capable of killing literally dozens of people in less than two minutes."
One might assume that Orlando and cumulative outrage over past mass shootings would lead to sensible reform. But almost 13,000 people were killed in a gun homicide, unintentional shooting, or murder/suicide in 2015, and if the daily bloodshed and heartbreak hasn't nudged Congress to act what will?
Standing in the way of reform the well-moneyed gun lobby, most notably of course, the National Rifle Association (NRA). NRA has a stealth lobbying infrastructure and pools of cash standing ready to smack down any Republican politician or incumbent who even hints they might step onto the slippery slope.
Take the 2012 Indiana Republican Senate Primary after Richard Dick Lugar who had earlier voted for the Clinton Assault weapon ban. The NRA spent $168,753 against Lugar in the primary and spent $349,327 supporting his Republican opponent Richard Mourdock. Mourdock won the primary but lost the general election according to the Center for Responsive Politics.
NRA took in over $310 million in 2014 according to tax documents.
In addition to grass roots efforts, NRA gets a big chunk of its cash from gun and ammo manufacturers such as the Italian family-owned gun company Beretta, Smith & Wesson, Brownells, Pierce Bullet Seal Target Systems, and Springfield Armory and Midway USA according to a June 27 article in Vanity Fair.
"Unfortunately, if mowing down a classroom full of kindergarteners and shooting a member of Congress in the head execution-style wasn't enough to make Congress move on gun violence, I have a hard time imagining how shooting 100 LGBT individuals would be enough to get them to act now, " said Daniel Penchina, a principal at The Raben Group in an email.
Penchina, who's been working on LGBT advocacy for more than ten years said that, " Together with gun violence prevention groups such as Everytown, I am certain the LGBT community will help move the needle and force a future Congress to act."
One new grassroots movement in New York City founded in response to the heartbreak in Orlando, called Gays Against Guns (GAG the NRA), will partner with preexisting gun-control and LGBT groups to leverage community power against the nation's gun lobby. I marched with the group at the annual Gay Pride Parade in New York City on June 26. Judging from the electrified reaction in the crowds that hot summer day, there is little doubt, at least in New York City, people not only support reform, they are hungry for a targeted, loud and vocal effort to expose the underlying infrastructure that supports the gun lobby's fright based messaging and its crippling grip on Congress.
Professor Thomas Keck, the Michael O. Sawyer Chair of Constitutional Law and Politics at the Maxwell School said The Supreme Court has made clear that while the Second Amendment protects an individual right to bear arms, it also allows a wide range of reasonable restrictions on that right.
"Proposed legislation banning military-style assault weapons or prohibiting firearms possession by persons on the terrorist watch list would be fully consistent with existing Second Amendment doctrine," said Keck.
Later, I spoke with a criminal defense investigator from Reno named April Higueri. She runs a private firm called ADH Investigations.
Higueri, who is gay, said it might seem surprising for a criminal defense investigator to support a ban on assault weapons.
"But the manufacturers of assault weapons did not intend for them to be used on our streets. They were built for war," said Higueri.
When I asked David Baker Hargrove if Orlando might inspire LGBT activists to action on issues such as gun control reforms, he paused for a moment.
Hargrove, who has extensive experience working in trauma situations has essentially been in emergency response mode since the murders happened He hasn't even had the chance to personally process what has occurred in his home community. He and the rest of the Orlando LGBT community are heartbroken.
"My heart was so deeply connected to those young people who were slaughtered in that bar. I know logically it was horrific, so to say that we are broken and hurting, we simply don't know the depth of our pain yet."
Related
Popular in the Community